Two-hatted Laura restaurant at Pt. Leo Estate. Photo: Kristoffer Paulsen
Victoria's Mornington Peninsula is the gift that keeps on giving. Coastline meets verdant fields meets an almost unseemly wealth of winemaking and cheffing talent. Not to mention all of the world-class golf courses. But too much is never enough, as the past few years have proved. Not content with giving us multimillion-dollar wonderlands like Pt. Leo Estate, RACV Cape Schanck and Jackalope, in 2019 the peninsula has delivered even more luxury, Victoria's only rum distillery and more hatted restaurants than ever. Let's tee off.
1. Rediscover Ten Minutes by Tractor
The peninsula was deprived of this two-hatted trophy when fire razed Martin and Karen Spedding's vinous fine-diner in 2017, but now it's got a schmicker version back, replete with a new cellar, outdoor terrace and chef Adam Sanderson bringing a fresh contemporary Australian groove. Kangaroo en croute? Bring it on. tenminutesbytractor.com.au
Say g'day to Ten Minutes by Tractor's kangaroo en croute with caramelised cauliflower and edible flowers. Photo: Katherine Jamison
2. Enjoy a 1950s summer vacay at Polperro Farmhouse
Gather five friends and head to the 1950s summer house of your dreams. Surrounded by forest, overlooking Polperro Winery (you can walk to the restaurant), this luxury accommodation renovated by Hecker Guthrie features a deep bath, full bar of local wines and spirits (on an honour system), open fire and epic outdoor entertaining area with a giant barbecue and spit. polperrowines.com.au
3. Chase fire at Osteria Tedesca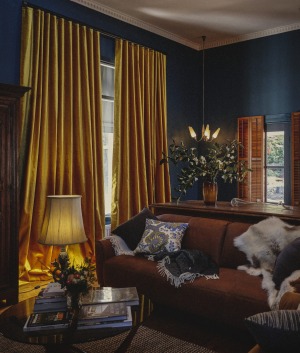 Graceburn is the stunning onsite accommodation for Brigitte Hafner's Osteria Tedesca. Photo: James Broadway
Combine Brigitte Hafner, one of Victoria's most instinctive chefs, with a heritage Red Hill property, and an Alan Scott brick oven and you have paradise. Opening mid-December, Hafner's fire-fuelled menu will come from the open hearth, wines will be hand-plucked from an underground cellar and if you go overboard, you can stay onsite in the stunning antique- and-art-filled accommodation, Graceburn.
Water views at Portsea Hotel. Photo: Samantha Schultz
4. Join the pizza party at Portsea Hotel
The summer migration of Melbourne's most beautiful people to the Portsea Hotel is an anthropological wonder. Don't miss it, especially after the beachfront venue's recent renovation. With a new pizza restaurant boosting its magnetism, 2020 should be a bumper year for spritz and pizza fans and people-watchers alike. portseahotel.com.au
5. Dive deep at Wowee Zowee
Picklebacks and Jameson highballs meet properly made old pal cocktails, properly spicy buffalo wings and dirty rock tracks at Mornington's new dive Wowee Zowee. With dark coaster-covered walls and fairy lights, it's a slice of trashy heaven, but those beers are cutting-edge craft, the wines are likely Adelaide Hills gems, and vegan-friendly snacks back up the fried bird. woweezowee.com.au
Tastings are held at the distillery at JimmyRum. Photo: Chris McConville
6. Picnic on Johnny Ripe pies
Only fools think eating well on the peninsula means endless winery degs. Drop in to Johnny Ripe pies and pack yourself a pastry-based picnic of chicken and tarragon pies, plus a sugar-crusted apple number for dessert, then consume on any velvety green slope with a cellar door and tell us we're wrong. johnnyripe.com.au
7. Long lunch at Pt. Leo Estate
If the sculptures framing this paradise of food, wine and art haven't sucked you down to Western Port Bay yet, chef Phil Wood's two restaurants must. Lovely two-hatted Laura is a five-course commitment (worth every cent, if only for the trademark liquid-centred custard fondant dessert), but a casual drop-in for cellar door tastings or flamed steaks and buttery carrot souffles with 180-degree views at Pt. Leo Restaurant is just as essential. ptleoestate.com.au
8. Try Paringa Estate's new menu
Melbourne's loss of Highline Restaurant was Paringa Estate's massive gain. Thanks to chef Simon Tarlington, who brought his team and tricks with him (including chocolate-shiraz marshmallows, which you toast over burning vines at table), the restaurant, overlooking the rolling vines and winery, is better than ever. Book early, do a tasting and laze on the lawn after lunch. paringaestate.com.au
9. Spend the night (or just a meal) at Jackalope
This luxury high-tech hotel can be a bank-breaking experience if you check in (though rooms do come with impeccable service, Lexus transfers and that glamour pool) but you don't have to stay to play at the hatted restaurants Doot Doot Doot and Rare Hare or get a cocktail at the bar with its gold leather chairs, Christopher Boots lights and top-shelf cocktails. jackalopehotels.com
10. Get a taste of JimmyRum
Victoria's only craft rum distillery and bar, in Dromana, is reshaping our image of the sugar cane spirit. As well as tastings, tours, toasties and twists on classic cocktails (espresso rumtinis, and rum old fashioneds), owner James McPherson brings in food trucks and live music every weekend. jimmyrum.com.au