Perfect pairing: A faultless accompaniment to its natural wines is Ahiru Store's bonito carpaccio with pickled green peppers and ginger. Photo: Luke Burgess
Japan has long played creative muse for chefs Michael Ryan and Luke Burgess. They spent months there compiling their book Only in Tokyo. Here, they distil their passion into this essential travel guide.
Tokyo is a behemoth. Its sheer size and the vast number of restaurants, bars and cafes means you can never fully know the city.
Consider this an introduction: a small slice of the city to help you develop your own special relationship with it.
Tea specialist Gen Gen An has devoted one wall to cassette tapes. Photo: Luke Burgess
1. Sushi – Hakkoku
You can't help but feel Hakkoku is pushing at the boundaries of the confined and conservative sushi world. A meal at Hakkoku is a progression of 30 pieces of nigiri and maki sushi (22 pieces at lunch). There is a strong emphasis on tuna, but it is also driven by seasonality. At the time of my meal, calamari is in peak season, so there are at least three different types served.
The chefs, while extremely focused, are also very engaging; the decor has a modern feel, and there are female and Western staff on the floor. Dining at Hakkoku goes above and beyond, it is exceptional sushi.
2. Ramen – Saikoro
This place is popular among the ramen geeks and is famous for its niboshi broth. Niboshi are small dried sardines, and the resulting dashi is stronger and more robust than the better known bonito dashi. Saikoro's version is rich and complex, with a hint of chilli. Your toughest decision is choosing between the ramen and tsukemen (noodles on the side) styles.
Go-to grill: Chicken skewers are the stars at the yakitori restaurant, Toriyoshi, which is unusual for its emphasis on vegetables. Photo: Luke Burgess
Perhaps use the weather as a guide – tsukemen is more popular in the warm summer months, whereas a bowl of steaming broth is very good in the middle of a Tokyo winter. The name of the restaurant "saikoro" means dice in Japanese, but there is no gamble with the ramen here – excellent no matter which bowl you choose.
3. Yakitori – Toriyoshi
I have a number of go-to yakitori venues up my sleeve. Toriyoshi is one, which, although slightly more upmarket than many yakitori places, still has a great neighbourhood atmosphere, with that feeling many of the customers are regulars. There is an English menu here, but all of the skewers are in a glass display cabinet, so you can just point and wait.
Unlike many yakitori venues, there is a strong emphasis on vegetables, including bamboo shoots, tiny shishito peppers, gingko nuts and if you happen to be there at the right time of year, sansai, or wild mountain vegetables. Toriyoshi doesn't take bookings, so it is a matter of just turning up and hoping for the best. Try to avoid the peak dinner times. You may have to wait, but it is worth it.
4. Lunch – Delifucious
Tokyo loves burgers, and there are some great ones in the city: Henry's Burger, Blacows and Burger Mania, just to name a few. Tokyo also loves its fish. And it is highly fortunate that the man who decided it was time to unite the two passions was a sushi chef with 10 years' experience in high-end sushi restaurants; a man who knows how to buy fish and treat it well.
The result is a burger shop selling only fish, which produces some of the tastiest burgers you are likely to find in the city. The classic burger here consists of a piece of pristine fish, bought that day from the Tsukiji Market, marinated in kombu seaweed, deep fried, and served with a coleslaw in a very light, fluffy bun with a tofu sauce.
5. Green tea – Gen Gen An
This small shop specialises in tea and has an extensive menu, including houjicha and kamairicha (both roasted), sencha (the most popular green leaf tea in Japan) and black teas, all served hot. Their iced teas, including yuzu or lemongrass-infused senchas, are particularly good, especially when the weather is warm. Tea preparation here is a serious business – methodical, not speedy, and very precise. The place itself is very cool. One wall is decorated with hundreds of cassette tapes, like a mosaic, and music is played via a giant boom box. Cassettes are back, baby!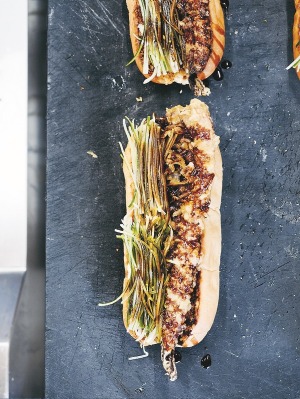 Fish flair: Delifucious specialises in fish burgers. Its anago (saltwater eel) hotdog is deep-fried and served with julienned cucumber and a thick dashi and soy glaze. Photo: Luke Burgess
6. Wine bar – Ahiru Store Ahiru
Store beckons from the outside, with its window displays of freshly made bread and wine bottles. Once inside you may never want to leave. The place is small with maybe eight seats at the bar, and standing room around some old barrels for about the same. Run by a brother-and-sister team, it feels like one of those places that has always been there. The focus is on natural wines, and the food on offer fits the bar's ethos like a glove. Bread is made in-house and is fantastic. A constant on the menu, and a must, is a salad of octopus, avocado and wasabi. Other dishes follow along these lines – simple, fresh and tasty. Think bonito carpaccio with pickled green peppers and ginger or house-made sausages with mustardy potatoes.
7. Cocktail bar – Bar Trench Bar
Trench, one of my favourite places in Tokyo, straddles that difficult border between tradition and creativity with perfection. The interior is dark and moody, with crystal light fittings, crystal glassware and a mezzanine set up as a library giving the place the feel and look of an old-world Paris bar. Its emphasis on absinthe heightens that illusion. But absinthe is not a total obsession, as the drinks here have great diversity. Cocktails include straight-up classics, modern interpretations and one-off creations. The playlist is the final little detail that makes this place so enjoyable – eclectic, diverse and perfectly in tune with the mood of the bar.
8. Coffee – Switch
Switch has two stores. One is in Meguro, a fashionable residential area just down from hipster central, Nakameguro. The second is in the equally fashionable Tomigaya district. Both areas have an urbane, residential vibe that suit the desire by the owner, Masahiro Onishi, to create the perfect neighbourhood coffee destination; the type of place visited daily by those living nearby. But word has filtered out, and the stores have become a drawcard for those from outside these areas. Switch offers four kinds of espresso, pourovers and filter, with all beans roasted in-house. They also offer an espresso and tonic, a drink that people either love or hate. Onishi is an exemplar of the Japanese knack of taking an interest, an obsession, and turning it into a profession. He loves what he does, and his enthusiasm shows in the attention to detail and the perfection he strives for in every cup that comes out of his stores.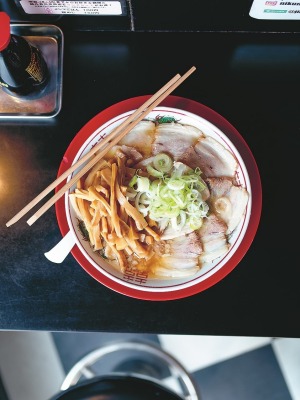 Ramen ready: Saikoro is popular among ramen geeks. Pictured here is a particular favourite: pork and bamboo. Photo: Luke Burgess
9. Breakfast – Path
Tokyo is a city slow to wake, with many shops not opening until 10am or 11am. But things are changing, and some places now offer excellent breakfast menus. Path, in Tomigaya, Shibuya, the upand-coming area just west of Yoyogi Park, is one. It offers excellent coffee (pourover) and a small but interesting selection of dishes, such as quiche with gingko nuts, its signature baked Dutch pancakes with prosciutto and burrata, and some of the finest croissants I have ever eaten – you can see these being made during certain times. It's also open for lunch and dinner, and is certainly worth a return trip sometime during your stay.
10. Restaurant – Kabi
A recent opening in Tokyo, Kabi has a strong emphasis on fermentation – the name means "mould" in Japanese, which gives you a good indication of what you're getting. Most dishes come with an element of fermentation, some more funky than others – think miso, black garlic, fermented meats and vegetables. Chef and owner Shohei Yasuda has a strong resume, including Kadeau in Copenhagen. His dishes display creativity but also restraint: a dish of tempura sansai is served with a simple flavoured salt, while a clear soup is enhanced with an oil flavoured with binchotan charcoal. Desserts are a highlight. Ice-cream made with fukinoto (a flowering plant with a resinous flavour), asparagus juice and absinthe is unforgettable.
Michael Ryan, a hatted chef and hotel owner, and Luke Burgess, a chef and food photographer, are the authors of the best-selling book Only in Tokyo. Published by Hardie Grant, it is available now online and at good bookshops, $40.