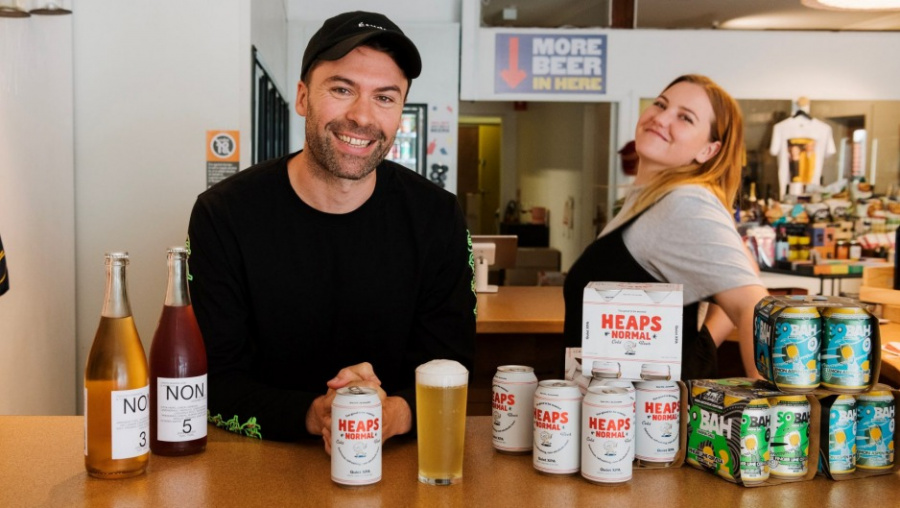 Cameron Walsh, co-owner of Winona bottle shop in Manly, with some of his growing selection of non-alcoholic beer and wine. Photo: James Brickwood
In a drinks market more saturated than a public-bar beer mat, it has become increasingly difficult for a new brand to find success. Nine months after its launch, however, Canberra brewing company Heaps Normal has the best-selling beer at many bottle shops and bars across the country. Incredibly, the beer is also booze-free.
"A non-alcoholic counter culture has been simmering away in Australia for some time now, but there weren't many products on the market for people who like drinking beer," says Heaps Normal chief executive Andy Miller.
"We knew there was consumer demand for more non-alcoholic beer options, but the popularity of the brand has completely exceeded all of our wildest expectations."
Co-founder of Heaps Normal, Andy Miller, says he wanted to make alcohol-free beer mates felt proud taking to gigs and barbies. Photo: Supplied
Heaps Normal's Quiet XPA is now online store Beer Cartel's best-selling product nationally out of more than 1000 beers. 
In Sydney it is the highest selling beer at P&V Wine + Liquor Merchants in Newtown and Paddington, the best selling product at Porter's Balgowlah, and the most popular tinned beer at Forrester's hotel in Surry Hills.  
At McCoppins bottle shop in Abbotsford, Melbourne, Heaps Normal is the 10th highest best-seller out of more than 500 beers, and hugely popular at Blackhearts & Sparrows boutique liquor stores in Brunswick, Fitzroy, Kensington and Prahran.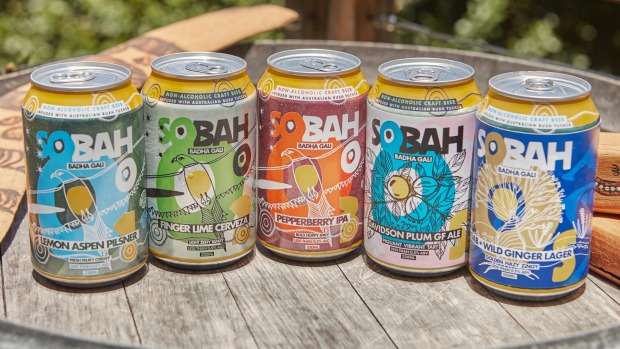 The Sobah rainbow of non-alcoholic beer launched in 2017. Photo: Supplied
"I'm always trying to predict beer trends, but this one caught me off guard," says Blackhearts & Sparrows beer buyer Cherry Noble. "A year ago, I stocked maybe two non-alcoholic beers. Now I have eight and most are outselling our standard lagers and pale ales."
Noble says the skyrocketing popularity of non-alcoholic beers (plus booze-free wine and spirits) is due to multiple reasons, such as overall improvement in product quality and a cultural shift in attitudes towards drinking. 
"Australia is moving away from that blokey 'what do you mean you're not having a beer?' mentality," she says. "It's increasingly normal to go to a pub or party and not drink, or at least limit your alcohol intake.
"A lot of people will buy a full-strength six-pack and few Heaps Normals at the same time, so they can have a bit of a session then switch to non-alcoholic beer halfway through."
Cameron Walsh is the co-owner of Winona artisan bottle shop in Manly. He says the store now sells more Heaps Normal than any other product, including wine and food. 
"It's really taken off in the past few months with New Year resolutions and FebFast," he says. "Post-COVID, it seems like more people than usual are looking to cut back on the booze." (Indeed, an Australian Institute of Health and Welfare survey revealed 14 per cent of people increased their alcohol intake during the pandemic.)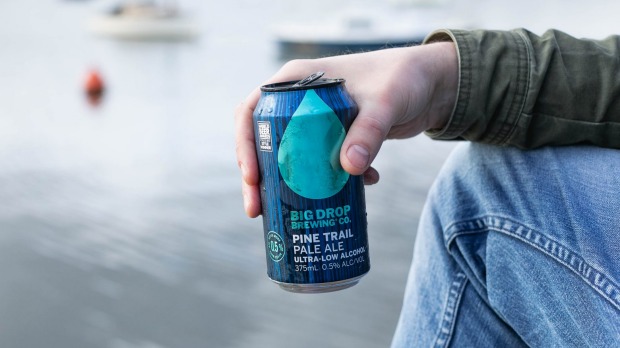 UK-based brand Big Drop launched in Australia last year and brews non-alcoholic beer out of Melbourne. Photo: Catherine Black
"We thought sales would slow down after the initial spike that comes with a new brand, but the popularity just keeps growing," says Walsh. "Now the challenge is to make sure we have enough stock in the shop because it just sells so quickly."
Miller launched Heaps Normal with fellow liquor industry mates Ben Holdstock, Peter Brennan and Jordy Smith in July. "We wanted to create a non-alcoholic beer that our other friends could feel proud of taking to a barbecue or drinking at a gig," says Miller. "Something that didn't scream 'zero-alcohol' or 'I'm sober'."
Heaps Normal Quiet XPA is fermented with a special yeast resulting in a final alcohol content of less than 0.5 per cent – about the same content found in orange juice or kombucha and legally classified as non-alcoholic.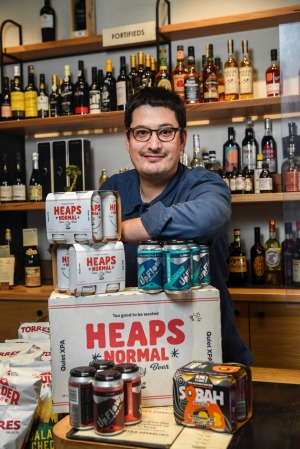 Blackhearts & Sparrows bottle shop manger Dan Blume.Non-alcoholic beer is now outselling may standard lagers and pales at the Brunswick store. Photo: Justin McManus
"It's become my beer of choice for drinking at home," says Beer Cartel director Richard Kelsey. "It has awesome aroma, taste and colour, and the marketing is really smart too. Everything you're looking for in a beer, essentially, without the potential of a fuzzy head the next day."
Five of the best Australian booze-free beers to try 
UpFlow Brewing Co. Stout, 355ml, $4.50
One of three beers available from Melbourne's first non-alcoholic craft brewery, founded in 2020. Big whacks of chocolate and espresso on the nose, albeit with a lighter finish than traditional stouts. Drink with oysters in jacket-optional weather.
Heaps Normal Quiet XPA, 355ml, $4.50
Number one in a bullet, with quality hop aromas seldom found in non-alcoholic beers two years ago. The little street-walking brain mascot on the can is named "Norm", by the way. Drink with cheese and cabanossi at a backyard barbie.
Nort Refreshing Ale, 330ml, $4
Brewed by the award-winning beer boffins at Modus Operandi in Mona Vale, Nort is an easy-drinking drop with only 204 kilojoules per serve. Drink on a verandah with salt-and-vinegar chips.
Sobah Pepperberry IPA, 330ml, $5
Gamilaroi man and psychologist Clinton Schultz was ahead of the booze-free curve when he founded Sobah with his wife Lozen in 2017. Brewed with native ingredients, the team's IPA has a spicy kick and citrus aroma. Drink with a prawn and iceberg lettuce sandwich.
Big Drop Brewing Co. Pine Trail Pale Ale, 375ml, $5
UK-based Big Drop launched in Australia last year and brews non-alcoholic goodness out of Melbourne. Its range includes a milk stout, lager and IPA, plus this highly popular pale ale with floral aromas and a zesty finish. Drink from a thermos at the midpoint of a hike.