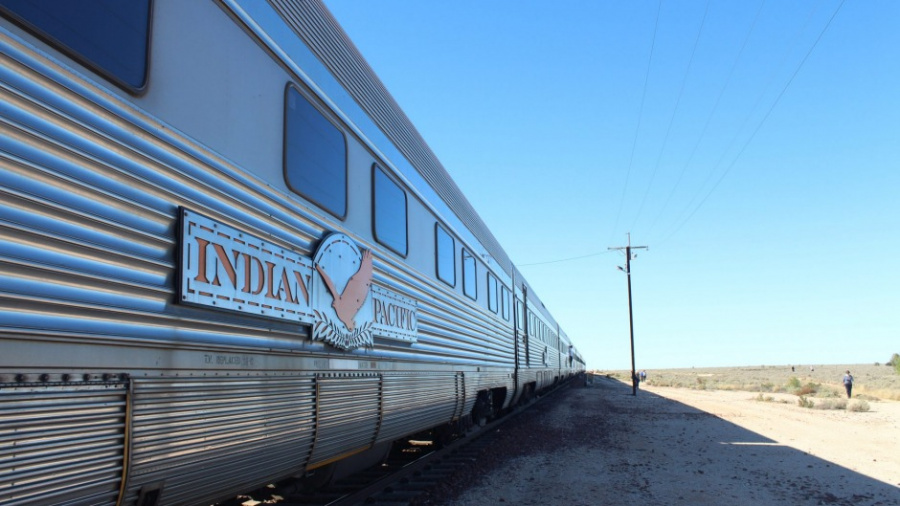 Delicious trip: The Indian Pacific crosses the Nullarbor Plain at a leisurely pace. Photo: Selina Day
Freedom awaits as we chug out of Adelaide, with thousands of kilometres ahead on one of the world's great rail journeys.
It's enough to get any travellers tingling. Add in the lure of premium wine and food on the Indian Pacific train, and I'm excited.
This journey is all about the land. For days, we're a moving speck in a great expanse. We take in Australia's vastness through our windows.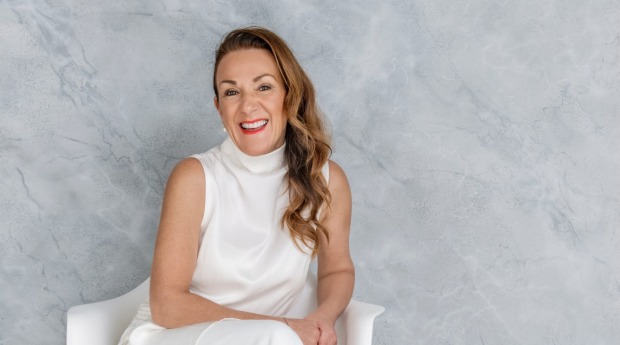 Cheesemaker Kris Lloyd. Photo: Supplied
For hours upon hypnotic hours, deep-green trees and rich, red earth pass by, the landscape eventually morphing into the low, dusty scrub of the Nullarbor Plain.
There are unexpected sights, too, like small and random clusters of cows, solar panels and windmills.
We gasp in awe at spectacular sunrises and sunsets that only the desert could provide.
This voyage is as much about enjoying the produce as it is about the freedom that comes with remote, long-haul travel.
It's not a fast ride – we average around 85 kilometre per hour – so we have plenty of time to take in the details missed when flying up high in a plane.
Typically the trip traverses the country from Sydney to Perth and vice versa, a 4325-kilometres journey taking 65 hours (which includes several stops to allow freight trains to pass).
But we're crossing from Adelaide to Perth – "only" 2669 kilometres – on a themed journey aboard the gourmet food and wine train.
This voyage is as much about enjoying the produce as it is about the freedom that comes with remote, long-haul travel.
The Indian Pacific is operated by Adelaide-based Great Southern Rail, which aims to showcase some of South Australia's best producers, through meals, off-train excursions and masterclasses.
West-bound, the train leaves Adelaide on Thursdays, but first we enjoy a lazy afternoon in the picturesque Adelaide Hills.
First up, there's wine tasting at the rustic cellar door of the five-star Mt Lofty Ranges vineyard at sleepy Lenswood.
Vigneron Garry Sweeney pairs each variety with foods such as tataki kangaroo with rhubarb and macadamia, and Kingfish sashimi with ponzu and creme fraiche, prepared in the kitchen of the chef's hatted restaurant.
As darkness falls, we stop at the dairy farm that supplies milk to artisan cheesemaker Kris Lloyd of Woodside Cheese Wrights.
We sit amongst hay bales in the shed, under blankets and with bonfires crackling outside, as Lloyd allows keen guests to milk her farmer's prized dairy cow, Tulip, before demonstrating how this still-warm milk is made into cheese.
She should know. Her Anthill goats cheese (made with native green ants sourced from Darwin, first suffocated, then frozen) came an impressive 11th of 3021 entries in the 2016 World Cheese Awards.
The winter chill biting, we pile back into the coach to be taken to The Lane Vineyard restaurant for our first meal of the journey.
After dinner, we finally climb aboard what's to be our home for the next couple of days. We acquaint ourselves with our cosy cabins before the train heads off about 10pm into the dark yonder.
On the Indian Pacific, passengers enjoy three meals a day as well as nothing-is-too-much-trouble service. Those who have chosen the gourmet food and wine train package also enjoy three masterclasses over the two days.
We learn how to make chocolate with Sarina Waterman and Alison Peck from Chocolate at No.5, coming away with our own hand-crafted ganache truffles, and we get an understanding of bush spices from indigenous chef Mark Olive, sampling smoked emu and crocodile coated in native ingredients, including lemon myrtle and wattle seed.
If that's not exotic enough, there's instruction in how to blend gin, from master maker Sacha La Forgia, whose Adelaide Hills Distillery was recently named by the American Distilling Institute as home to the world's best gin.
Sacha supervises as we use eye droppers to inject flavours like brown cardamom, celery, saffron, finger lime or strawberry gum into our concoctions. "You only need one or two drops," he warns enthusiastic participants, and he's right.
The first opportunity since Adelaide to alight from the train is the SA outpost of Cook, home to just four people. It's a ghost town since the railways were privatised in 1997.
Cook, more than 800 kilometres from Port Augusta, is now a refuelling and watering stop for the Indian Pacific and is also where the train's drivers change over, with some opting to sleep here.
On Friday evening, we reach the equally remote Rawlinna, 350 kilometres east of Kambalda in WA. Industry here is a one-million hectare sheep station and a lime mine.
In summer, dinner is served under the stars at rows of outdoor tables permanently set up at the siding.
But now, in midwinter, bonfires are lit and passengers treated to a concert before enjoying dinner on the warm train.
Then it's off again, for another night and day and the dreamy vista of the mighty Nullarbor before we pull up in Perth.
Two nights and two days on this train doesn't feel long at all. Whether or not you indulge in the Gourmet Wine and Food Train, a journey on the Indian Pacific is unforgettable.
If you go
GETTING THERE: The Indian Pacific departs Sydney, Adelaide and Perth weekly, all year round. Along the way, there are off-train excursions in places including Broken Hill, Adelaide and Kalgoorlie.
STAYING ON THE TRAIN: Choose platinum, gold twin or gold single class. Unless you travel platinum class, cabin space is at a premium. Pack light and think small.
PLAYING ON THE TRAIN: You're in the middle of nowhere. There's no internet in parts. Take advantage of this for a digital detox. Talk to your travelling companions, look out the window and relax. And remember it can be cold in the desert. Take a jacket and beanie.
GOURMET FOOD AND WINE TRAIN: Great Southern Rail will announce similar departures later this year for 2018-19 travel.
The writer travelled as a guest of Great Southern Rail and stayed at the Pan Pacific hotel in Perth.