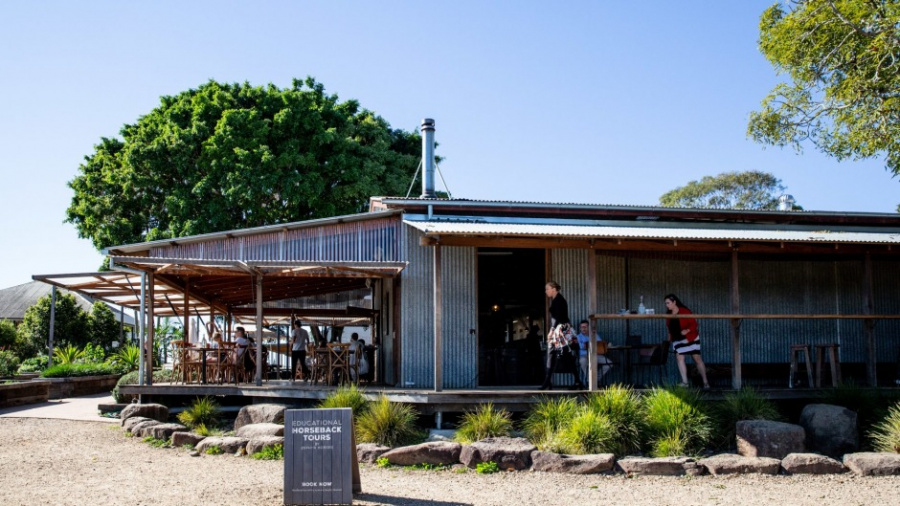 Three Blue Ducks restaurant, cafe and produce store at The Farm Byron Bay. Photo: Paul Harris
Terry Durack reviews Pipit, the new toast of the north coast
It's not often you learn that a drink is made from butterfly pee. The mind boggles until it's explained that the butterfly pea is a blue flower native to equatorial Asia, where it is used to colour food and make tea.
Clitoria ternatea was so named because of its supposed similarity to human female genitals – a likely story, methinks, until shown the flowers growing next to Husk Distillery in the northern NSW Tweed Valley. The resemblance, if memory serves, is startling.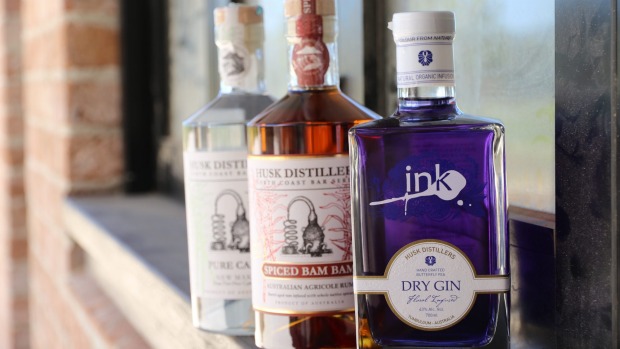 Husk Distilleries products include Ink Gin, coloured with Thai butterfly pea flowers.
Husk Distillery is the home of Ink Gin. Made from imported Thai butterfly pea flowers, Ink is Titian blue in the bottle but turns magically pink when mixed with tonic water. It caused a flutter of excitement recently when actor Margot Robbie posted an Instagram photograph of it and received 1 million "likes".
Husk, which opened its cafe and tasting room to the public on June 13, is just one success story in the Tweed, the far north coast region that's fast becoming a firm favourite with food lovers.
Chef Steven "Snowy" Snow moved his acclaimed seafood restaurant, Fins, to the seaside village of Salt two years ago after 25 years in Brunswick Heads and, more famously, in Byron Bay. In that time, he garnered 22 straight chefs' hats from the Good Food Guide.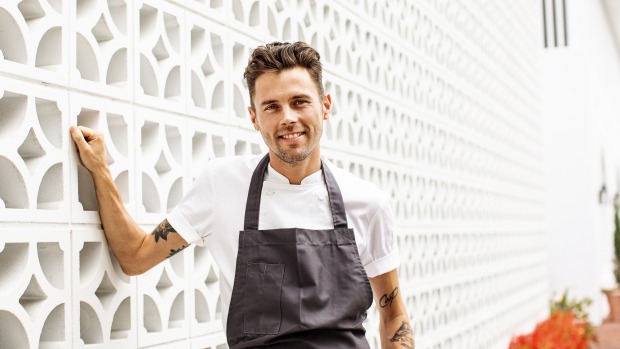 Jason Barratt has taken over the stove at Paper Daisy. Photo: Kara Rosenlund
Of the move to Salt, he says: "I think people are always trying to find an authentic off-the-beaten-track slice of beauty. The Tweed region has always been viewed as a 'lesser being' than Byron Bay, where I spent most of my life and career. It's always been a bit 'uncool'. But you can still find completely deserted beaches, uncrowded surf, beautiful mountains and valleys … there's also a plethora of fantastic food producers, a working fish co-op, gin, beer and plenty of organic growers. For me, this area has everything without the crowds."
He's not alone. In recent years he's been joined by the likes of Darren Robertson with his Three Blue Ducks restaurant, cafe and produce store at The Farm Byron Bay and many-hatted Matt Kemp, formerly of Balzac, Montpellier House and Byron at Byron.
Kemp has just signed on as executive chef with the PLB restaurant group (which includes Tweed luminaries such as Bombay Cricketers Club, Osteria Casuarina and Taverna) after a short stint at the Kingscliff Beach Bowls Club, where he introduced the likes of zaatar-spiced pumpkin, grilled garlic bug tail linguine and Humpty Doo barramundi with chorizo and chickpeas.
Kemp might be gone but the bowls club still boasts the husband-and-wife patisserie team Guilherme Araujo and Juliana Butteri, who are creating desserts that wouldn't be out of place in a Michelin-starred restaurant. Try The Lemon if you go – these white chocolate balls filled with lemon mousse and a green apple, lemon and mint compote are heavenly.
Head south down the coast to Cabarita and you'll find Paper Daisy, the award-winning restaurant at Halcyon House, an old beachside surfer motel that's been wonderfully remodelled into a chic 1950s-style boutique hotel.
Put on the food map by executive chef Ben Devlin four years ago, the kitchen reins have just been put into the capable hands of Jason Barratt, whose history includes stints at Stokehouse, Attica and Rae's on Wategos.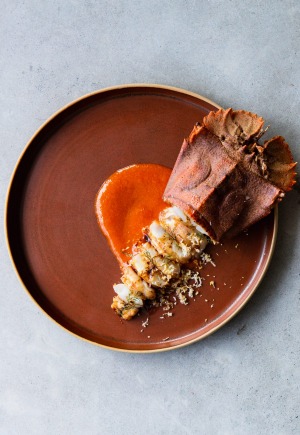 Bay lobster with lemon and garlic at Pipit in Pottsville. Photo: Sabine Bannard
Devlin, on the other hand, has moved just up the road to the small village of Pottsville, where he's opened his own 40-seat restaurant, Pipit, on the main street.
Devlin says sustainability is foremost in Pipit, and as such there are no hard-hooved animals on the menu. It's local vegetables, sustainable seafood and poultry all the way.
He's even been experimenting with alternatives to plastic bags to cook sous vide (in a water bath). "I don't mind cooking things sous vide as a process but what I don't like is plastic bags … but chicken breast that's maybe wrapped up in fig leaf or something like that, then dipped in beeswax; I could poach it and not use plastic."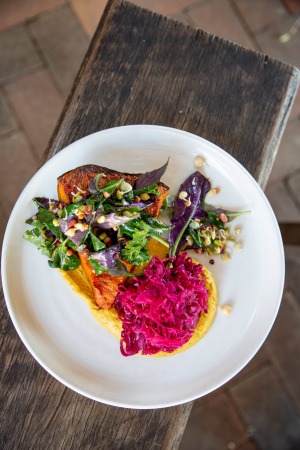 Roasted pumpkin, turmeric cashew cream, sauerkraut, and farm greens at The Farm Byron Bay. Photo: Paul Harris
The Tweed Coast boasts long stretches of pristine beaches, world-class surf and even has a miniature version of Ireland's famous Devil's Causeway at Fingal's Head promontory, where you will often see dolphins surfing the waves.
But it's not just the coast that's punching above its weight. Head inland along the Tweed Valley Way and you'll come across places such as the 66-hectare Tropical Fruit World, which is essentially a fruit theme park where you can tour the property, have lunch in the Plantation cafe or experience some of the 500 fruits from around the world that are grown here. Make sure you try its unexpectedly delicious avocado and coconut ice-cream.
The Tweed Valley is a natural amphitheatre, formed millions of years ago by a large shield volcano and recognised alongside the Daintree and Kakadu as one of the three most biodiverse regions in Australia.
The main centres in the area are Kingscliff on the coast, Tweed Heads on the northern border, and Murwillumbah, a bustling central hinterland town where rough-and-ready farmers in plaid shirts and battered Akubras rub shoulders with tie-dyed hippies and tattooed baristas with topiary beards.
Tucked into Murwillumbah's arts precinct is Italian cafe and restaurant Bacaro, run by Venetian native Luca Bassetto and his wife Giorgia. Serving up the traditional Venetian food his mother used to cook (she came over from Venice for three months to make sure he was doing things properly), Luca says the natives have taken to his food like a gondola to water.
Like most, Luca tries to use as many local products as possible in his cooking, as well as stocking Ink Gin and beer from Stone and Wood, which originated in Byron Bay but whose main brewery is now in Murbah, near Mount Warning, the dormant volcano whose distinctive profile dominates the landscape.
And talking of Ink Gin, I can attest that it's pretty good paired with tonic water and a couple of native finger limes from Buck's Farm, a 140-hectare bush tucker property in nearby Chillingham.
Buy the limes from the farm shop then take a wander around the fields behind it for a glimpse of fruit such as the blue Davidson's plum and the citrussy but bizarre Himalayan buddha's hand.
Keith Austin was a guest of Tweed Tourism Co, Crystal Creek Rainforest Retreat and Peppers Salt Resort and Spa.
Details
Husk Distillery, huskdistillers.com
Fins, fins.com.au
The Farm Byron Bay, thefarm.com.au/threeblueducks
Kingscliff Beach Bowls Club, kbbc.com.au
Halcyon House, halcyonhouse.com.au
Pipit, pipitrestaurant.com
Tropical Fruit World, tropicalfruitworld.com.au
Bacaro, m-arts.com.au/bacaro
​Stone and Wood, stoneandwood.com.au
Buck's Farm, bucksfarm.com.au
Stay
Crystal Creek Rainforest Retreat is a 102-hectare property in the Tweed Valley. Accommodation is available from creekside cabins to architect-designed lodges with views across the valley. Prices start at $395 a night (for a five-night stay). See ccrr.com.au.
Peppers Salt Resort and Spa at Bells Boulevard, Kingscliff, is right by the beach and well located to take advantage of everything the Tweed Coast has to offer. Its signature Seasons restaurant is dedicated to using fresh local produce. See peppers.com.au.