The port of San Sebastian. Photo: Getty Images
From the first hunk of bread in the morning to the last sip of wine at night, a day in the Basque Country is an opportunity to feast on the region's natural bounty prepared by its passionate cooks. One of the Basques' most famous chefs, Elena Arzak, provides a taste of the area's best gastronomic eateries.
The Basque people are obsessed with food: singularly fascinated; utterly enchanted. Food isn't just a part of life in this beautiful corner of northern Spain – it is life. This is a fiercely independent region that has had a deep influence on worldwide cuisine, thanks in no small part to a once-modest family restaurant in the suburbs of San Sebastian, and the two charming chefs who call it their own. That restaurant is Arzak, which has now held three Michelin stars for 30 consecutive years. Those chefs are Juan Mari Arzak and his daughter Elena. And they're not the only people in their homeland who live for food.
"It belongs in our culture," Elena Arzak says, leading me through the bustling Arzak kitchen one afternoon as more than 30 chefs prepare for the lunch service. "Geographically, we are in a privileged corner of the world. There is excellent produce from the sea and also the land, so people are used to good food that is affordable and accessible. But it's more than that. I remember when I was a child at school one of the conversations we would have every day was: 'What are you going to have for lunch? What did you eat today?' It was always one of the pleasures of life, eating well."
Cuisine is an object of pride and passion for the people of San Sebastian and its neighbouring areas, gastronomic hotspots such as Getaria, Hondarribia and Bilbao. It's also an object of interest and envy for the rest of the world. Visitors have been arriving in this area in record numbers, drawn no doubt by the Basque Country's galaxy of Michelin stars, but also its excellence across the board, from the most expensive fine-diners to the rowdiest pintxos, or tapas, bars.
There's so much to choose from, so much on offer, that by far the most difficult challenge is deciding where to eat; deciding in which of the Basque Country's establishments they will dedicate precious stomach space. "Here you have the possibility to go to a Michelin-star restaurant, to go to a traditional restaurant, to go for pintxos," says Arzak. "I always say that if you like to eat, you're in the right place."
Elena Arzak's guide to the Basque Country
ARZAK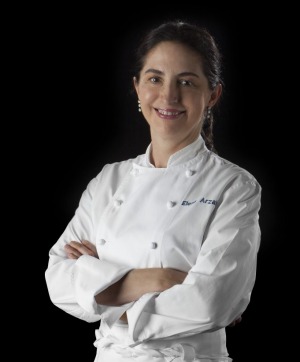 Elena Arzak says she is always Basque without noticing.
Elena and Juan Mari's eponymous three-star restaurant has been in the family for four generations. It's the quintessential modern Basque eatery, one that takes its cues from traditional ingredients and flavours but presents them with new techniques and preparations. "I'm always Basque without noticing," Arzak says. "I use parsley on almost all of the plates. I use olive oil. I use garlic. If I do a plate of squid I am sure I will put ink sauce somewhere. But we are always evolving. I never cook the same thing. My father is the same."
MUGARITZ
"There was a time when all the restaurants that I call the 'sophisticated restaurants' looked the same," says Arzak. "We had the same glasses, the same napkins. But now everywhere is very different. If you come to Arzak or you go to Mugaritz, even if we use similar products, each has its own identity." Mugaritz is, without doubt, unique. Local chef Andoni Luis Aduriz has created a dreamy, avant-garde menu that's served in spectacular Basque surrounds just outside San Sebastian. His restaurant has made the top 10 of the World's 50 Best list every year since 2006 and is well worth a visit.
ELKANO
Spend time in the Basque Country and you realise there's one ingredient that's more important to the cuisine than any other. "If you look at one of our cookbooks, 80 per cent of the recipes are related to the sea," Arzak says. "Fish is very important. Anchovies, squid, tuna – it depends on the season but it's always so important." The restaurant at the forefront of Basque seafood right now is Elkano, a Michelin-starred eatery in the fishing port of Getaria that this year debuted at No. 30 on the 50 Best list. Elkano is known for fish grilled over coals, the likes of turbot, red sea bream and monkfish cooked to smoky perfection by chef Aitor Arregui.
AKELARRE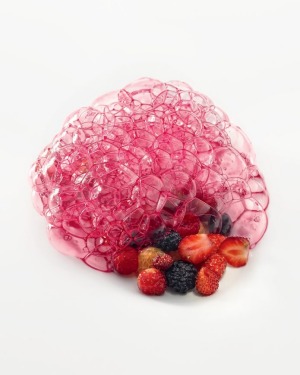 Avant-garde: a dreamy berry fruits dish at Mugaritz. Photo: Supplied
In the late 1970s, a foodie revolution took place in the Basque Country. A group of young, dynamic local chefs banded together and set about updating traditional recipes, educating local cooks and establishing a modern cuisine. Two of those chefs were Juan Mari Arzak and his friend Pedro Subijana, whose three-Michelin-starred restaurant Akelarre is still going strong. The restaurant's spectacular home, high above the coast in Igueldo, also features a five-star hotel and a more casual eatery called Espazio Oteiza.
ASADOR ETXEBARRI
There's a cherished tradition across the Basque Country of the asador, a cosy, no-frills restaurant where seafood and meat are grilled over fire. "It's a very simple style but also very nice," says Arzak. There is, however, a country asador that has taken the concept of grilling to a world-class level. That restaurant is Asador Etxebarri, chef Victor Arguinzoniz's paean to elegance and quality. Every dish at Etxebarri is created using fire, each imbued with varying levels of smokiness, each a deceptively complex exploration of just how far you can go with the finest produce and a bed of hot coals.
BAR TAMBORIL
"Since about 2000, the Basques have been known around the world for modern food," Arzak says. "But before then, we were known for traditional food. So we have a mixture here, and both are important." The San Sebastian pintxos bar Tamboril represents the meeting of those modern and traditional cuisines. This is a historic bar that pays tribute to its roots with signature pintxos such as txampis (grilled mushrooms served soaked in olive oil) but which also pushes the boundaries with experimental plates.
Arrandegi Kalea 2, San Sebastian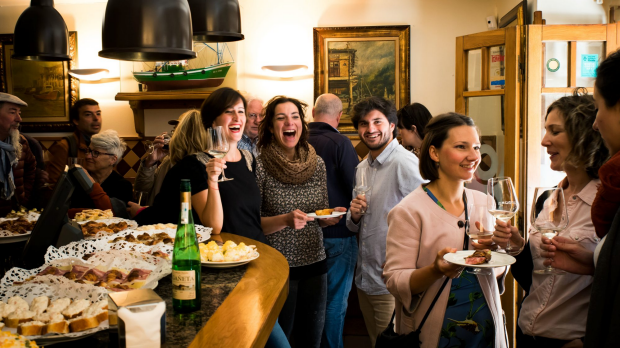 Pintxos party: Ganbara is considered a classic on the pintxos scene. Photo: San Sebastian Pintxo Tasting Tour
GANBARA
For Arzak, the chance to eat out in San Sebastian is the chance to visit friends. "I like to go to my colleagues' restaurants," she says. "And there are two places that are perhaps not so well known, and one of those is Ganbara."
Ganbara is something of a classic on the San Sebastian pintxos scene: a bar and restaurant in the Old Town with some of the most delicious snacks around. Arzak recommends the txangurro, or spider crab tarts but Ganbara is also known for its wild mushrooms with raw egg yolk.
BOKADO MIKEL SANTAMARIA
The other place Arzak likes that's not so well known is Bokado Mikel Santamaria. "It's on Concha bay, on the other side of the aquarium," she says. "They have nice views and nice food." That's an understated way of saying that Bokado Mikel Santamaria enjoys stunning views over San Sebastian's best-known landmarks: Playa de la Concha, the crescent-shaped beach, and Monte Igueldo, the mountain at its western end. The seafood-heavy cuisine at Bokado is also excellent.
BAR GOIZ-ARGI
San Sebastian pintxos bars don't come much more traditional or simple than Goiz-Argi. This is one of those classic little spots where the service is gruff, the presentation lacks any sort of flair and the food is uniformly excellent. Goiz-Argi makes one of San Sebastian's best pintxos, the brocheta de gambas, a skewer of small prawns topped with an onion-and-capsicum vinaigrette, served on a slice of baguette.
Fermin Calbeton Kalea 4, San Sebastian
BAR LA VINA
Another classic San Sebastian pintxos bar, La Vina, is well known for its tarta de queso, or cheesecake, which makes Arzak's selection an interesting one: here, she recommends the patitas de cordero, a stew made of lamb trotters and the canutillo de queso y anchoa, a crispy cone filled with cheese and anchovies.
BASQUELAND BREWING
"We are proud of our txakoli (local white wine) and cider," says Arzak when asked about her favourite Basque beverages. "There are also very nice wines in the Rioja Alavesa region. But we also like beer a lot. Basqueland makes very good beer." Basqueland is a San Sebastian craft brewery set up by three American expats. Their high-quality brews are available in local bars such as Bar Desy and Akerbeltz but the brewery also has a taproom open Wednesday to Saturday evenings.
LA BRETXA AND MERCADO SAN MARTIN
To experience the full breadth of fresh produce available to Basque cooks, drop by one of San Sebastian's two main markets: La Bretxa and Mercado San Martin. "For chefs, markets are necessary," Arzak says. "We always go to La Bretxa and San Martin. I go once or twice a week to see what is happening. The seasons aren't always the same now; maybe because of the climate, so I need to see what is there."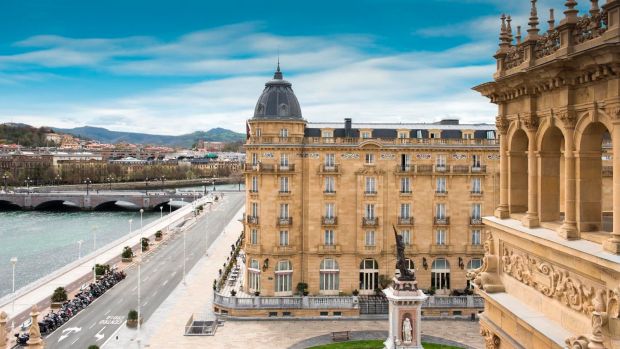 Hotel Maria Cristina is San Sebastian's best accommodation. Photo: Supplied
Stay
$ Mendi Goikoa
This rustic but comfortable hotel set in an ancient stone house deep in the hills is the perfect way to tap into rural Basque life. Mendi Goikoa is also just a stone's throw from Asador Etxebarri.
Previous guests at this historic beachfront property in San Sebastian include Orson Welles, Henri de Toulouse-Lautrec, Queen Isabella II and even Mata Hari. And it's easy to see what drew them here.
$$$ Maria Cristina
San Sebastian's premier five-star hotel has been around since 1912 and offers all the mod-cons in a classically designed and beautifully cared for hotel. This is without doubt the city's best accommodation.