Juan Walker (right) from Walkabout Adventures with the now-famous mud crab. Photo: Phil Warring
"If you've got mangroves around," says Juan Walker, his bare feet squelching in the wet sand, his spear poised at his shoulder, "you'll never go hungry."
He scans the knee-deep water around us, searching the vast root system of the mangroves that reach for the floor like curious tentacles, hoping to spot some lunch, while I swat away mosquitoes and try not to look like I'm too concerned about crocodiles.
I grew up around mangroves. In coastal Queensland they're everywhere. But I've never thought to walk into them to look for food.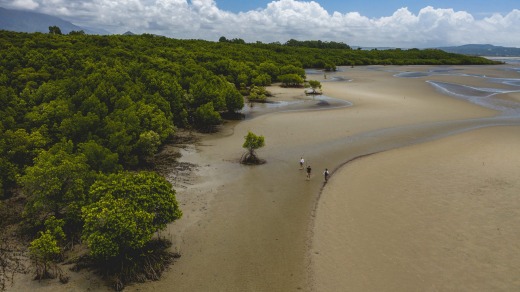 If you've got mangroves around, you'll never go hungry. Photo: Phil Warring/TEQ
"Right there," Juan says, pointing the tip of his spear. Through the murky water I can spot the flash of iridescence and the skittering claws of a mud crab. Juan stands still, points his spear, hovers it just above the water, and then jabs.
You might recognise Juan. Sharp-eyed foodies will have seen him on the only episode of the Netflix food show Chef's Table: BBQ to feature an Australian cook – in this case, Firedoor's Lennox Hastie. During the episode, Hastie journeys up to far-northern Queensland to discover the source of his seafood-heavy cuisine, going out to spear a mud crab and then cook it over hot coals on a deserted beach with an Indigenous guide.
For viewers hoping to recreate that experience, there's good news: this is the beach, this is the guide, and these are the mud crabs.
I ask Juan about that film shoot, when Hollywood came to Cooya Beach, the small coastal community near Port Douglas that he calls home. He smiles. "Yeah, we speared a muddie that morning, but it wasn't looking too good for the cameras, so while they were doing some interviews I snuck back into the mangroves and got another one. Camera ready!"
Juan is at home in the mangroves. He's a Kuku Yalanji man, a true local to this part of Australia, and the cultural tours he hosts are essentially recreations of the days out he used to have with his grandfather when he was growing up.
The pair would stalk through the mangroves together, spearing mud crabs and black bream and sometimes even shovelnose sharks. They would explore the rainforest, too, near Mossman Gorge, where Juan's grandfather grew up on a mission, knowledge passing from elder to younger on the country around them, the natural medicines, the stories, the legends.
Even on the drive from Port Douglas to Cooya Beach, there are stories. Juan points to a large clearing by the side of the highway, explains that this is a sacred space for the Kuku Yalanji, a meeting point, a traditional area in which enemies were once met, truces were agreed, marriages were arranged, ceremonies were performed. For tens of thousands of years it all took place right here.
"What is this area now?" I ask. Juan raises his eyebrows.
"That's the golf course for the Sheraton."
Lennox Hastie cooks up his catch on the beach in an episode of Chef's Table: BBQ. Photo: Netflix
The mountains behind us have stories attached to them. So does the forest up at Mossman. So does the beach at Cooya, where we will soon take off our shoes and spray ourselves with mozzie repellent and get ready to squelch through the mud and the sand in search of a meal.
That's what today is: part cultural immersion, part forest exploration, part fishing expedition. And part lunch.
Juan's spear shoots through the water and he pulls it out a few seconds later with a big, fat mud crab attached to the end. If you've got mangroves around, you'll never go hungry.
Normally Juan would make a fire on the beach to cook up the catch – the same as he did with Lennox Hastie on the Netflix special – but today we're short of time, so we head back to his mum's place nearby to cook it on the stove and snack on some of her fresh-made damper that she left on the kitchen bench.
It's not a "chef's table", but today it will most definitely do.
Juan Walker runs a range of sightseeing and cultural tours in Kuku Yalanji country, the Port Douglas and Daintree region. See walkaboutadventures.com.au for more.
The writer travelled with assistance from Tourism Tropical North Queensland