Fat Pig Farm, Matthew Evans' new cookery school. Photo: Michelle Crawford
Matthew Evans is clean-cut for a farmer. His fingernails are spotless, his face smooth and there's an Anthony Bourdain semblance. Like Bourdain, Evans has been a chef, writer and television personality. He quit his job as a senior Fairfax food critic in 2005 and moved to Tasmania a couple of years later. After 5000 hours' dining on the job, Evans noticed the produce at markets he visited was better than what he was served in restaurants.
"When you're having your eighth bad meal in a row as a restaurant critic and thinking, 'Well, I'd rather eat my own food', that becomes a bit soul-destroying," he says. "I became a little bit obsessed with this idea about what gives things quality, so when I left my critic job that was my ambition – to see how that was done and to grow and rear things myself."
The critic-turned-farmer angle was PR gold, and after a successful pilot SBS' Gourmet Farmer came to fruition. The fourth series, which airs early next year, features the construction of the new Fat Pig Farm restaurant and cooking school, which opened to the public the week before last.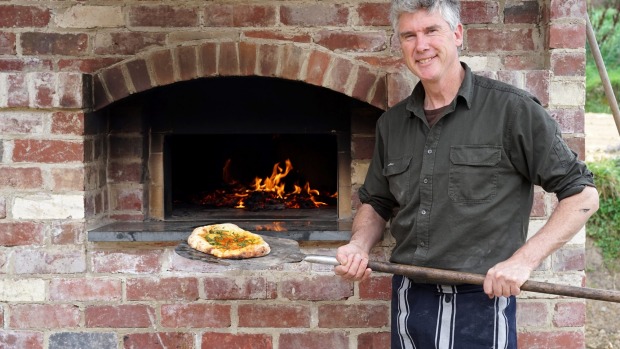 Matthew Evans cooking pizza in Dennis the brick oven. Photo: Sofia Levin
Built in the style of an old apple shed, complete with a barn door, local hardwood and a row of gumboots for those who forget sensible shoes, the space seats 36 for a feast of homegrown and homemade produce each Friday. The rest of the time it's a 28-hectare working farm with specialised workshops. The first classes included cheesemaking, sausage-making and cooking with wood. The weekend just gone equipped guests with the skills needed to grow food at home.
"We're very small and removed from the rest of the world," says Evans. "We don't expect people to come here all the time; the idea is to encourage and teach people to make changes in their own lives."
I spent a day with Evans feeding pigs, uprooting carrots and cooking pizza in Dennis, the brick oven named in honour of the 72-year-old who built it. Here are 24 other things I learnt on Fat Pig Farm.
The carrots at Fat Pig Farm clock up 20 centimetres in food miles. Photo: Sofia Levin
1. We can't join The Society of Bacon Believers. All 60 memberships, which provide exclusive access to bacon from Evans' wessex saddleback pigs, sold out in two days.
2. It's crazy for home cooks to want to be chefs. "The whole point of home cooking is that it's home cooking and the whole point of chefs is that they don't do home cooking," says Evans.
3. Don't take your sommelier for granted. If you ever decide to take up farming, like Evans, it could be what you miss most about the city.
4. A pea tendril can taste better than a truffle. Especially when you're standing in earth that gives a little under your mud-covered city Nikes and the food miles equate to about 20 centimetres.
5. Home-grown food gives you OCD. Nurture a few herbs on a windowsill and you quickly realise that someone, somewhere, is probably growing or catching something that tastes better than what you currently buy. And then you'll want to go on a Jeffrey Steingarten-style quest to find pinnacle produce.
6. Being self-sufficient is "boring and unrealistic". If Fat Pig Farm was 100 per cent self-sufficient, Evans couldn't use flour to make pizza (see recipe) or drink pinot noir (a life not worth living). What's more important is knowing where that flour and wine come from.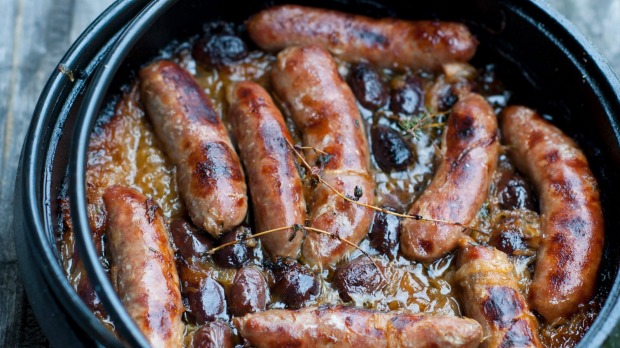 fat pig farm, matthew evans new cookery school, photo by alan benson Photo: Alan Benson
7. There's no shame in not knowing how to cook. But it's a shame to let your ego stop you from learning.
8. Even if you know how to cook, you're not perfect. "There's no finish line with cooking," says Evans. "What you're aiming for is getting a little better every time."
9. I'm never buying broccolini again. Did you know it's trademarked? Every time someone sells it, they're paying intellectual property fees.
10. Pork is power. It's incredibly diverse, transcends cuisines and can be eaten fresh, aged and in most situations (but not at my Jewish-ish wedding on a spit, I've been told).
11. You have enough time and money to cook, no buts. "All the great cuisines of the world are based on peasant cooking that people have made with little technology, no leisure time relative to today and no spare cash. And they've been doing it since recorded history." Touche, Evans.
12. Recipes are a road map. Just because they tell you how to get from point A to point B, doesn't mean you have to take the same route. "People feel like they have to drive all over the place to go buy the exact ingredients, and to me that's the worst way to cook," says Evans. "Have the confidence to try substituting something else in."
13. Use "the Rule of Three" as a rule of thumb. Protein and two veg. A sauce of wine, garlic and mushrooms. Dough with flour, water and yeast. "Anytime you start to add more than that, it means there's something wrong with those first three major ingredients, they don't belong together or they weren't very good quality," says Evans.
14. Salt and olive oil are exempt from the Rule of Three.
15. Start kids in the kitchen early. Evans has "Hedley teaching making days" with his seven-year-old son who creates "awful concoctions", but still eats them. And still learns.
16. You need to look producers in the eye. It's not just about going to a farmer's market; it's about being able to ask someone, "Why?" Why is asparagus a month early? Why are strawberries a month late? Why would you rather be stuck with a brown snake in a hen pen than sit in a room of food writers?
17. Third-party certifications are a neat shortcut. If you don't have a relationship with your supplier, being certified organic or free-range is a good way to guarantee ethical and legitimate farming practices.
18. They're also not everything. Getting these certifications can be burdensome to small producers, including Fat Pig Farm.
19. The greater your food knowledge, the more you'll enjoy eating. Knowing how something is made will give you a better appreciation of what makes it special, why it might cost a little more, or why it might be hard to find.
20. It's not about the food decisions you can't control. It's OK to eat a hamburger and "buy anonymous vegetables from an anonymous supermarket". What will actually make a difference to your cooking, family and the world, says Evans, is when you have an opportunity to make a better decision and act on it.
21. I've been starting fires all wrong. Next time try putting the logs at the bottom, smaller pieces on top and kindling at the peak. You'll be amazed.
22. Sorry vegetarians, native animals die in the making of your food, too. "I know an orchardist who killed 120 possums in three months just to produce apples," says Evans. It's a common occurrence on produce farms and wineries where native animals destroy crops.
23. There's a variety of asparagus called Fat Bastard. Fat Pig Farm just planted some. It will be ready in two years.
24. Cooking should produce the best results for the least amount of work. "Food isn't meant to be something people get anxious about. It should be a joy to make," says Evans.