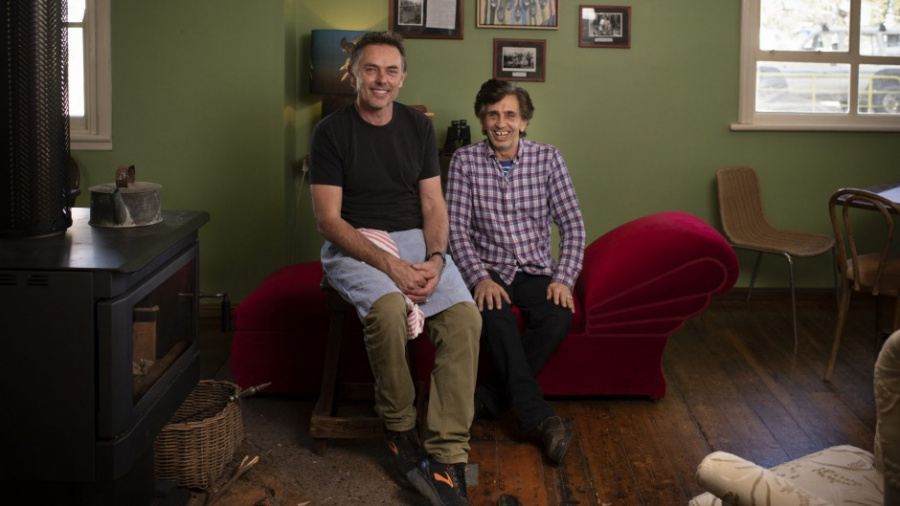 Sean Moran (left) and Michael "Manoo" Robertson at High Hopes Roadhouse, Bilpin. Photo: Wolter Peeters
Fill the tank and pump a Paul Kelly Best Of. Day tripping is back in a big way as NSW recovers from the coronavirus and Sydneysiders look to leave the city behind.
"We received a lot of positive feedback from tourism operators over the long weekend," says Tourism Minister Stuart Ayres. 
"Many regional NSW accommodation providers were at 100 per cent capacity, and some cellar doors in Orange recorded their strongest sales in over 20 years."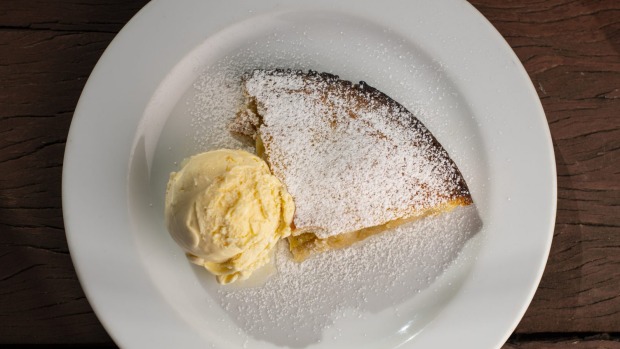 Apple pie at High Hopes Roadhouse. Photo: Wolter Peeters
Ayres says an increase in search traffic at VisitNSW.com shows that many people are eager to keep travelling too. 
"We expect holidaymakers will ease into travel through short breaks and road trips, visiting friends and relatives, and outdoor adventures such as caravanning, camping and hiking."
Holidaymakers also need sustenance. A great lunch spot is vital for a successful day trip, so here are five of the state's best plus other venues essential for a cracking jaunt that can be found nearby.
Snapper, peas, kaiserfleich, shitake and kombu broth at Small Town, Milton. Photo: Harriet Davidson
(NB: Always have a choice dinner spot in the back of your mind. Day trips can quickly become a spontaneous weekend away where you find yourself drinking shiraz from a motel tumbler and watching Austar.)
High Hopes Roadhouse, Bilpin
Sean Moran (Sean's Panaroma, Bondi) and partner Michael "Manoo" Robertson opened this Blue Mountains roadhouse last week and it has everything a country diner should. Warm service, a warmer fireplace, and home-style food showcasing beautiful produce from the owners' Bilpin farm.
"It's got a lot of charm," says Moran, who painted the High Hopes signage himself. "We're using our farm-grown cavolo nero with a steak and egg dish. There's also chipolatas served with onion gravy and peas, pumpkin soup with fresh horseradish, and apple pie from a self-taught baker down the road." 
High Hopes is open daily for drop-in visits. "We have to be open daily, we're a roadhouse," says Moran. 2588 Bells Line of Road, Bilpin. 
For coffee The Grumpy Baker, 2481 Bells Line of Road, Bilpin For a pie The Hive, 6-18 Bells Line of Road, Berambing For dinner Lochiel House, 1259 Bells Line of Road, Kurrajong Heights.
Scottie's Seafood, Newcastle
Fish-and-chips at Scottie's has been a Newcastle institution since Bob Hudson was top of the pops. While there's a lot to love about burning your fingers on hot battered flathead from Scotties' takeaway window, a seat in the breezy dining room is rewarded with cracker-jack examples of seafood cooking.
Former Rockpool chef Joel Humphreys took over the pans last year and serves straight-up deliciousness such as whole snapper enhanced by burnt butter and seaweed, and a rock lobster club sandwich with a hash brown because it's winter and why the heck not? Enjoy a negroni or natural wine outside if weather permits. 36 Scott Street, Newcastle East. 
For coffee The Kiosk, 42 Shortland Esplanade, Newcastle East For a pie Baked Uprising, 21/25 Downie Street, Maryville For dinner Subo, 551 Hunter Street, Newcastle.
Bistro Molines, Mount View
Robert and Sally Molines hatted bistro has been charming Hunter Valley visitors with candelabras and stunning vineyard views since 2008. It's an ever-reliable place to wave goodbye to the cares of the week (or year, rather) with a long glass of semillon and provincial French food. Warm quail salad? Leek tart? Perfect cote de boeuf? Yes please, all of the above and a slice of chevre too. 749 Mount View Road, Mount View. 
For coffee Cafe Enzo, corner of Broke Road and Ekerts Road, Pokolbin For a pie Fawk Foods Kitchen and Bakery, 2188 Broke Road, Pokolbin For dinner Yellow Billy Restaurant, Piggs Peake Winery, 697 Hermitage Road, Pokolbin.
Small Town, Milton
"Like a lot of regional restaurants, 2020 has been a crazy year for us with the bushfires and coronavirus more or less lumped together," says Alex Delly, who opened the 20-seater Small Town with wife Jo Thomas on the south coast last year. "We're definitely looking forward to the regional tourism floodgates opening."
Small Town is back in action with vibrant wines and the honest cooking that earned Thomas and Delly's previous Milton restaurant, St Isidore, a Good Food Guide hat. Clyde River oysters are optional but also somewhat essential. 4/41 Wason Street, Milton.
For coffee Sour Bro, Milton Hotel, 74 Princes Highway, Milton For a pie Heritage Bakery, 197-201 Princes Highway, Milton For dinner Rick Stein at Bannisters, 191 Mitchell Parade, Mollymook Beach.
Moonacres Kitchen, Robertson
Few dishes make for a more steadying lunch than warm ricotta pie, fresh from the oven and served with lightly dressed salad. A pot of herbal tea may be in order, too. Moonacres can provide all this and more in sleepy Roberston which has reasons to visit beyond a giant spud in the centre of town. Southern Highlands produce shines at Moonacres in dishes such as three-egg scramble with feta and organic greens and the local pub pours a bloody good schooner.
For coffee Robertson Cheese Factory, 107 Hoddle Street, Robertson For a pie Lucinda's Pantry 1/101 Hoddle Street, Robertson For dinner Robertson Public House, 89 Hoddle Street Robertson.