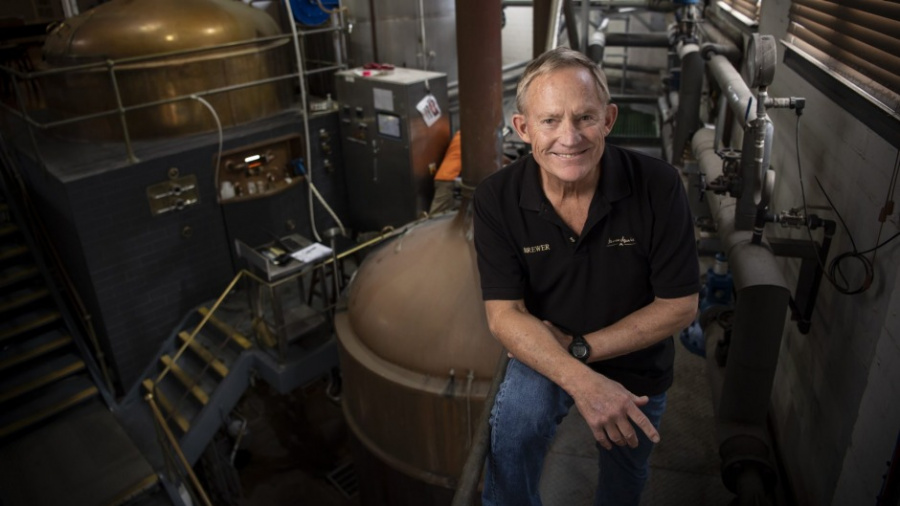 Dr Charles 'Chuck' Hahn at the Malt Shovel Brewery in Camperdown, May 2021. Photo: Wolter Peeters
In the beginning there was porter, shipped to Australia by the First Fleet and enjoyed with salt beef in Botany Bay. Later came Carlton, Foster's, Tooheys and Tooth's. At some point: Light Ice. Today, the domestic beer scene is a billabong of craft ales, lagers, sours and stouts; a well of witbier, saison and even the occasional bock.
Many brewers credit one man more responsible for Australia's modern craft beer movement than anyone else – Dr Charles "Chuck" Hahn, who celebrates 50 years of brewing in June.
"It's a little hard to believe I've been in the beer industry for so long," says Hahn, who founded his eponymous brewery and the James Squire brand after moving to Australia from the US in 1981.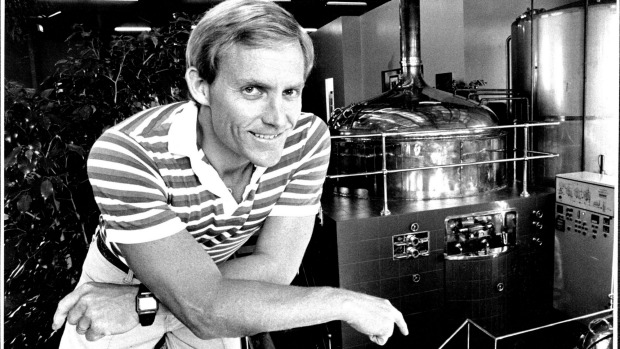 Chuck Hahn at the Malt Shovel, Camperdown, in 1988 when Australia only had 35 breweries. Photo: Fairfax Media
"Funnily enough, I saw Hungry Jack's is celebrating half a century in business too – another migrator with roots in America."
Hahn will drink to 50 years in beer (and his 75th birthday) on July 22 at James Squires' flagship brewhouse in Circular Quay, Sydney. Chairman of the Independent Brewers Association, Peter Philip, is one of many beer industry leaders who look forward to clinking a cold one with Hahn on the night.
"Chuck is often referred to as the godfather of independent beer in Australia and I think that's an apt title," says Philip. "Hahn was one of the first modern independent breweries. Chuck helped pave the way for all us other craft brewers."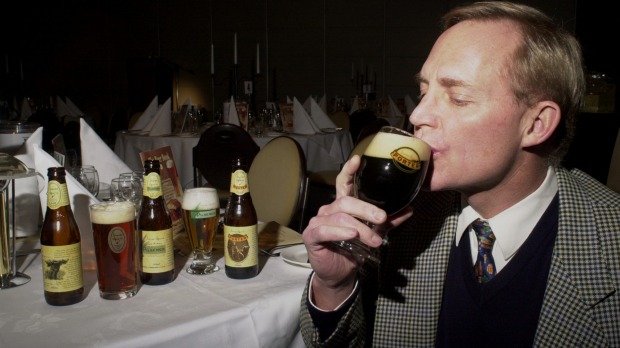 Hahn sips a James Squire porter in 2000, on a mission to get more Australians pairing beer with food. Photo: Supplied
Studying in Colorado, Hahn gained a PhD in chemical engineering before joining Coors Brewing to work in product development.
"My university was just across the street from Coors, and I would often visit the tasting room to write up lab reports," he says. "Eventually I figured that beer-drinking was a better job than working with petrochemicals."
Hahn was head-hunted by Sydney's declining Tooth and Co. to take over as its general manager of brewing in the early 1980s, making beers such as Resch's and Tooth's KB Lager.
"Back then, if you were in NSW, you had a choice between Tooths, Tooheys or Resch's," says Hahn. "In Victoria it was Carlton Draught or Carlton Draught."
Carlton & United Breweries bought Tooth in 1983 and Hahn left the business ("CUB had its own people it wanted to move in"). By 1988, he had raised enough finance with business partners to launch Hahn Brewery in Camperdown, Sydney.
Hahn was one of the first east coast breweries to release premium beers and seasonal "one-offs" such as O'Flanagan's Irish Red and Chuck's Cold Cock Bock featuring a shivering, snow-covered rooster on the label.
Hahn still actively brews with Lion today, developing brands for the multinational including Kosciuszko Pale Ale and James Squire. Photo: Wolter Peeters
It was the harbinger of a special-release trend that has led Australian breweries to make beer flavoured with anything from bubblegum to sea urchin to Anzac biscuits. Hahn is not a huge fan.
"I'm more into making beer for beer drinkers – none of this stuff flavoured with cookies and what have you. That kind of beer is something you might have a sip of and think 'that's alright', but it's not something you can drink a whole schooner or pint of and socialise."
Drinks giant Lion acquired Hahn Brewery in 1993 and promoted the beer doctor to chief brewer for the group.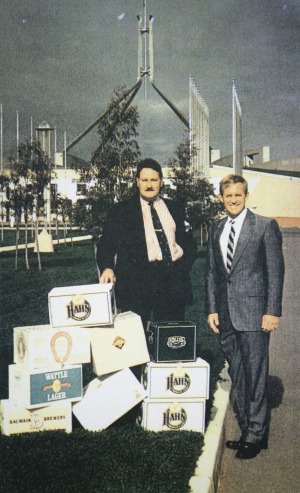 Lord Nelson brewer Blair Hayden and Chuck Hahn representing small brewers outside Parliament House in the early 90s. Photo: Supplied
"It was around the time of the 'recession that Australian had to have'," says Hahn. "That was a tough time to be a small brewer. We were trying to get more investors, but it wasn't like it is now with people everywhere looking to buy a brewery. Thankfully, Lion came in at the last minute."
Hahn still actively brews with Lion, developing brands for the multinational including Kosciuszko Pale Ale and James Squire with a large degree of independence.
"When Chuck launched James Squire [in 1999], it was a pioneer of the craft beer styles common today but totally unique back then," says Philip, who founded Wayward Brewing a keg roll from James Squires' Camperdown headquarters nine years ago.
"The first time I tasted a Squire Golden Ale, I remember thinking 'holy heck, this is bloody good stuff'. It became the only beer I drank for a year after that."
In addition to creating new beer recipes and lobbying Canberra for better tax breaks for brewers throughout his career, Hahn also dedicated a lot of time to helping new independent breweries get off the ground.
"When I was looking at the Wayward site, I spent an afternoon with Chuck to talk about what we were doing, and he gave me a lot of good advice, says Philip. "When our equipment arrived, he came down boots and all and spent the whole day helping us unload containers."
When Hahn launched in Australia's bicentenary there were 35 breweries around the country. Today, there are more than 600, although Hahn believes that number may be approaching its limit.
"It's the same with spirits. There is only so much beer and gin people can drink!"
Regardless, Hahn is excited about beer's future. "Craft breweries might have maxed out a little, and data shows per capita beer consumption has gone down, but there is still huge public interest in new ales and lagers and different styles," he says.
"The main change from when I started brewing is that men and women are tasting beer rather than just drinking it. It used to be that beer was drunk for refreshment and relaxation. Australians still do that, but now we also drink beer with food, and with reverence and respect.
"People are drinking less beer, but they're talking more about it."