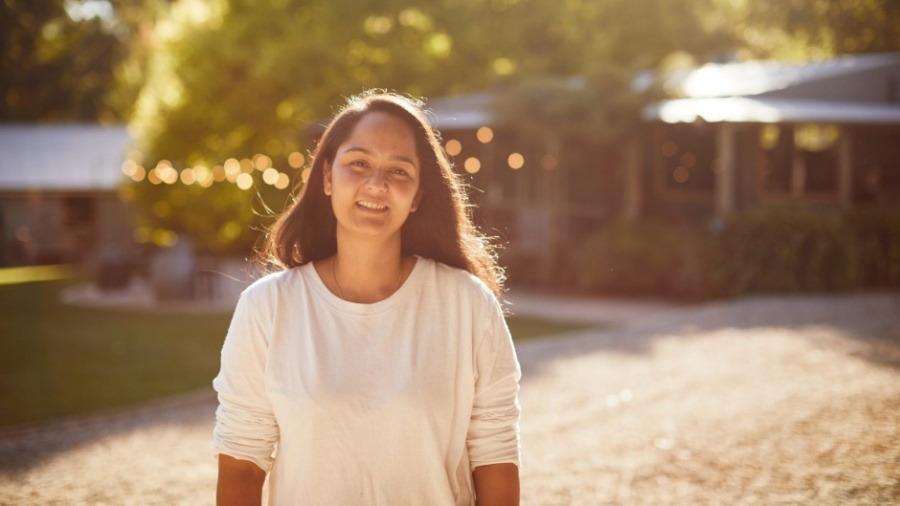 Helly Raichura at her Enter Via Laundry pop-up in Monbulk in the Dandenong Ranges outside Melbourne. Photo: Kristoffer Paulsen
There's something stirring out there.
It used to be a soft rustle in the undergrowth, but it's grown into a full-blown regional dining renaissance, as chefs hit the road and go bush.
It's not just chefs, of course.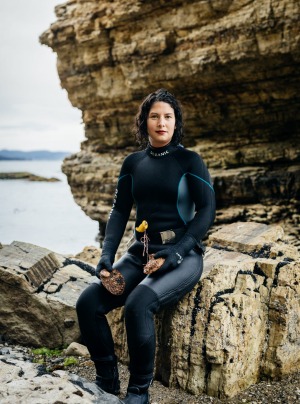 Chef Analiese Gregory. Photo: Adam Gibson
According to the Australian Bureau of Statistics, the nation's capital cities lost 11,200 people during the September quarter of 2020 alone, the biggest net loss seen this century. But for regional Australia, it's the biggest net gain, as so many passionate, trained chefs join the exodus.
Poster girl for the "See Ya Later, Have A Nice Day" movement is Analiese Gregory, who was at Hobart restaurant Franklin, and before that at several inner-city Sydney venues.
She is celebrating three years as a spear-fishing, trout-cooking, chook-wrangling city refugee.
The result of her restlessness will come to fruition later this year when she plans to turns her rural Tasmanian home into a small restaurant.
Plenty of chefs harbour plot-to-table dreams for their whole careers yet never make the leap. So why now?
The reasons vary. Before the lockdowns, the Australian hospitality scene was on its knees. Rents, wages, produce prices and unbridled competition were conspiring to create an impossible financial burden for owner-operators and stifling creativity. When COVID stopped the nation, there was the space, time and clarity for some to plan their exit route.
In autumn 2020 a number of chefs packed their hard-won reputations into a knapsack and headed for the bush or the seaside, driven by everything from the need for outdoor seating to a desire to escape the city grind and expense. This was coupled with a determination to help the regions recover after the bushfire-pandemic double whammy.
Exemplifying the trend is Helly Raichura, who moved her cult, MasterChef-famous restaurant, Enter Via Laundry, from suburban Melbourne to the Dandenong Ranges, on the urban fringe.
As chefs define a new future for themselves, how will that play out for us as diners? Expect more changes to the way we eat as chefs and restaurateurs shake up business models of the past and find new ways of feeding people that align more closely with their values.
According to the chefs on these pages, everything is on the table. And, hopefully, goodwill and good food shall spread across the land.
Helly Raichura
From Melbourne to the Dandenong hills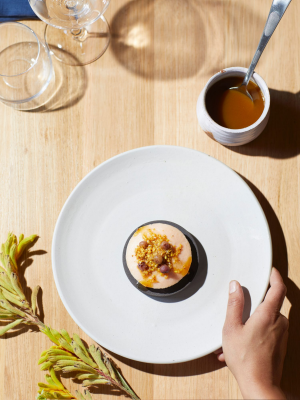 Place is pivotal to Helly Raichura's MasterChef-famous Enter Via Laundry dining experiences. "It's not supposed to feel like a restaurant," says Raichura who, since December has moved those experiences from her home to the hills.
During lockdown, Raichura's menus explored regional India from Rajasthan to Gujarat. Her degustations' current focus is fittingly on the effect of migration on food, the influence of occupation on Indian cooking and the fact she is cooking it here in Australia.
It's a complex story Raichura wants to tell in a beautiful space. Currently, that's a venue in Monbulk. "I want to help the regions. All our product is Australian and it's so relaxing," says Raichura, who encourages diners to walk barefoot before sitting down to dishes inspired by the rich, hedonistic Mughal-era, given an Australian context.
Beneath the stars, or over long lunch, there are zucchini flowers with peanut chaat masala and frozen sweet kulfi pinged with Geraldton wax.
Go-to dish: Lazeezan, a showstopper featuring lamb and edible silver.
entervialaundry.com.au
Ben Shewry
From Melbourne to Seville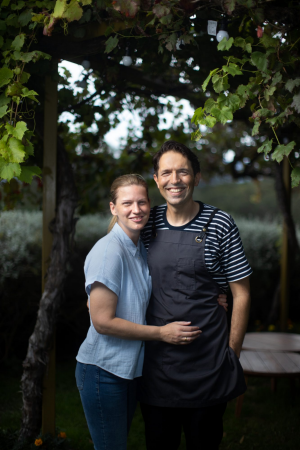 For diners, it's the dream: one of Australia's finest chefs, Ben Shewry and team Attica, set against a backdrop of fat ponies and velvet hills, serving the final word in hasselback potatoes, and kangaroo skewers cooked over coals, with a fantasy dessert trolley to boot.
Shewry is loving Attica Summer Camp, a pop-up that runs until the end of May on a winery in Victoria's Yarra Valley. "I've never had a view," he says, gazing at the dynamic mountains he has come to believe hold magic.
But Summer Camp has been no picnic for Shewry and partner Kylie Staddon (pictured), who work 20-hour days and make no secret of the fact that it was born of necessity rather than romance.
"We had no idea if the fine diner [in Ripponlea] could reopen under restrictions at all, and outdoor seating was no help on Glen Eira Road." Cue the hunt for, and transformation of, this bucolic winery with artist murals and Attica merch.
Electric, accessible and polished, it's essential dining, and nearby businesses are thanking their stars for the trickle down.
Go to dish: Burru (kangaroo) skewers, everything from the dessert trolley.
attica.com.au/summer-camp
Janina Allende
From Sydney to Merimbula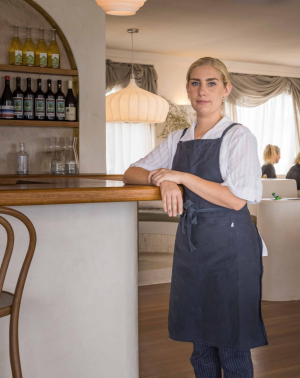 Janina Allende moved to Sydney from her home of Berlin four years ago. "But I was more scared moving from Sydney to Merimbula," she laughs. "It was frightening to leave the city." 
Allende was working with chef Daniel Pepperell at Alberto's Lounge in Sydney until the restaurant closed during lockdown. When Kirsty Pongratz and Diane McDonald of Dulcie's Cottage in Merimbula asked Pepperell to recommend a head chef for their new waterfront restaurant in Merimbula, it was a done deal.
Now at the simple-but-sophisticated Valentina, it's farewell to catching public transport home after work at midnight, and hello to having a swim on a kitchen break. Allende knows the people who dive for the abalone for her abalone carpaccio with shiso, papaya and fermented mandarin, and who catch the lobsters for her '70s-vibe lobster cocktail.
Valentina is a game-changer for the Sapphire Coast, with its pale linen, joyful local ceramics and romantically arched alcoves of wine, pulling a lively crowd from Victoria, Canberra and beyond. "I really like working with people who have all this experience from Sydney and want to create something dead amazing down here," says Allende. "It's great to be a part of that."
Go-to dish: Lobster cocktail, served in the half shell on ice, complete with curly parsley.
valentinarestaurant.com
David Moyle
From Melbourne to Byron Bay
The former chef of Franklin in Hobart and Longsong in Melbourne was meant to be in New York right now, where his partner lives. It didn't happen. Instead, he sea-changed from Little Bourke Street to Byron Bay to take up a role as chief of food for the Harvest restaurant group. 
His mission? To use the combined power of Harvest restaurant in Newrybar and Barrio Cantina in North Byron to make the region's farming network more resilient.
"Food systems work better here than anywhere else I know," says Moyle, whose long-term plans include growing oysters, farming seaweed and roasting coffee. "You need to know your area and work out how you can be part of that system. The great thing about Byron is that it has the numbers that can make it happen."
Plus the lifestyle, right? Even Moyle's dog, Frank, loves living by the beach. "I've bought three new surfboards since I moved to Byron last year," he laughs. "But I've done very little surfing."
Go-to dish: Grilled prawns with pepper butter.
harvestnewrybar.com.au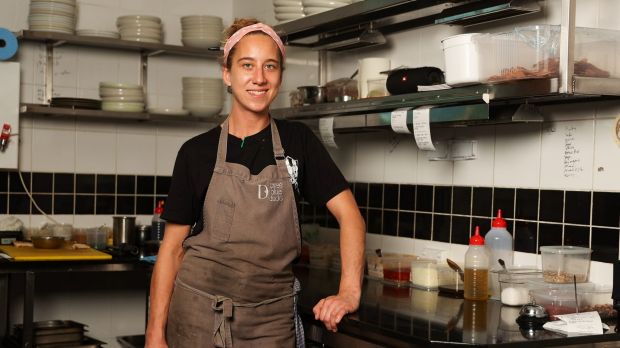 Head chef at Three Blue Ducks at Nimbo Fork Lodge, Edmee Driez. Photo: Alex Ellinghausen
Edmee Driez
From Sydney to the Tumut River
"I liked Nimbo immediately because it reminds me of Normandy," says Edmee Driez, who was born in northern France. It helped the young head chef of Three Blue Ducks at Bronte to take a leap of faith and transplant herself to the rolling hills and rippling rivers of Australian fly-fishing country at Killimicat, near Tumut at the northern end of the Kosciuszko National Park.
As head chef at Three Blue Ducks at Nimbo Fork Lodge, Driez brings French pragmatism and a strong work ethic to the table, says the Ducks' Mark LaBrooy. "Edmee is so adaptable," he says. "She is fly-fishing, getting her gun licence, picking wild weeds and cooking for 30 people a night."
Driez started from scratch in June 2020, making her own ricotta for gnocchi, baking bread ("there's no sourdough around here"), making butter and pickling and preserving. "I can't get anything delivered, so I meet producers in person," she says. "Each one is another connection, almost like family."
Go-to dish: Whole butterflied Nimbo trout, char-grilled with capers, garlic, lemon, dill and foraged greens.
nimbofork.com.au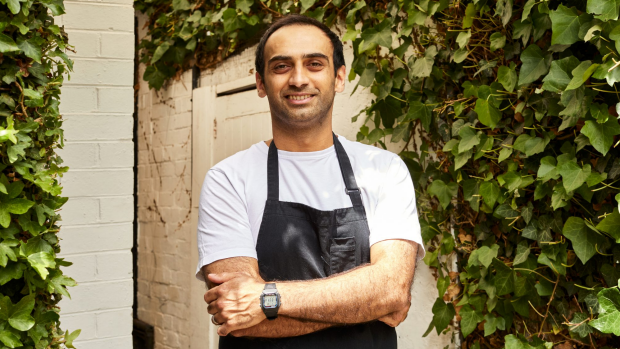 Harry Mangat of Biji Dining. Photo: Jana Langhorst
Harry Mangat
From Melbourne to Flinders Island 
Chef Harry Mangat has been successfully running contemporary Indian Biji Dining pop-ups since working alongside Peter Gunn, back when the chef of two-hat IDES was a roving renegade himself.
Pre-COVID, Mangat and wife Sandy were on the cusp of leaving for international gigs. While those plans were scuppered, the pandemic highlighted both the risk of restaurant ownership and the opportunities of nomadic cheffing.
In November he filled the empty kitchen of Carlton's Little Andorra for sell-out set-menu dinners. A summer stint followed at Avani Wines on the Mornington Peninsula.
Since March, Mangat has been hooked by The Flinders Wharf on Flinders Island. This restaurant-slash-distillery on a remote island off Tasmania's coast brings chefs to its shores to play with the island's bounty of crayfish, wallaby and wild goose.
Mangat, whose menu runs until mid-April, is serving a whole crayfish with mustard oil, cumin and lime, plus a spiced cray-head custard with smoked tail.
"I want to meet producers and learn from them as I go. I don't want to be rich. I want a good life." And he's getting one. After Flinders, Daintree Ecolodge beckons, ready with its palm hearts, crocodile and coral trout.
Go-to dish: It's cray season, so get the crustacean any which way.
onislandtime.com.au
Glenn Laurie
From Melbourne to Geelong via Torquay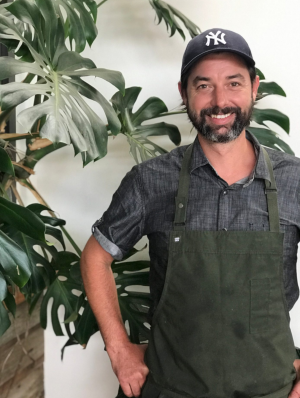 Having swapped Heidelberg for the Surf Coast after selling Little Black Pig & Sons restaurant in 2018, Glenn Laurie and partner Lolo Hanser were ahead of the tree-change curve.
It's been a tough few years, but the couple is well placed to rise on the migratory tide, transforming the eatery at social enterprise garden project Common Ground into Italian osteria La Cantina.
For Laurie it's a lifelong dream realised. "I grew produce for the Heidelberg restaurant, but having diners here in the gardens, seeing what we're picking and cooking, makes a difference." 
It's not just his dream. While restaurants across the state struggle for staff, Laurie counts a starstudded crew of like-minded chefs.
The restaurant, at Freshwater Creek near Geelong, is booked out most services and Laurie credits that to a major attitude shift.
"This isn't fine dining. I cook nonna food," says the chef, who roasts the likes of herb-stuffed pork belly over mallee roots alongside thick cuts of eggplant.
"The produce is incredible and a new appreciative audience is travelling."
Go-to dish: The menu changes with the garden. Check for what's in bloom.
commongroundproject.com.au
Mindy Woods
From Sydney to Byron Bay
"The plan was always to come back to my ancestral lands," says Mindy Woods. "I'm a Bundjalung woman and this is Bundjalung country. My mum and my aunties have always said, 'When are you coming home?' "
But it wasn't until 2020 that she took the plunge, moving from Sydney, where she was CEO of the bustling Lotus Dining Group, to Byron Bay. "I moved for a better work-life balance – and then opened a restaurant," she laughs. "It has been non-stop busy, but I have never been so sure of anything in my life."
By embracing Australia's Indigenous ingredients at her breezy, casual Karkalla restaurant (named for the crisp, salty succulent found in the sand dunes), she also wants to celebrate the ancient knowledge of her elders. "It's about changing the narrative, which has been such a negative one for Indigenous Australia," she says, "and helping all Australians feel proud of these incredible resources we have around us."
Go to dish: Macadamia hummus with native apples and crispy sage (and a finger lime margarita).
karkalla.com.au
Daniel Medcalf
From Sydney to the Tweed Valley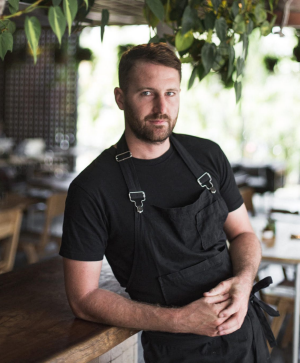 Unlike most chefs moving to the beaches of northern NSW, Daniel Medcalf is returning home. "I was always going to come back to Australia, but the fear and unknowns of COVID sped that up," says the Byron-born Medcalf, who moved to Bali with the Icebergs restaurant group in 2017.
His first role back was cooking long, lazy, weekend lunches for guests at Frida's Field, a romantically situated on-farm restaurant in the Byron hinterland run by regenerative farmers Edward and Jeanie Rawlings. "It was brilliant," he says, "but it made me realise that after 18 years of cheffing, I had to do my own thing."
Medcalf has partnered with fellow treechanger and former Icebergs GM, Rachel Duffy, and is scouting for a venue in the Tweed Valley, inland from Kingscliff. He plans a short, set menu of "country rustic" food.
"Having come from the higher end of dining, we just want to do things very simply now," says Medcalf.