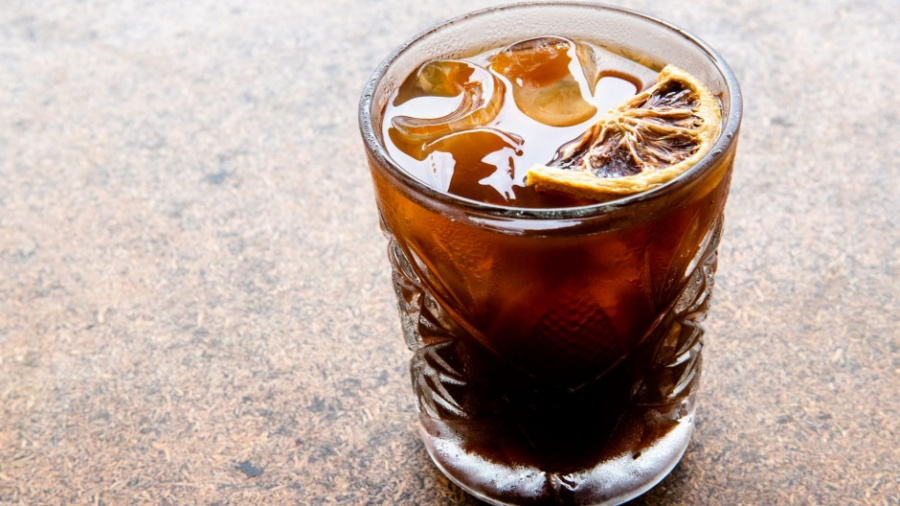 A Single O cold brew coffee at Three Blue Ducks, Bronte. Photo: Edwina Pickles
Move over, iced coffee. There's a new chilled caffeine hit in town. It's cold brew and it's taking fridges by storm.
"Cold brew coffee has been growing in popularity at cafes over the past 12 months, but since the beginning of summer sales have skyrocketed," says Tobias Poiner, head of coffee training at Single O roasters in Sydney.
"People have also been discovering new brew methods since COVID, and cold brew is one of the easiest ways to make great coffee at home."
Recipes don't get much simpler: add ground coffee to a container with cold water and leave in the fridge overnight. Strain through a muslin cloth or filter the next day and voila – a refreshing cafe-style cold brew.
"I also know people too lazy to even bother straining and will just pour the coffee really slowly from a jar," says Poiner. "You can buy specialised cold brew equipment too, but the basic immersion method remains the same."
A ratio of around one part coffee to 15 parts water will create a ready-to-drink cold brew, however fans of a strong long black, or anyone who intends to add milk, will prefer to use less liquid.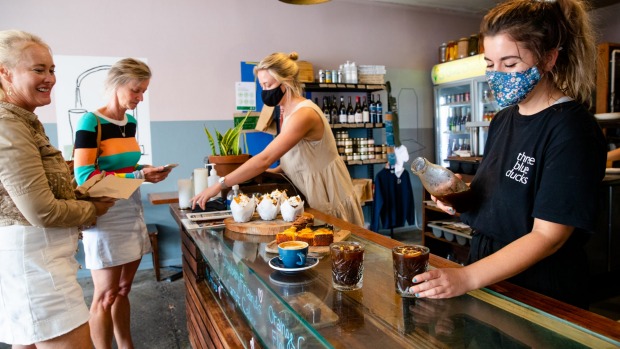 Cold brew has skyrocketed this summer at cafes such as Three Blue Ducks, Bronte. Photo: Edwina Pickles
A great cold brew may be described as smooth and lush, with more complexity than espresso thanks to its longer extraction.
Cold brew should not be confused with an iced long black or latte, which are espresso-based coffees poured over ice. It's also different to cold drip, which uses a coiled filter apparatus to drip water through coffee grounds.
"We had a lot of fun with our cold drip tower, but got rid of it a few years ago," says Trevor Simmons, chief executive and co-founder of Industry Beans roasters, which has stores in Melbourne, Sydney and Brisbane. "Cold brew has so much more to offer."
With a rounder taste profile than heat-treated coffee, cold brew lends itself well to cocktails, milkshakes and slushies.
Industry Beans launched a line of ready-to-drink cold brew products in November and all 8000 cans sold out in a fortnight.
"Cold brew was less than 5 per cent of our business five years ago," says Simmons. "Now it's 30 per cent. The popularity has doubled year-on-year, but with the new cans that growth has become exponential."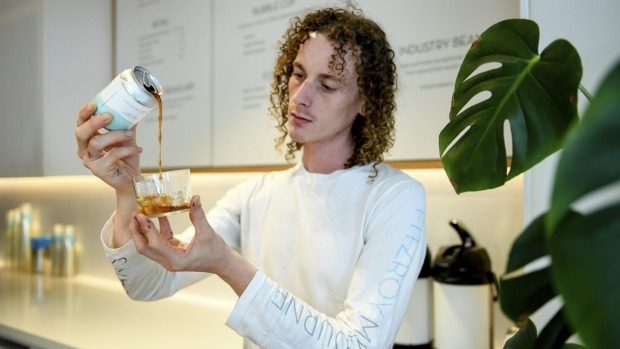 James Kuhle, store manager of Industry Beans on Little Collins Street in Melbourne, pouring the roaster's new cold brew from a can. Photo: Penny Stephens
Grand View Research consulting firm estimated the global ready-to-drink cold brew market was worth $US523 million ($682 million) in 2020, and predicts it will rise to $US1.6 billion by 2025.
Companies of all sizes are driving the growth, from small and mid-sized roasters such as Industry Beans and St. Ali in Melbourne, to global companies including Starbucks and plant-based milk business Califia Farms.
On Tuesday, Coca-Cola announced it would be adding cold brew to its classic fizzy drink for a new product launching in the US.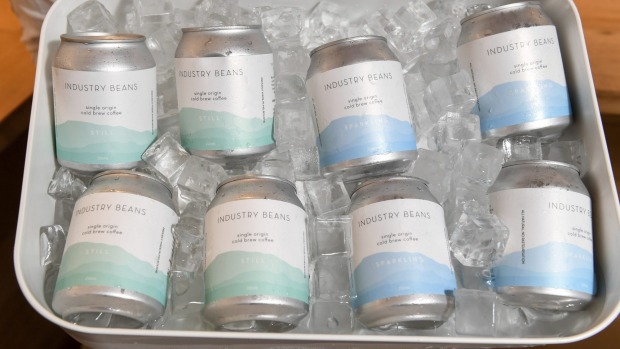 Industry Beans' canned cold brew. Photo: Penny Stephens
"Australia has traditionally been an espresso nation, rather than filter coffee, so the cold brew trend has taken longer to kick off than in other parts of the world," says Simmons.
"Now, largely thanks to new technology, more and more roasters are able to sell their cold brew in a format Australians can keep in the fridge like a six-pack."
From left: Dare Cold Brew Strong Latte; Hunt and Brew Ethiopia Single Origin Black Coffee; Califia Farms Mocha Noir Cold Brew Coffee with Almond. 
Supermarket cold brews put to the taste-test
Dare Cold Brew Strong Latte 300ml, $3.30
Score 1/5
Yep, Dare is well on board the cold brew train too. Smells burnt. Tastes burnt. There's also a strange smoky sweetness, and if Lion was trying to create something that tastes like Sizzler bacon bits in liquid form, the drinks giant has done a cracking job of it.
Hunt and Brew Ethiopia Single Origin Black Coffee 250ml, $3
Score 4/5
Whereas smaller roasters tend to focus on black cold brew, larger companies are more fond of adding milk to their ready-to-drink coffees. This is a welcome exception. Molasses on the nose and pleasant chocolate, burnt toffee and cherry flavours. Slightly bitter finish, but overall perfectly fine. Pour over ice and serve with a big wedge of orange.
Califia Farms Mocha Noir Cold Brew Coffee with Almond 310ml, $3.30
Score 2/5
"Hello, coffee? Are you in there? Caffeine? Anyone?" According to the label, cold brew represents 60 per cent of the ingredients in this American-made drink, but it tastes like powdered chocolate milk. Strong Milo vibes; 12-year-old vegans might enjoy it.
How to up your coffee game at home