Kaley Cuoco, in HBO's 'The Flight Attendant'.
There's something about flight attendants.
The job's mystique has made it a pop culture perennial, most recently in HBO's buzzy mystery-thriller, The Flight Attendant, whose convoluted plot hinges on the title character's mobility. Although the job is an increasingly demanding one that has changed dramatically over the years, many still view flight attendants – the term "stewardess" was retired in the 1980s – as hospitality workers at cruising altitude. And thanks to decades of airline-industry marketing, the hypersexualised image of female flight attendants persists in the public imagination. How did we get here?
The profession has gone through several permutations since 1930, the year Ellen Church, a registered nurse with a private pilot's license, was turned down for a pilot's job by Boeing Air Transport (later United). Though she was told the airline didn't employ female pilots, she was hired on the strength of her nursing qualifications to attend to passengers and fellow crew members during flights.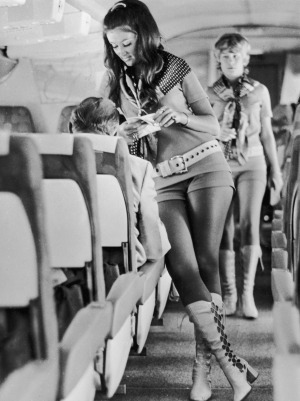 Circa 1972: Stewardesses working for Southwest Airlines in Texas "must be able to wear hot pants and kinky leather boots or they don't get the job". In accordance with the airline's motto, 'sex sells seats' interviewees were selected on the strength of their legs and their face. Drinks served during flights have names such as 'Passion Punch' and 'Love Potion'. Photo: Getty Images
"It was really mostly men who were (working) in the cabin when the profession was born," said Sara Nelson, a flight attendant with United since 1996 and president of the Association of Flight Attendants-CWA, the union organised in 1945. "Ellen Church argued with the CEO of Boeing, who told her women were too emotional to be on the flight deck." In the earliest years of flight, "stewards," a title borrowed from nautical travel lingo, or "cabin boys," assisted passengers with practical matters on luxurious European airships. There was no food service back then.
Cabin boys played a functional role as the industry expanded, but they were ultimately replaced by women such as Church. "Who better to reassure passengers than medically trained nurses?" said aviation writer Christine Negroni, author of "The Crash Detectives: Investigating the World's Most Mysterious Air Disasters." But the need for reassurance diminished as air travel became more commonplace.
"Once it became a matter of 'C'mon in, it's safe up here,' that was it," Negroni said. Commercial aviation was changing rapidly, and with it the roles of flight attendants.
In the US, until the passage of the Airline Deregulation Act in 1978, image was a vitally important way for airlines to distinguish themselves from competitors. "Everyone was charged the same fares, so the only way that these airlines competed was via product," said Kaunteya Chitnis, senior vice president of acquisitions and development for MCR, which developed and runs New York's TWA Hotel, which is retrofitted into the 1962 mid-century-modern-style TWA Flight Centre at John F. Kennedy Airport. "That's why there was so much emphasis on the uniforms and the champagnes served onboard. They wanted to make people feel like travel was something different and special." Flight attendants played a major role in doing that.
The TWA Hotel at New York's JFK airport opened in May 2019. Photo: Emily Gilbert
A 1958 Life magazine cover story – "Air Hostesses: A Coveted Career" – called flight attendants "glamour girls of the air." The vintage uniforms on display at the TWA Hotel, by designers such as Oleg Cassini, Valentino and Ralph Lauren, embody the trope of flight attendants as jet-setting fashion plates. But it wasn't necessarily glamour that women coveted. The job offered the promise of travelling to faraway places at a time when nursing, teaching and secretarial work were women's limited career choices. "Marriage is fine! But shouldn't you see the world first?" asked a 1967 United Airlines ad promoting the profession.
In the 1960s and '70s, air travel was still novel enough to have an air of futuristic fantasy. A staff of pert and presumably available women added sex appeal to the mix: You could be forgiven if you mistook an airline advertisement for one promoting a gentlemen's club. Braniff International depicted dancing women in mod fashions and played on the term "air strip." A Southern Airlines commercial featured toga-wearing flight attendants having a raucous party with first-class passengers. And a National campaign showed close-ups of young women's faces with tag lines like "I'm Laura. Fly me nonstop to Miami."
As the institutional sexism intensified, the union slapped back. In 1968, the AFA-CWA leveraged the 1964 Civil Rights Act to strike down airline policies that forbade flight attendants to marry and forced them to retire by the time they reached their early to mid-30s. In the years that followed, airlines would lift their restrictions around flight attendants working during pregnancy and be prohibited from discriminating against male applicants for flight attendant positions. In the legal proceedings, Pan Am, the defendant, had to prove that men were unqualified for the job. It failed to do so, and men soon joined the ranks in greater numbers.
Nonetheless informal protocols around appearance persisted through the early 1970s, when "weigh-ins" were not uncommon. In 1972, Lynda Bird Robb, President Lyndon B. Johnson's daughter, wrote an article titled "I Was a Stewardess for a Day" for Ladies' Home Journal. She recounts that an airline executive told her. "If a stewardess isn't disciplined enough to stay within the [weight] limits, then she isn't disciplined enough to be responsible for our passengers at 35,000 feet."
"We were objectified and sold in any way we could be. But we also fought back because we built a union," said Nelson of the AFA-CWA. "We pushed through all those discriminatory barriers and continue to build on that."
The union's efforts also made flying safer. It supported exit-row lighting and the presence of health and safety resources onboard, such as defibrillators. It streamlined certification requirements to make sure training is consistent. Its lobbying pushed to add more flame-retardant materials to aircraft. It fought for Environmental Protection Agency oversight of the aircraft's water supply and Food and Drug Administration oversight on food. And the AFA-CWA was among the first groups to successfully take on Big Tobacco and win. In 1988, smoking was banned on flights under two hours US (Australia instituted a ban a year earlier – the first country in the world to do so), then on all domestic and international flights in 2000.
"It was actually a dangerous job back in the '70s, and things got a little goofy. My first uniform was hot pants and go-go boots," recalled Patty McLean, who flew with Transamerica from 1973 to 1982. "It was all very sexy." The Airline Deregulation Act decreased fares and consequently increased air traffic. As McLean told it, that's when things changed for flight attendants.
"They came to realise nobody follows orders from a dumb broad wearing hot pants and go-go boots," she said. "As time went by, we had yearly trainings, and every year got more and more serious – suddenly I was seen as a professional and no longer an airhead."
Uniforms throughout the years on display at TWA Hotel. Photo: David Mitchell
These days, the industry emphasises professionalism as the job's defining feature. "Now it's a vital role that's there for your safety," Negroni said. "Not only are you in a complex machine with lots of potential hazards, you might need to escape. And flights are longer now. The chance of someone having a medical emergency is greater."
If the union's role in establishing safety standards played a part in changing the profession's image, the additional regulations developed after 9/11 further emphasised the importance of the job. "We went from being just aviation first responders to serving as the first line of defense in aviation security," Nelson said.
B. Elizabeth Chabot, author of "Flight Attendants Lost in the Line of Duty," calls them "first responders without protective gear." From 1981 until she retired in 2001, her work in aviation ranged from flight attendant to airport management to employee training. "When there's a crash, flight attendants are there first," she noted. "But they're still not recognised."
The job has only gotten more demanding during the pandemic, when simply being inside an airplane for the duration of a flight is hazardous and the responsibility for confronting mask-resistant passengers often falls to the flight crew.
Clearly the job comes with no shortage of drama. Maybe someday we will see a show focused on flight attendants' intensive training and the risks and challenges they contend with in the sky. That could make for the best TV yet.
The Washington Post