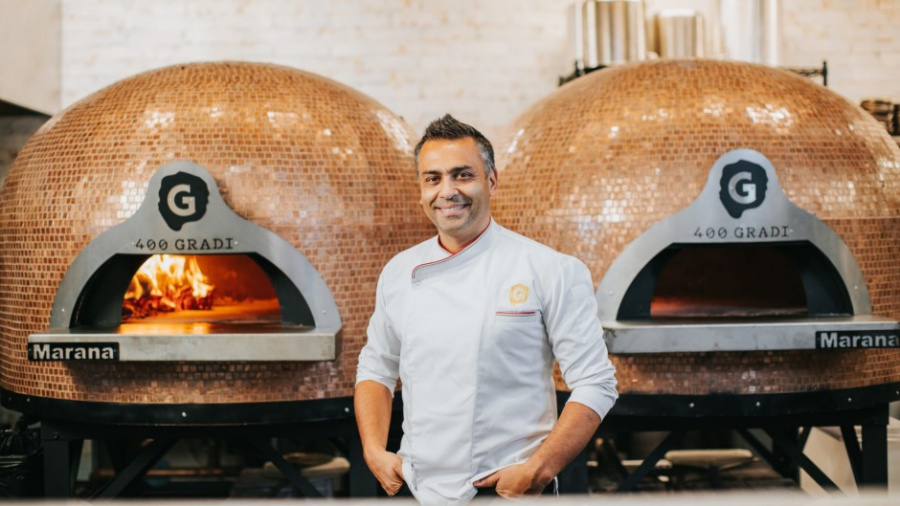 Melbourne chef Johnny Di Francesco developed his award-winning pizza recipe after a working trip to Naples. Photo: Kathy Tran
 Naples is not only the birthplace of "real" pizza but, many say, Italy's best pasta, pastry and espresso. Australian Italian chef and award-winning pizzaiolo Johnny Di Francesco reveals the places he chooses to wine and dine, after being a regular visitor to the city for more than a decade.
The ancient saying vedi Napoli e poi muori ("see Naples and then die") is poetic praise for a red-roofed, blue-water fringed city that Melbourne chef Johnny Di Francesco has now visited about 15 times. But it was on his fifth flight into Naples, the capital of Campania and a city of nearly one million, that the saying truly struck home to him. "I'll never forget, I flew from Rome during the afternoon," he says, adding that on previous visits he had always arrived with the city cloaked in darkness. "I'm looking outside my window thinking, 'Oh my God!' The scenery – the way the city wrapped around the water – it was just incredible."
Born in Australia to a Campanian father and a mother from the Sicilian island of Vulcano, Di Francesco grew up in Brunswick in a relatively "struggling" household. At 12 he got a job at the local pizzeria, his introduction to the restaurant game. "The only reason I got into it was to buy myself a pair of Nike Air runners – because I either went and worked for it or I couldn't have it."
'The way the city wrapped around the water – it was just incredible.' Photo: iStock
But by the time he finished high school he was hooked on cooking, leaving a TAFE course in engineering after only two days to get back in the kitchen. He borrowed money and opened his first venue at 19 and, for seven years, ran the franchise Panic Pizza across Melbourne's northern suburbs.
In the lead-up to opening his bustling 400 Gradi pizzeria in Melbourne's Brunswick East in 2008, Di Francesco travelled to Naples for a three-month working research trip. "I joined the Associazione Verace Pizza Napoletana [the organisation that polices Naples pizza protocols], became accredited, and worked in some of the best pizzerias around."
By 2014, he was crowned World Pizza Champion after producing the benchmark margherita at the annual Campionato Mondiale Della Pizza in Parma, Italy. The title has helped make him a pizza mogul – he's opened more than a dozen venues since, including three in Melbourne, and in the Yarra Valley, Adelaide, Dallas, Kuwait, Bahrain and Qatar.
My father used to say, 'Johnny, if you ever find a friend in Naples, he'll be your friend forever.'
While people have been making flatbreads since ancient Egyptian times, Di Francesco says Naples is the true home of pizza, starting in the early 1700s with the mastunicola, a flatbread topped with lard, hard cheese and basil. The marinara (tomato, oregano, garlic and extra virgin olive oil) came next as a light meal for fishermen in the 1730s, followed by Raffaele Esposito's ode to Italian royalty, the game-changing margherita, in 1889.
Rich history aside, the quality that most intrigues Di Francesco about this city is its hospitality. "My father used to say, 'Johnny, if you ever find a friend in Naples, he'll be your friend forever.'"
Here are Di Francesco's must-visit places in the beautiful home of pizza.
Chalet Ciro
A true Neapolitan coffee is an espresso with one sugar – zuccherato – and most places in Naples will put one sugar in unless you tell them otherwise. People say the best coffee in the world is in Naples. But it's not because of the coffee, it's because of the water. The water here is amazing because it has a pH level of 7, making it "soft" and nicer to drink – it feels light even when you drink it from the tap. I recommend Chalet Ciro, a little coffee bar that's always packed with locals. They make an exceptionally good coffee, but, be warned, the coffee cup is boiling hot because they keep them on a bain-marie. The trick to not burning your tongue is to take the crema with your spoon and rub some on the rim of the cup to cool it down. It's easy to tell locals from tourists and their burnt tongues! chaletciro.it
Umberto
For dinner I never miss going to Umberto. It's been in the same family since 1916. I come here because I love eating their fresh fish. Pesce all'acqua pazza is the go-to dish: fish in "crazy water" broth. What I love about this restaurant is they serve what's been caught that day. You might have a branzino (sea bass) or a sogliola (sole), there's so many different types of fish. It's reasonably formal, with white tablecloths and an extensive wine list, but at the same time it's very approachable – they're happy to do pizza for the kids. umberto.it
Pizzerias
Naples is all about pizza and you'd be hard-pressed to find a bad one. If I haven't grabbed a pizza fritta (deep-fried pizza pockets with ricotta and salami) from the street I go to Da Michele (damichele.net), which only makes two pizzas – marinara and margherita (the restaurant became famous after Julia Roberts filmed a scene for Eat, Pray, Love there). Pizzeria Al 22 (al22pizzeria.it) is more of a pizzeria/trattoria, so you can also have some pasta and other things, too, but the owner is an extremely talented pizza chef. Then there's Mattozzi (ristorantemattozzi.it), which has more of a restaurant feel and is one of a dozen pizzerias that have been in the same family for more than 100 years. Finally, you must visit Gorizia (gorizia1916.com), which is famous for making a great mastunicola flatbread, and Starita (pizzeriestarita.it), which is known for the montanara: a base that is deep-fried, then topped with margherita ingredients and baked in a wood-fired oven. It's unbelievable!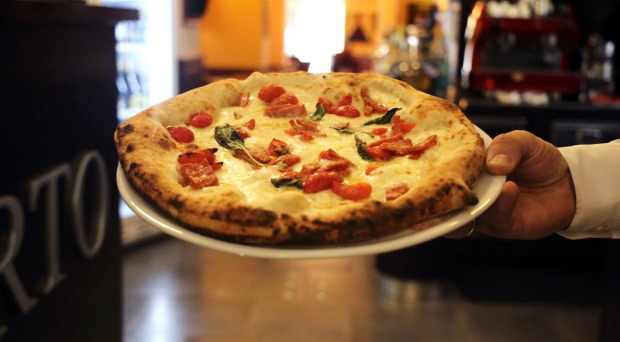 Find authentic Neapolitan pizza at Umberto Restaurant. Photo: Supplied
Ammaccamm
For pizza with a difference, I really like Salvatore Santucci's Ammaccamm. It's about 30 minutes' drive from Naples but he's got a really good recipe and has developed a few different doughs, playing outside tradition by using different flours like wholemeal and bases such as pumpkin and pea. I like that he's trying to create his own style, even though he stays within the rules of Neapolitan traditional pizza. He's experimenting but staying true to time-honoured techniques at the same time. ammaccamm.com
Palazzo Petrucci Ristorante
Set in a hotel with amazing views of the water, Palazzo Petrucci Ristorante is very refined. It was the first restaurant in Naples to win a Michelin star and, although I'm not a crazy fine-dining fan, this is a real experience. The service is on another level, the setting is amazing, the view is fantastic. It's very seafood-driven (Naples is known for its fantastic seafood) but they put their own spin on the cuisine, using popular ingredients in creative and unexpected ways. For example, they might take a traditional dish such as bread, sausages and friarielli (a bitter local green broccoli) and blitz the friarielli into a cream instead of cooking it traditionally. The presentation of the food is beautifully modern, too. palazzopetrucciristorante.it
A Figlia d'o Marenaro
Like nearly all restaurants in Naples, A Figlia d'o Marenaro has a pizza component but it's mostly known for its seafood. The gold-tiled kitchen is spectacular and they serve seafood with pasta, mussels in sauce, or you can choose your own fresh crayfish. Expect a bit of a show, too. The owner is a lady who'll come out to the table and start singing a song for you. afigliadomarenaro.eu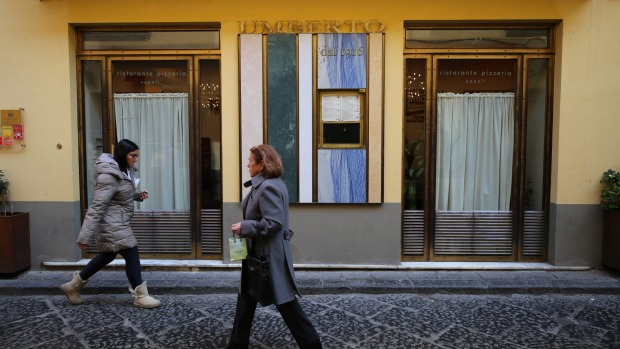 The family-run Umberto eatery has been in business for more than 100 years. Photo: Supplied
Da Adolfo
If you're in Naples and thinking about going to the Amalfi Coast, you'll want to go to Da Adolfo, a Positano restaurant an hour's drive away. I had one of the best experiences in my entire life here. It's on the coast, you can only get there by boat, and you need a reservation. The restaurant looks like a little shack with a tin roof and some crazy awnings hanging out the front but the food, a daily menu with house-made wine, is exceptional. The owner, Sergio, was born in Positano and has lived on and off in Australia for 20 years. The only thing is you have to plan months ahead because it is booked out forever. daadolfo.com
L'antiquario
From the outside L'antiquario looks like a book shop or a library. There's a little doorbell that you ring, and, if you don't have a reservation, you don't get in. It is an absolutely amazing cocktail lounge, with a beautiful mood and soft tunes. Downstairs you can press a button and the whole bookshelf opens to reveal a table that people can book for private parties. It's very cool. The owner has family in Le Centenarie ("the Centurions"), a group formed by five of the oldest pizza makers in Naples. facebook.com/antiquarionapoli
Wine & Liqueur
You'll find la falanghina, a fruity white wine, everywhere in Naples. It's great with seafood but watch out, it's very inexpensive so you'll find yourself drinking a lot. There's also greco di tufo, another white wine but not quite as fruity, a bit drier. And you must try aglianico, a popular easy-drinking red varietal from the Campania region. It's also a little bit dry. You'll want to finish off with limoncello because Naples has amazing lemons (although the best come from Sorrento). I recommend trying crema di limoncello, which is made using milk. It's creamier, oftena bit sweeter, and I prefer it to regular limoncello.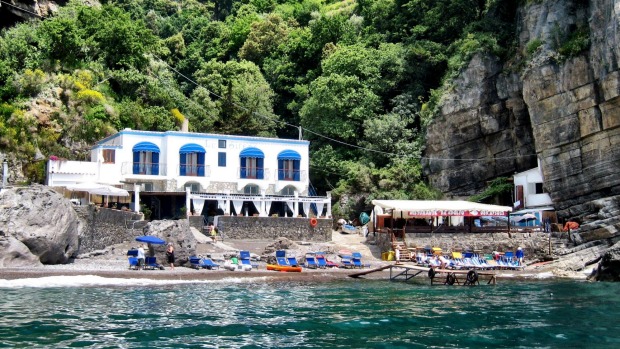 Da Adolfo restaurant in Positano can only be accessed by boat. Photo: Supplied
Gelato
Most pasticceria in Naples serve gelato but Gelateria Primavera (primaverasorrento.it), an hour away in Sorrento, is my pick and worth the drive. The owner is a legend. The walls and ceilings of his gelateria are covered in photos of cakes and pastries he's made for famous people around the world including the Pope, well-known actors and presidents. He sits at the register singing the same song over and over again. It's hilarious, trust me. The gelato is very good, too, with maybe 60 or 70 flavours on offer, plus a few cakes, as well.
STAY
$ De Gasperi 55
This clean, modern hotel is comfortable but modest, reflected in the bargain price of around $90 a night.You'll find yourself close to the port and only a 10 minute walk from the bustling centre of Naples. de-gasperi-55.hotel-naples.com
$$ Hotel Royal Continental
For a little more comfort and access to the water, this well-located hotel is directly across from the beach. Views vary from room to room (be sure to specify what you want) and guests can enjoy the swimming pool. royalgroup.it
$$$ Renaissance Naples Hotel Mediterraneo
This four-star hotel is just a 15-minute walk from the beach and surrounded by eateries. Some rooms feature ocean views and guests can enjoy a hot tub and the popular roof terrace for breakfast. marriott.com