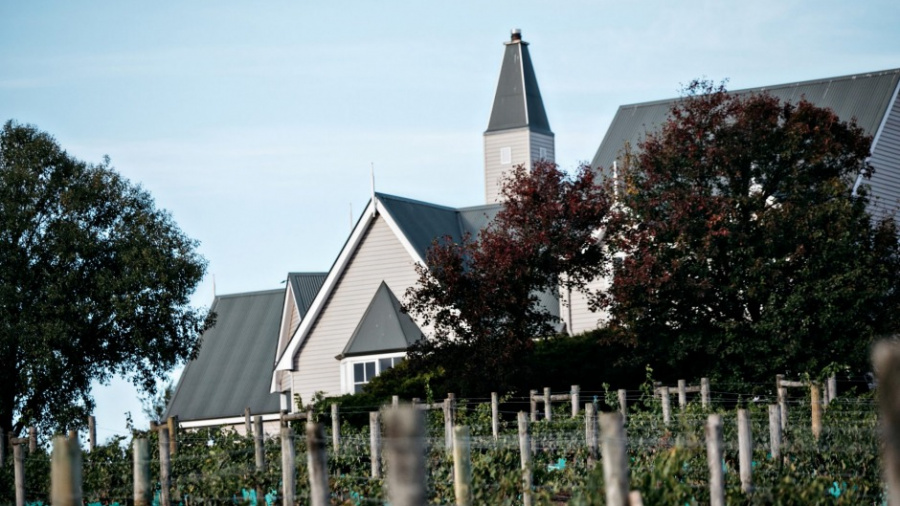 Dairy Flat Farm and Lodge in Musk. Photo: Kim Selby
Ten reasons to visit Daylesford and surrounds
Of all the wild conspiracies dreamt up to account for 2020, it's surprising the good old wrath of god hasn't had more airtime. Regional Victorian businesses faced drought, then bushfires and then a pandemic/plague. You'd forgive anyone watching their back for signs of locust swarms. But hopefully their luck is about to change.
Overnight stays are back on the cards, and our desire to help regional businesses intersects very neatly with our need to eat, drink and sleep anywhere but our homes. I would rent a windy barn at this point. But you can do better. Much better.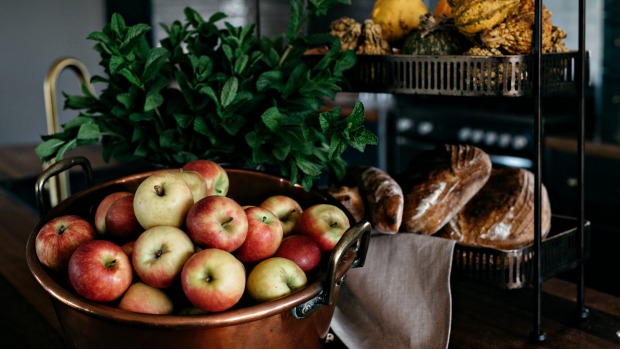 Farm-fresh produce on display in the kitchen. Photo: Supplied
The week before the world swung off its axis, I was hosted at Dairy Flat Farm. The ambitious project has been years in the making by the Wolf-Tasker family, founders of Daylesford's game-changing regional restaurant the Lake House. It's a 38-hectare regenerative farm, replete with vineyards, orchards, a bakery and a luxury lodge. It had just launched when the summer bushfires saw tourists flee.
But if timing was initially against Dairy Flat Farm, lockdown has almost perfectly groomed us for the experience. Industry veteran Alla Wolf-Tasker has sung the song of sustainable, local, quality produce for decades. She climbed the mountain in Daylesford with the Lake House on a wing, a prayer, and a lake of sweat and tears. Dairy Flat, at Musk, about 10 minutes from Daylesford, was created by the same team, as well as daughter Larissa and partner Rob Wilson, taking the sustainable vision further with a fully immersing agriturismo experience.
You can tend bees, learn horticulture, or participate in the entire planet's new hobby: sourdough baking with lessons in the onsite bakery with co-founder and former Tivoli Road king, Michael James. The converted cellar that is now the bakery is connected to the main lodge via a service tunnel. It has views across a gravel terrace, rolling vines and an Alice in Wonderland hedge maze. Imagine pummelling dough here instead of destroying your kitchen watching Youtube.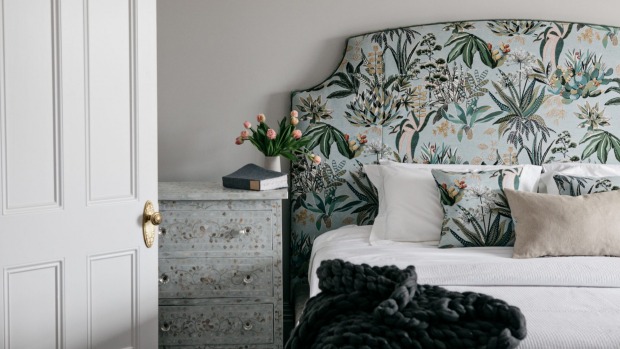 Dairy Flat Lodge is a high-threadcount post-lockdown escape. Photo: Kim Selby
Before breakfast, you can grab fresh pastries and coffee from the bakery and take a wander through the cutting gardens (for blooms). Too lazy to walk? Electric bikes will slingshot you to local cideries or to pick up smallgoods from local hero, Istra.
An honesty bar is stacked with spirits from local makers like Starward whisky and X gin. A live-in concierge, Lucinda Tindal (who you might recognise from the floors of Coda restaurant or the late Town Mouse), can make them into cocktails for aperitivo hour.
No question, this is a high thread-count experience, which extends to deep beds, deeper baths, and a house packed with Allan Wolf-Tasker landscapes (Alla's husband is a painter), Fran Pidgeon Illustrations and earthy farmhouse tables by Greg Stirling. A shuttle service is available to take you to dinner or lunch at the Lake House, but the mission here  is much more than a mere stay.
In the two hectares of gardens, hoop houses and greenhouses, they are cultivating heirloom fruit and vegetables destined for the two hat Lake House restaurant, and also sold through a farm shop and at Wombat Hill in Daylesford. The baking lessons – once restrictions lift to allow groups or non-guests to congregate – will be open to all.
The Wolf-Taskers created this experience to inspire and engage, but also drive home, in the most demonstrable way possible, the message that the loss of a meaningful connection  with our food supply, and the mass industrialisation of crafts such as baking would have consequences for us all. This past two months has neatly underscored the point.
Whether you're in desperate need of a great escape or have learnt how much you need to connect to food sources and get your hands dirty, this is the place. Run. You're free.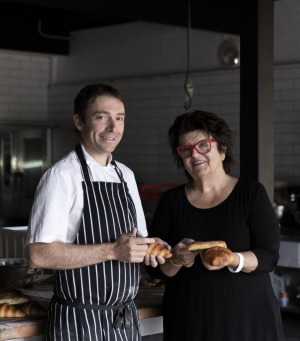 The bake house's Michael James and Alla Wolf-Tasker. Photo: Danny Wooten
The writer was a guest of Dairy Flat Farm and Lodge.
The lowdown
Where 238 Dairy Flat Road, Musk, 03 5348 3329, dairyflatfarmdaylesford.com.au
Cost Exclusive use of the lodge by groups up to 12 from $3990 per night. Couples from $665 per night when restrictions lift. Includes concierge, breakfast, bakery goods, farm produce, a selection of non-alcoholic and alcoholic drinks and facilities including telescope and spa. Classes are also available.
Pro tip The dream kitchen is yours. Bring empty Eskies and support local producers.
Also try
Provenance  
Make a run to Beechworth where Provenance chef Michael Ryan is ready to embrace you with the restaurant's contemporary Japanese-Australian charms, re-tooled as a kaiseki menu. Three waves of dishes include sashimi with yuzu koshu and celeriac noodles with black beans and sansho pepper. There may be an option for dining in the luxury onsite accommodation, so you can eat in robes in supreme comfort. 
86 Ford Street, Beechworth, theprovenance.com.au
Only ready for a daytrip? The two restaurants at the heart of the Gandel family's imposing sculpture park on the Mornington Peninsula will both be offering two- or three-course menus of the restaurants' classic dishes. Both dining rooms will be open for lunch seven days, and dinner Thursday to Sunday evenings. 
3649 Frankston-Flinders Road, Merricks, ptleoestate.com.au
Tedesca Osteria
​Brigitte Hafner opened her set menu Red Hill eatery, fuelled by fire and her own farm's produce, in December. It quickly emerged as a force, and with onsite accommodation for eight in an impeccable farmhouse, you can escape with a squad of friends from July 3 when they reopen. Until then, they will continue offering produce boxes. 
1175 Mornington-Flinders Road, Red Hill, tedesca.com.au/osteria-tedesca