Rotisserie chicken from Pickett's Deli & Rotisserie at the Victoria Market. Photo: Pat Scala
EARL Canteen's customers have been begging them to open at Melbourne Airport for years. "It's definitely our most asked-for location," says Jackie Middleton, EARL's director and co-founder.
"I think there's a perception that food at the airport isn't great, and Melburnians are passionate about good food and coffee. They want Melbourne brands at Melbourne airports."
Tullamarine seems to agree. EARL Canteen is just one of more than 11 well-known Melbourne cafe, bar and restaurant brands that will be replacing existing hospitality venues in terminals two and three between September and December this year as part of a major hospitality refresh.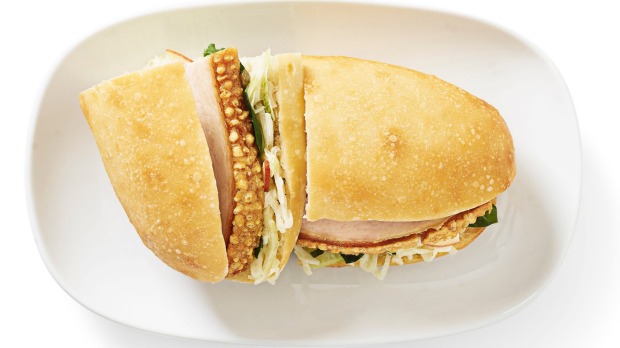 EARL Canteen's popular pork belly sandwich. Photo: Supplied
Joining EARL Canteen is Cobb Lane, Axil Coffee Roasters, Proud Mary and Stomping Ground Brewery Co., who will open an independent brewery on-site as well as a bar and restaurant.
Top chefs including Scott Pickett and Shane Delia will also be opening venues at Melbourne Airport.
Delia, the chef behind Maha and Biggie Smalls, will open Middle Ground, serving Middle Eastern-inspired food with a health focus.
Maha chef Shane Delia will open Middle Ground at the airport. Photo: Pat Scala
He's promising vibrant salads, sandwiches and snacks suitable to grab and go, although there will be a few seats for dining in. "I want to give people working at the airport or travelling another option," he says.
Pickett will be bringing his Queen Victoria Market concept to terminal three, opening a second Pickett's Deli & Rotisserie in the former P. J. O'Brien's space in November.
The all-day eatery will offer Melbourne coffee, superfood salads, pastries, baguettes and rotisserie chicken.
"The airport is a welcome to Melbourne, it showcases what the city's about," Pickett says. "For Melbourne to continue to be a global city, the airport needs to remain current and at the edge of global trends and standards. That comes through in the food as much as it does the immigration or baggage processes. It's a complete package."
Departure Drive, Melbourne Airport, melbourneairport.com.au