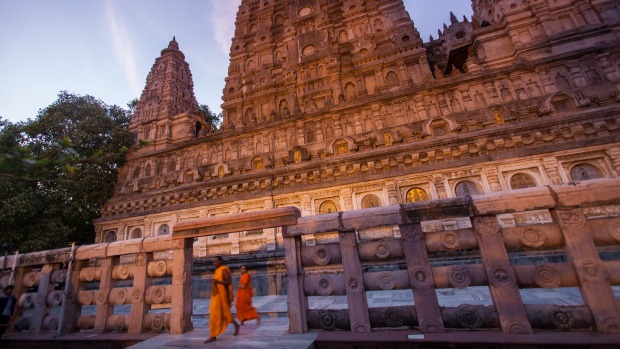 Bodh Gaya, in the north-east Indian state of Bihar, is where Buddha achieved enlightenment.
MY ONE DREAM DESTINATION IS STILL
Bodh Gaya, in the north-east Indian state of Bihar. It's where Buddha achieved enlightenment, so it's home to some very special temples and monasteries. I attended a two-week teaching by His Holiness the Dalai Lama in 2017, with approximately 300,000 others, mainly Indian, Chinese and Tibetan people. On my morning walk to the tent in which the teachings were held, I watched a huge bull walk up to the door of a small shop and it wouldn't budge until the visibly irritated shopkeeper hand fed him a packet of biscuits – one by one – then shooed him away.
WHEN THIS IS ALL OVER I'M DREAMING OF VISITING
Anywhere with Save the Children. I've never felt more useful, hopeful or content than when I was in the field, telling stories about their programs in Syria, Iraq, Lebanon, Jordan, Yemen and Australia in 2019.
MY DREAM TRAVEL BUBBLE DESTINATION IS
Singapore, because that giant hub airport would be a reminder of going to other places.
Meshel Laurie.
MY DREAM DOMESTIC DESTINATION IS
I love Port Douglas because it's more down to earth than I expected – the sort of place where you can have a serious yarn with a bloke about bait at the boat ramp.
MY DREAM DOMESTIC TRIP SO FAR HAS BEEN
Port Douglas, over Christmas in 2016. I tend to settle into towns like this very quickly – by night two, I've got a favourite barmaid, know the name of every dog in the main street and know who's slept with who. By the end of the first weekend, I'm wanting to buy the newsagents – I'm all in. Similarly, I almost bought a caravan at Lake Eildon last Easter.
Meshel Laurie will present Australian True Crime at Melbourne's The Yarraville Club later this year, with her podcast co-host Emily Webb and ex-Homicide Squad detective, Rowland Webb. Her book, The CSI Told You Lies will be available on August 3 through Penguin Books. See yarravilleclub.com