Classic cheeseburger from Betty's Burgers. Photo: Supplied

Pop into Betty's for a post-beach burger. Photo: Supplied

Belmondo's interior features a model plane. Photo: Supplied

Vegan doughnuts at GoVegan Deli. Photo: Supplied

The clean cafe interior complements GoVegan Deli's clean-eating ethos. Photo: Supplied

Zabe Cafe pours locally roasted Clandestino coffee. Photo: Supplied

Zabe Cafe is a friendly local hangout. Photo: Supplied

A loaf of light rye sourdough bread from Noosa Hot Bread Shop. Photo: supplied

Yum cha at Embassy XO. Photo: Supplied

The Village Bicycle bar is super relaxed. Photo: Supplied

Waterfront dining at Wasabi restaurant. Photo: Supplied

Woodfire Grill's walls are stockpiled with timber. Photo: Supplied
Between bounty from the sea and the verdant hinterland, Noosa has a lot of beautiful produce. Add a fair serve of kitchen talent, natural beauty, sunshine and sociable locals and you have a fresh and thriving dining scene.
Drink
From the constant greetings flying across the room, it seems everyone knows everyone at friendly village cafe Zabe Espresso Bar. The decor is retro living room with lots of comfortable spaces to sit and enjoy a locally roasted Clandestino coffee and the weekend papers. Keep an eye out for Val, the spritely 94-year-old who comes in to play the piano on Saturday mornings and Wednesday evenings.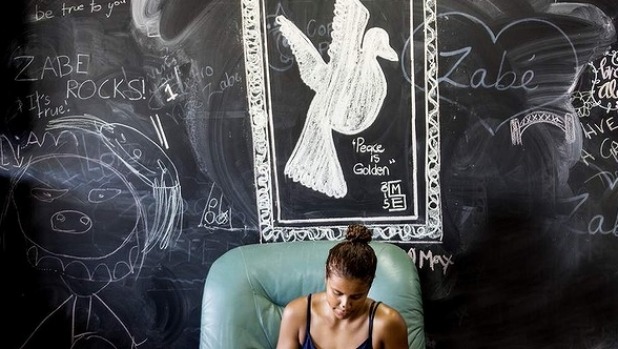 Zabe Cafe is a friendly local hangout. Photo: Supplied
Grab a beer and perch at the Village Bicycle bar or share a table in the front courtyard and prepare to make new friends. Whether on the way out for a big Friday night or straight from the beach, the dress code is super-relaxed, the vibe chilled with music to match, and there's a neat menu of burgers, tacos and tater tots to accompany cocktails and craft brews.
Love child of megalithic floating restaurant and bar the Boathouse, Little Boaty is tucked into a deck corner and is the perfect pit stop if you're having an early morning walk or run along the waterfront at Noosaville. With expertly made locally roasted Clandestino coffee, flaky croissants from Belmondo's and gorgeous water views.
Zabe Espresso Bar, 98 Poinciana Avenue, Tewantin, 0400 235 810
The Village Bicycle, 1/75 Noosa Drive, Noosa Heads, 07 5324 1123
Little Boaty, 194 Gympie Terrace, Noosaville, 07 5440 5070, noosaboathouse.com.au
Eat
Flames mark the Woodfire Grill entrance and provide theatre from the open kitchen, too. Charcoal and wood grilled meats are a big focus, but there is also plenty of seafood, such as sweet barbecued prawns, local fish and line-caught squid. The drinks list, including half bottles of wine, is surprisingly deep for such a casual venue.
Wasabi is a little bit special. From its location, hovering above the Noosa River, to the food – smart, contemporary Japanese, served on bespoke crockery from hand-thrown ceramics to wood. Attention to detail is second to none, and produce is top-shelf and sourced from the owner's farm, the local fishing fleet and the verdant hinterland.
Brush the sand off your feet and join the inevitable queue, it's worth the wait at Betty's Burgers. This cool little place has a happy beach shack feel and lives by the ethos of doing one (or two things) well – fresh, high-quality old-fashioned style burgers. Try the Betty's Classic with a peanut butter shake or a "concrete" (dense ice-cream with a pick'n'mix of add-in goodies).
Vegans, coeliacs and omnivores alike will find something satisfying at this new Noosa spot with a focus on healthy and organic eating. GoVegan Deli serves breakfasts such as fruit salad with coconut yoghurt, and lunches of wraps and salads, in sustainable, recyclable wood bento boxes. Or indulge in raw treats such as a raspberry "cheesecake" and chocolate and lime zest doughnut.
Despite its beachside location, Embassy XO is city-slick and home to arguably the best yum cha on the coast. Enjoy the sea breeze while tucking into a selection of dumplings such as pork and pumpkin puree or wagyu with XO sauce, chicken ribs with chilli buttermilk or pillowy duck buns. The cozy bar next door has an extensive cocktail and wine list.
A long-term fiercely dedicated supporter of local produce, owner-chef David Rayner practises what he preaches at Thomas Corner with an accomplished and appealing locavore menu, showcasing everything from Noosa spanner crab to hinterland herbs. Thomas Corner's generous cocktail and wine list along with its riverside location make it a very pleasant spot for sunset drinks.
Woodfire Grill, Noosa Wharf, 2 Quamby Place, Noosa Heads, 07 5473 5904, woodfiregrill.com.au
Wasabi, 2 Quamby Place, Noosa Sound, 07 5339 2443 wasabisb.com
Betty's Burgers, 2/50 Hastings Street, Noosa Heads, 07 5455 4378, bettysburgers.com.au
GoVegan Deli, 6 Thomas Street, Noosaville, 07 5473 0920
Embassy XO, corner Duke and Bryan streets, Sunshine Beach, 07 5455 4460, embassyxo.com.au
Thomas Corner, 1/201 Gympie Terrace, 07 5470 2224, thomascorner.com.au
Shop
Have a healthy breakfast or lunch, pick up beans and all your coffee needs from the in-house roastery, then browse the shelves and chill cabinets laden with fresh and packaged produce with an organic focus. Belmondo's also stocks a huge range of everything from charcuterie and cheese to fresh fruit and veg, artisan bread, pastas and sauces and more.
Noosa Farmers' Market is the perfect showcase for the bounty of local produce (Sundays 7am-noon). The market has expanded recently and pretty much offers everything for your weekly shop and dinner party staples, from freshly picked fruit and vegetables to home-made cakes and biscuits, smoked and fresh fish, bread, coffee, sauces, pickles and meat.
Don't be fooled by the modest name. Noosa Hot Bread Shop owner Craig McCabe is a chef of note, having worked at Brisbane's Enoteca and owned his own bakery in Jindalee. There's a broad range of traditional artisan long ferment breads, croissants sweets and breakfast dishes at this smart, provincial-style cafe that transforms into a clever French bistro come sundown.
Belmondo's, 59 Rene Street, Noosaville, 07 5474 4404, belmondos.com
Noosa Farmers' Market, 155 Weyba Road, Noosaville, noosafarmersmarket.com.au
Noosa Hot Bread Shop Shop 5, 4-6 Sunshine Beach Road, Noosa Heads, 07 5448 0959
Stay
If you want to be in the thick of it, Hastings Street is the place to be. The five-star Sheraton has a mix of studios, villas and suites, plus a day spa and swim-up pool bar. The resort is also home to Peter Kuruvita's Noosa Beach House restaurant.
Closer to the national park end of Hastings Street and 50 metres from Noosa main beach is Mantra French Quarter, with one or two bedroom self-contained apartments. 
If it's beachfront you're after, Seahaven Noosa offers rooftop penthouse apartments with 180 degree ocean views, one and two bedroom beachfront apartments, studios and streetfront suites. 
Sheraton Noosa Resort and Spa, 4-16 Hastings Street, Noosa Heads, 07 5449 4888, sheratonnoosaresort.com
Mantra French Quarter, 62 Hastings Street, Noosa Heads, 13 15 17, mantra.com.au
Seahaven Noosa, 15 Hastings Street, Noosa Heads, 1800 072 013, seahavennoosa.com.au 
Natascha Mirosch travelled as a guest of Noosa Tourism.