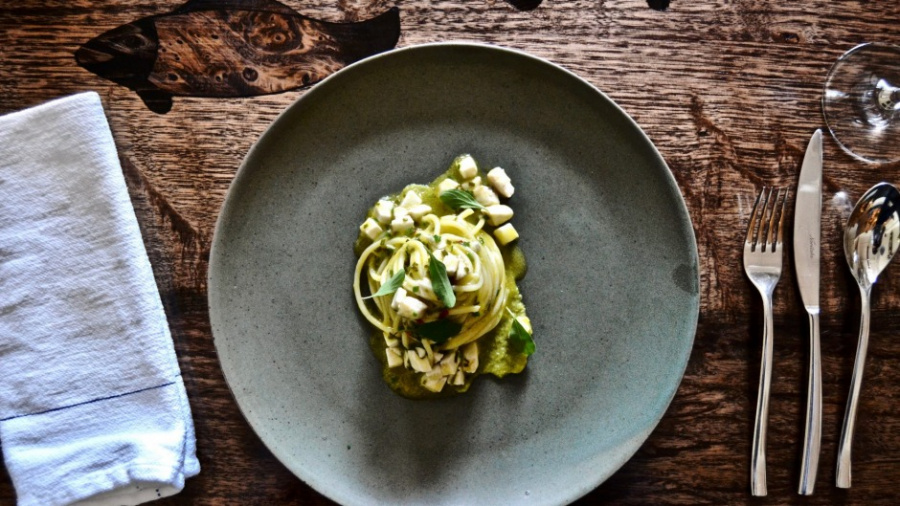 Spaghetti with green olive and marjoram at Fico. Photo: Supplied
The Good Food team share their favourite places to eat and drink in their second homes.
Hobart has become such a food destination, planning one perfect day is barely possible.
Do you grab impeccable breads and pastries from Pigeon Whole Bakers on Argyle Street and stash an epic curried egg sandwich for later, or head up to North Hobart's Room for a Pony, known for its great pizzas and beers by night but which is a morning magnet for its sun-drenched outdoor courtyard.
If you're going to MONA (always unmissable, if only to ride the ferry across the Derwent River to David Walsh's museum of freaky art with a glass of Tassie sparkling in hand), plan lunch at Faro, which unites a Mediterranean menu with entry to a couple of exclusive-to-diner exhibits by light wizard James Turrell.
If you are in Hobart over a weekend, chef Ali Currey-Voumard (ex-Agrarian Kitchen) is running a Sunday only pop-up Sun Day Fish, where she creates a tight menu around one fresh catch by local fishermen each week. Likewise, on Fridays, Lucinda wine bar often hosts guest chefs for lunch, including wild food star Analiese Gregory (ex-Franklin, which sadly closed last year), who might be serving some fresh-caught abalone or sea urchin, or her own venison salami. Then again, it's hard to pass up Tom McHugo's, one of the best food pubs in Australia, backing its hyperlocal beers and natural-leaning wine list with the pinnacle of lamb and pepper pies or wrasse dumplings with lime leaf vinegar.
Drinks? Sonny, from the team behind tiny Italian Templo, is a sleek slip of a thing where vinyl spins and snacking can easily turn to dinner of mortadella and pasta and where the wine list is so good, it's a safe bet to roll the dice and order their "mystery wine". Dinner has to be Fico, the stunning foliage-and-art-strewn modern Italian osteria by chefs Federica Andrisani and Oskar Rossi. Impeccable service meets individual crumbed oyster sang choi bao and paccheri (pasta) with truffles.
More into DIY-ing it? Hill Street Grocer remains a go-to for grabbing premium Tassie produce, while if I'm picnic- or party-bound, I like to get a sack of unshucked oysters from Ashmore Foods in Mornington.
Insider's tip: "There's a Turkish family that has started an awesome lunch spot in Franklin (40 minutes from Hobart). It's called Cinnamon and Cherry and they're serving traditional Turkish pastries and flatbreads," says Matt Breen from Sonny.
Ashmore Foods, 32 McIntyre Street, Mornington, ashmorefoods.com.au
Faro, 655 Main Road, Berriedale, mona.net.au
Fico, 151 Macquarie Street, Hobart, ficofico.net
Hill Street Grocer, various locations, hillstreetgrocer.com
Lucinda, 23 Collins Street, Hobart, lucindawine.com
Pigeon Whole Bakers, 32 Argyle Street, Hobart, pigeonwholebakers.com.au
Room for a Pony, 338 Elizabeth Street, North Hobart, roomforapony.com.au
Sun Day Fish, 40 Molle Street, Hobart, instagram.com/sun.day.fish
Sonny, 120a Elizabeth Street, Hobart, sonny.com.au
Tom McHugo's, 87 Macquarie Street, Hobart, instagram.com/tmchugos