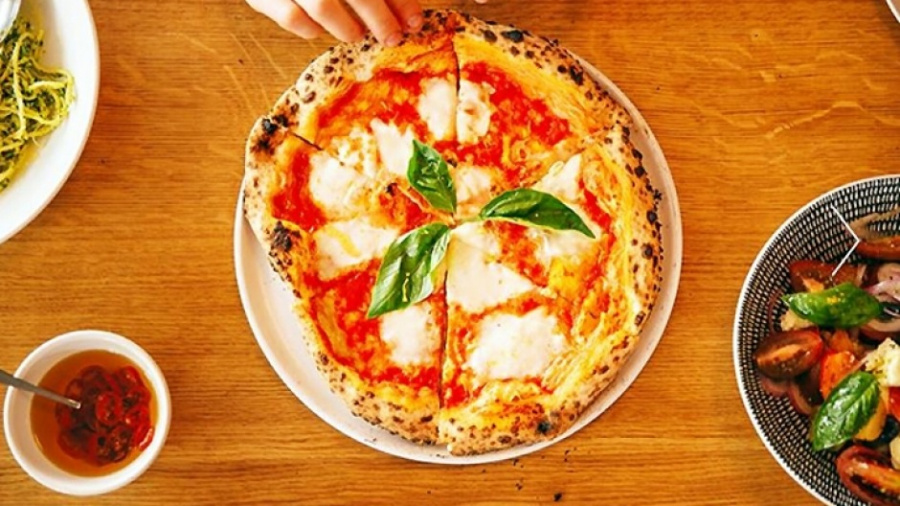 #1: Monsterella (how the couple's daughter Mila pronounces 'mozzarella') offers an array of authentic Italian street food. Photo: David Prestipino
As you make your way south from Milan to Rome to the rustic heartlands of Napoli, Calabria, Abruzzo and Sicily, the style of pizza in Italy changes as dramatically as the language and the landscape, bringing a unique beauty to the table through varying ingredients, styles, tools and traditions.
WA's most famous cappucino strip in South Freo was somewhat built on Italian immigrants trying to earn a crust by making one, in the traditional style from their respective regional homelands.
Some of these pizza bars are still around today, with one (Ruocco's) rounding out our top 10 pizzerias in Perth.
A good crust is something almost all of us love and devour… here in Perth it's a bit of a mix of the good, the bad and the greasy.
I myself love a good pie and will travel far and wide for a good slice of dough here at home. I've also road-tested many a pizza north to south on four trips to Italy – although Naples – where the Italians say the best pizza comes from – has eluded me.
Which brings us to Monsterella – our unanimous choice as Perth's number one pizzeria – a tiny little joint on a corner in Wembley, whose owners undertook extensive research and experimental testing abroad before settling on their ideal pizza oven… from good old Napoli.
After selling their stake in the much-loved Pizza Lounge in Swanbourne, dynamic duo Ryan Bookless and Tania Nicolo wanted to perfect the style they both love most in a pizza – one inspired by Naples.
They travelled to the southern Italian city last year and bought a pizza oven they knew could produce the perfect base they both desired and loved eating.
Now pumping out precise pies from their new wood-fired oven, their little corner pizzeria bar on Grantham Street in Wembley, across from a local primary school, is hands down worth the dough, every evening of the week.
Ryan has the runs on the board (and some); his quirky creations and refined offerings make the menu shine, but it's his and the staff's attention to detail in the open kitchen that leaves your tastebuds abuzz and kicking long after you've licked the plate clean.
Tania has oozed Abruzzi cool since we met as young tackers in primary school – it's plainly evident amid the storm that greets Monsterella ever since its recent opening… if she were any more street smart front of house, she'd be a Ferrari.
The hand-made pasta (made with much love from Tania's mum), luscious salads and kid-friendly menu complement the funky, stripped-back feel and fervent service this family-friendly restaurant prides itself on.
If you haven't experienced a meal at Monsterella, or tried their pizzas, you haven't lived.
– David Prestipino
#5 Magna Pizza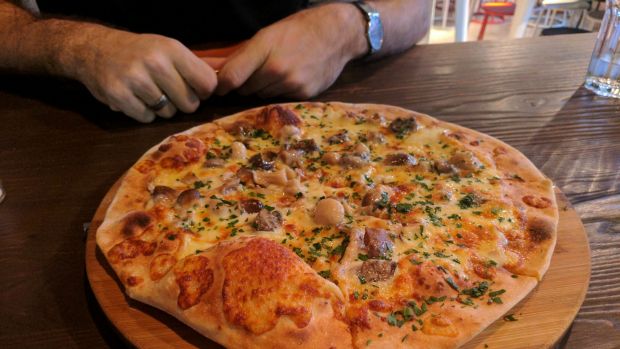 This little local gem tucked away at The Mezz in Mt Hawthorn is unassuming but authentic. If I were still a local I'd be heading there regularly, but given how good the Claudius pizza is, I might be heading there on the reg anyway ($25, perfectly cooked, mushrooms, a hint of white truffle and a wonderful crunch on the base). 
Magna offers authentic toppings, ranging from the usual suspects like the Augusto (tomato base, mozzarella and basil, $16), the Nerone (tomato base, mozzarella, hot salami and chilli, $20), through to items with a bit more flair like the Contantino (mozzarella, zucchini, rocket, capsicum, eggplant and corn, $21).
You're not going to find scary pizzas with experimental flavours but you are going to get fresh ingredients with plenty of thought. 
Base: Woodfired authentic 
Style: Traditional toppings with specific gourmet offerings, a selection of different cheese, mushrooms and the likes
Quirkiest pizza: Aurelio ($21, tomato base, cheddar, blue cheese, boiled egg, onions, asparagus), or the Nutella and strawberry dessert pizza ($15).
Hipster scale: They definitely push the healthy ingredients and no guilt thing but you're not going to find hipster beard hairs in this authentic joint's pizzas 
Average price: $15 to $25 to one size
Delivery options: UberEATS, Deliveroo, pick-up
Corkage: $5 per bottle 
16.5/20 – Sophie Hawkins
#4 Amico Cafe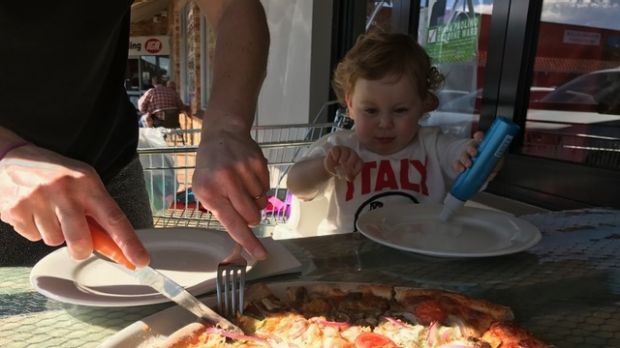 Little Edith P enjoying a slices of Amica Cafe pizza. Photo: David Prestipino
Owners Tino and Rosy left Italy for Perth in 2006 and opened Gelato Amico in Murray St Mall, with their ice cream and on-site roasted coffee beans becoming legendary for their quality. 
In 2013, they added Italian pizzas to the mix and moved to Stirling Village, treating the local, mostly-Italian community with an authentic slice of home.
Their pizzeria (dangerously) opens daily at 7am (8am Sundays)… the pistachio gelato is so divine I drove back and got another cup immediately after finishing the first in the car, while the coffee is nice and strong, living up to its legend.
Breakfast is available every weekend until noon, there's some brilliantly-authentic entrees and pasta dishes on offer while the 24 pizzas – true to form – are right on the money and, best of all, can be served half 'n half (trust me, you'll want to take this option after perusing the menu).
Base: Woodfired
Style: Traditional toppings, with calzone options, five vegos, gluten-free and flexibility with toppings etc.
Quirkiest pizza: Pollo ($21)… okay chicken ain't quirky but Amico's shredded chicken adds rare refinement to this style of pie. With mushroom, grilled zucchini and red onion, it's a must-try among many delights on the menu. 
Hipster scale: Niente… controversial Stirling mayor Giovanni Italiano was sitting at the table next to me, along with a splattering of others from his homeland.
Average price: $20 (one size)
Delivery options: 5-9pm daily (via UberEATS, Menulog and EatNow)
Corkage: BYO $2 per person 
16.5/20 – David Prestipino
​
#3 Little Caesars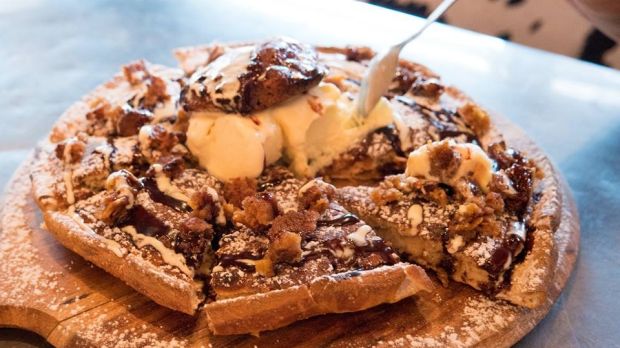 Ploughing in to some Little Caesars in Mundaring is a right of passage if you grew up in Perth's east. The range is huge and varied, with meat, vegetarian, seafood and dessert (yes dessert) toppings.
Garlic Lamb was my pick of the lot but lively owner Theo Kalogeracos has won dozens of awards here and overseas for his dessert pizzas and is a living legend in the pizzeria business all over the world… and for good reason.
Style: Gluten-free options and plenty of pies for the vegans
Quirkiest pizza: There's too many to list here but I love the Janes Addiction (garlic prawns, prosciutto in a mozzarella cream sauce) while the Smashing Pumpkin and Flying Burrito Brothers are other notables
Hipster scale: Mundaring is a fair way from those city dwelling hipsters 
Average price: $11.50 for a small margherita to $23.50 for some of the larger pies
Delivery options: Dine in or pick up
Corkage: No fee (it's BYO but no corkage)
17/20 – James Mooney
#2 Pappagallo 
A bit off the beaten track of the Leederville cafe strip – a five minute walk northwards up Oxford, and it's worth it. 
I thought, there's no way I'll need a booking on a Tuesday night at 5.45pm. I was impressed to find they were booked solid. Nice going for sleepy Perth. Happily, they squeezed my husband and I on to a table booked for 7pm. 
I was dead impressed with this place. Staff attentive, professional and enthusiastic. And the pizza! The crust was the right mix of dusty, chewy and crispy, with the perfect flavour and "tear" factor. The freshness and quality of the toppings, the cured meats, the olive oil, the cherry tomatoes, the Parmesan, was obvious. We tried the Pappagallo (truffle ricotta, need I say more?) and the parma. Both just beautiful. 
Nice modern setting, but nothing overdone. Casual and classy at once. A great choice for a date – though maybe not a first date. They cut the pizza base before scattering the toppings on, so there's probably too much playing with your food and stuffing it haphazardly into your mouth to be a safe choice if you're trying to look sexy. 
Base: Woodfired with gas ignition system
Style: Very classic traditional Italian toppings. The menu is divided into pizza bianche (white base) and pizza rosse (tomato sauce). They do, however, do strufulone (pizza rolls) panuozzo (pizza sandwiches, for lunch) and calzone. 
Quirkiest pizza: They don't do quirk. The most outlandish pizza is a four-cheese.  
Hipster scale: Apart from the hanging bare lightbulbs and some distressed wood, this place keeps the hipster to a minimum. One touch snooty foodies will like is the classification seen on many menu items, D.O.P. (Protected Designation of Origin), an Italian certification ensuring the products are locally grown and packaged in Italy. There are also plenty of Italian beer options (Peronis, Moretti, Menabrea) and Italian wines including those classified D.O.C.G., the highest classification for Italian wine, which "denotes controlled production methods and guarantee of wine quality." 
Average price: Pizzas are one size, from $14 to $24 – most around the $20 mark. 
Delivery options: dine-in and takeaway. 
Corkage: fully licensed or $8 corkage a bottle. 
17.5/20 – Emma Young
#1 Monsterella Pizza
Formerly firing the woodfired oven at The Pizza Lounge in Swanbourne, Ryan Bookless now has the reins of his own pizzeria, with long-term partner Tania Nicolo buzzing at his side, in the sprawling suburb of Wembley on the corner of Grantham and Jersey streets.
The interior oozes stripped-back cool, with wooden features, black leather bench seats and an open kitchen that hums to the groovy tunes in the air.
Apart from serving Perth's best pizzas, Monsterella (how the couple's daughter Mila pronounces 'mozzarella') offers an array of authentic Italian street food, some very tasty salads and home-made Italian pasta from Tania's magnificent mum Maria (the Tagliatelle Carbonara is a killer). Kids are not forgotten at all in the act, with smaller pizzas and pasta dishes, as well as colouring-in tools for the little ones. Bless. 
Of the 18 pizzas on the Monsterella menu, the Cali ($25), with tantalising Nduja sausage, sauteed organic cavalo nero, fior di latte and garlic oil, is my favourite, but to be honest, they all hit the mark. A little tip – things get pretty busy, right from the convenient 4.30pm opening time, so book ahead or order your delivery/pick up early.
The Milliano (buffalo mozzarella, Italian fennel sausage, caramelised onions, oregano topped with pecorino and truffle oil) is another favourite, while the Angelo (fior di latte, woodfired dry rubbed lamb rump, chilli, mushrooms, red onion, fresh parsley) is pretty special too.
Base: Handmade and naturally risen for 48-72 hours, with pizza base sauce made from San Marazano tomatoes (straight from Italy).
Style: Woodfired, gluten-free option, seven vegetarian pizzas and gourmet wonders
Quirkiest pizza: Al (ham, pineapple pan fried in maple syrup, spanish onion)
Hipster scale: More rustic than hipster, minus the violins
Average price: $19 for small, $23 for large
Delivery options: Dine in, take away and delivery to nearby suburbs
Corkage: BYO only, $5 for wine, $1 for beer
19/20 – David Prestipino