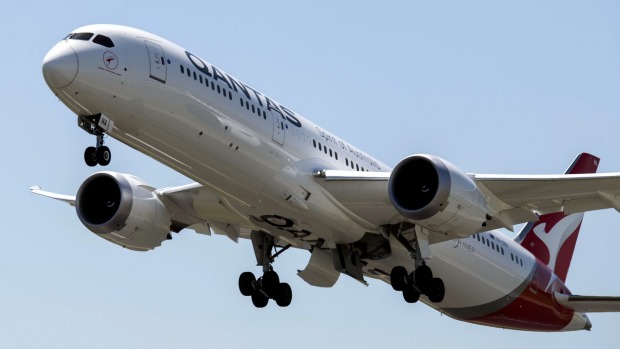 MELBOURNE, AUSTRALIA – DECEMBER 15: The first commercial flight of the Qantas Boeing 787 Dreamliner aircraft takes off from Tullamarine Airport on December 15, 2017 in Melbourne, Australia. The new Boeing 787 Dreamliner took off from Melbourne to Los Angeles beginning a new era for the Australian airline. (Photo by James D. Morgan/Getty Images) Getty image for Traveller. Single use only. Qantas 787 Dreamliner Photo: Getty
Qantas chief executive Alan Joyce has revealed details of his airline's plan to reward passengers for getting vaccinated against COVID-19.
Incentives are likely to include discounts, flight vouchers or 1000 frequent flyer points. Mr Joyce also announced prizes of free flights for a year.
"We're going to offer 10 'mega-prizes', at least one for each state and territory, where you will get for a year, for a family of four, unlimited economy class travel on the Qantas and Jetstar network," he told Nine's Today show on Monday morning.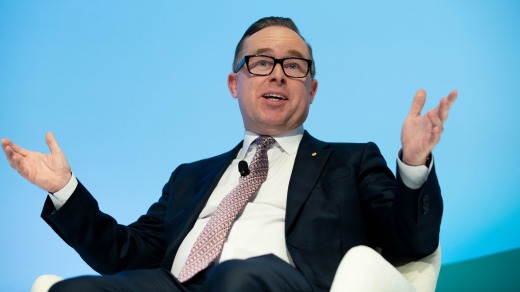 Alan Joyce, Qantas CEO, has called on other corporations to help support the vaccination effort. Photo: Janie Barrett
Mr Joyce said hotel group Accor, one of the world's largest with more than 400 properties across Australia and New Zealand, would offer 1 million points to the winners through its reward program, which would allow them to receive free accommodation.
"So we're trying our best to help with this rollout," he said, adding he was encouraging a "Team Australia" moment for other corporations to help with the vaccine rollout and reward people for getting vaccinated.
The reward program will begin in July and be managed through the Qantas app. Mr Joyce said it would be retrospective, so anyone who has already been vaccinated would still be eligible.
"It will apply to anyone who is vaccinated to the end of 2021," he said. "I think that's what we all should be doing, is really encouraging it."
Joyce also addressed the topic of travel bubbles, saying the airline had seen huge demand from Australians wanting to travel to New Zealand. He said demand for adventure and ski capital Queenstown was running at double pre-COVID levels.
"We're hoping for the Pacific islands – Fiji, Vanuatu – there's potentially a lot of destinations that we could be operating to," he said.
"A few months ago I thought maybe Singapore, Taiwan (and) Japan would be the first cabs off the rank, but with the great progress that's been made in the US and the UK you may actually see those markets opening up before the rest, because the vaccine rollout's been so successful in both countries."
Mr Joyce said he hoped that by July or August the airline would have some certainty from the federal government on when international borders would reopen.