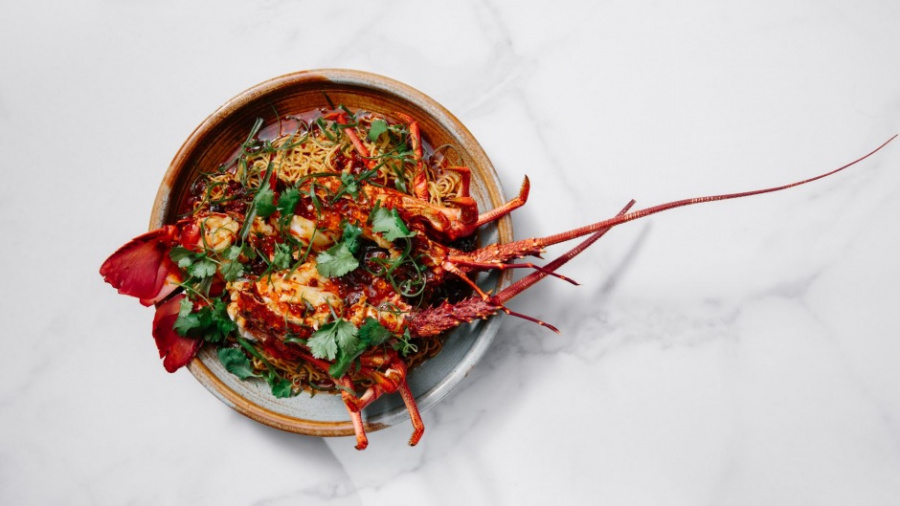 Southern rock lobster in XO chilli sauce from Donna Chang in Brisbane. Photo: Supplied
The Queensland dining scene is having its time in the sun right now, with an influx of money transforming it into a foodie paradise.
Melbourne and Sydney, look away now. Your little second cousin is now the belle of the ball. We're talking about a capital city with more restaurant openings than closings, that parties on until way past 10pm, and that is interpreting its uniquely tropical nature in its own evolving cuisine. Yep, Brisbane.
The big story in food this year is the booming dining scene in Brisbane and beyond. But don't take my word for it. Take the 31 Queensland restaurants to receive chef hats in the Good Food Guide this year (up from 22), with 10 of those restaurants being new to the Guide.
Alanna Sapwell heads up Arc Dining at Howard Smith Wharves. Photo: Paul Harris
Why is Brisbane so hot? Money. In June, the state government announced spending of $50 billion over the next four years, adding to the massive investments in Queens Wharf, Howard Smith Wharves and the Cross River Rail. It's why seriously chic hotels such as The Calile and W Brisbane have opened – the first with the ever-buzzing, poolside Hellenika, the latter with the newly urbanised Three Blue Ducks.
With the influx of new talent from down south, the splendid local produce and the evolution of a strong coastal style, Brisbane is on the must-visit list of every foodie traveller. Here's where to eat and why.
The river
Not since the arrival of Southbank in Melbourne and Barangaroo in Sydney have we seen such an instantly popular new restaurant precinct as the Howard Smith Wharves development on the Brisbane River. Two hundred million bucks later, and the heritage-listed 1930s wharves have given Brisbanites a star-studded, fairy-lit view of their famous bridge and city skyline.
Arc Dining's peach melba cake iced with finger limes Photo: Paul Harris
From the inaugural Mr Percival's over-water bar and Felons Brewing Co, it has grown into a hotbed of prime drinking and dining venues overseen by executive chef Patrick Friesen and culinary director David Finlayson. To the rear is the Fantauzzo Art Series Hotel (check the lobby art) and next door, a series of innovative event spaces.
In less than a year, the precinct has produced two newly hatted restaurants – Greca from Jonathan Barthelmess of Sydney's acclaimed Apollo restaurant, with its "Full Greek" feast from taramasalata and flatbread to baked lamb shoulder; and Arc Dining, where Alanna Sapwell does clever, thoughtful things with seafood and ices a layered peach melba cake with tangy finger limes as if they were hundreds-and-thousands sprinkles.
Next up: Barthelmess' new modern Japanese, Yoko, scheduled for November, and Stanley, a contemporary Cantonese restaurant in December, with former Longrain chef Louis Tikaram in the kitchen.
Across the river
Walking across the Goodwill Bridge to Stokehouse Q is one of Brissie's greatest treats. Here is your quintessential Queensland menu, all crisp prawn tacos, barramundi belly crisped with miso, grilled beef, and spectacularly simple desserts.
Just along the river, GOMA at the Gallery of Modern Art is a delight by day, with artful cooking from Douglas Innes-Will. Meanwhile, Fish Lane is the beating heart of the new south Brisbane night-life scene, from the small-but-sophisticated Maker cocktail bar to the lively Julius pizzeria. Order Vietnamese food and negronis from a shipping container (Hello Please), or do bistro food at Maeve Wine or La Lune.
Just around the corner is Gauge, one of Brisbane's most anarchically rewarding small restaurants, with its smoked bushfire gin cocktails, black bread, celeriac desserts and J Dilla hip-hop playlist.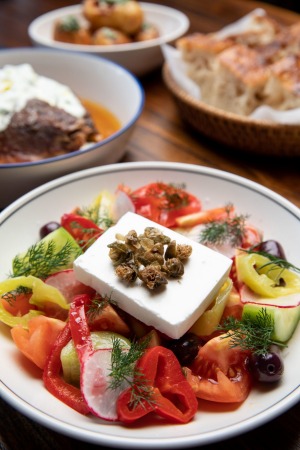 Village salad with tomato, cucumber, feta, olives and radish at Greca. Photo: Paul Harris
The Valley
Fortitude Valley is still Brissie's busiest food 'burb, with spirited newcomers such as the cheeky modern Japanese Honto, the neo-Chinese Little Valley, and Restaurant Dan Arnold, helmed by a talented Brisbane-born chef just back from seven years cooking in Michelin-starred restaurants in France. Everyone's favourite Middle Eastern, Gerard's Bistro, also gets a new lease of life under up-from-Sydney head chef Adam Wolfers.
But the biggest new opening in the Valley – and in Queensland, for that matter – is also its smallest. Joy, a tiny restaurant tucked away in a city laneway, seats 10 people propped up at the kitchen counter. Husband-and-wife team Tim and Sarah Scott do everything, and I do mean everything. They cook, serve, greet you at the door, pour and discuss the drink offerings, stop and chat, and even do the washing up. Their tasting menus flow from silky chawanmushi custard with smoked caviar and sour pumpkin to a rich-as mont blanc dessert, made with squiggly worms of roasted Jerusalem artichoke caramel. Oh, joy.
Everything old is new again
A lot of future-proofing has been going on. Long-term player Philip Johnson has revitalised his E'cco Bistro, Shannon Kellam has the ever-so-Frenchy Montrachet buzzing with life and foie gras, and 1899 Enoteca keeps finding new reasons to celebrate good wine.
Aria Brisbane may have closed, but the Fink Group's Otto just gets better and better as Will Cowper riches up the Italian classics with ease (not to be missed: the feather-light focaccia).
And the Ghanem Group outdoes itself with the heritage charm of Donna Chang, spicing up Brisbane's big night out scene in a splendid former bank building, complete with soaring ceilings, glittering chandeliers and southern rock lobster with XO chilli sauce.
Beyond Brisbane
It's looking pretty sunny on the Sunshine Coast, about 100 kilometres north. As well as the much-loved Rickys and Sum Yung Guys in Noosa, the area is also home to the Queensland restaurant that nailed the state's highest score in the Good Food Guide 2020. Using herbs and vegetables from its own farm and seafood from local fisherman, Danielle Gjestland's modern Japanese Wasabi Restaurant & Bar has gained an impressive 16.5/20, and two chef hats. Add in Montville's French-inspired The Long Apron, the open-air cooking of Homage in Grandchester, and the spiced-up modern Asian menus of the Spirit House in Yandina and The Tamarind in Maleny (and Nu Nu, in the far north) and you're talking destination dining with a fiercely regional spin.
Heads up to Burleigh Heads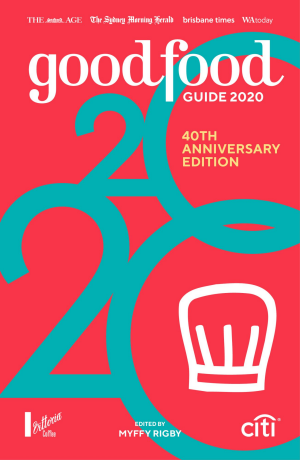 Newly christened hot-spot Burleigh Heads, in the investment "growth corridor" that stretches to the Gold Coast, sees Guillaume Zika doing a heroic job of feeding more than 600 diners with wood-fired pizzas, burgers and gelato in the vast dining room and terrace of Burleigh Pavilion.
Burleigh Heads' chef's hat winners run from local favourites The Fish House and Rick Shores (take a bow, fried bug roll with gem lettuce and sriracha), to wood-fired newcomer Labart, from former head chef of Sydney's Yellow Restaurant, Alex Munoz Labart.
Hats off to you all.
The Good Food Guide's third annual national edition, with hats awarded across Australia, was launched on September 30 with our presenting partners Vittoria Coffee and Citi. The Good Food Guide 2020 is on sale now in newsagencies and bookstores, and at thestore.com.au/gfg20, $29.99 with free shipping.