satmay29broome Broome Western Australia WA Yawuru Nagulagun Roebuck Bay Marine Park whale watching ; text by Catherine Marshall ; SUPPLIED via journalist ;Â cr:Â Broome Whale Watching Photo: Broome Whale Watching
Great, milky tides surge into Yawuru Nagulagun Roebuck Bay Marine Park, drowning meadows of seagrass, submerging sandbanks and slabs of oxblood sandstone, and washing away cars carelessly parked on intertidal mudflats. The fast-rising currents swallow the hapless vehicles and regurgitate their rusted carapaces up and down the Dampier Peninsula.
This region is subject to one of the world's largest tidal fluctuations – a phenomenon which carries with it a rich brew of nutrients and the superfluity of marine life subsisting on them. Among the most unusual of these creatures is the Australian snubfin dolphin, a species largely unknown – even among those who live here.
"When we started [our eco cruises in 2008] everyone was going, 'What is a snubfin dolphin?'" says Cam Birch, co-founder, with wife Valerie, of Broome Whale Watching.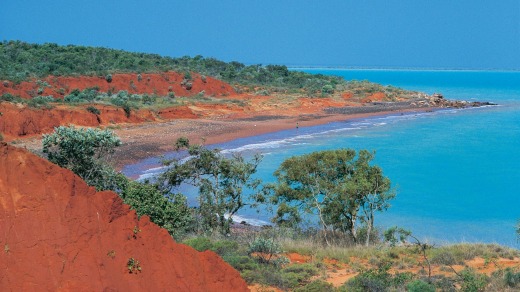 Pindan cliffs facing Roebuck Bay, near the Broome Bird Observatory. Photo: Tourism WA
Close relatives of the Irrawaddy dolphin, this population of rare "snubbies", as they're affectionately known, has settled in an embayment collared with red beach and scalloped with mangroves and tidal creeks. As the only large permanent population of snubbies residing close to a township, they're accessible to scientists and sightseers.
"They're right here on our doorstep," says Birch. "People in Broome, they're really starting to take ownership of the snubbies as their own."
As if to endorse this claim, a snubbie's domed head pops up afore the Orcaella's prow, before disappearing and resurfacing – with two mates astride – in a brief arc of spray. A zebra-stippled sea snake suns its breakfast-bloated belly; dugongs' shadows glide above an expanse of seagrass which will be exposed in just a few hours' time, at low tide; migratory shorebirds preen on ledges imprinted with dinosaur footprints and humpback whales will appear in June. Green turtles – one of four turtle species occurring in the bay – poke their heads from the shallows; they vanish and re-emerge like a game of Whac-A-Mole, serpentine heads darting beneath the surface every time our mallet eyes spy them.
"Some days you'll get 10 or 12 on the surface at a time," Birch says.
Though still customarily hunted (along with dugong) by the Yawuru people, traditional owners of Broome, a reduction in the number of catches and the establishment of the marine park in 2015 has enhanced their protection. Birch and his team are involved in ongoing tagging, rehabilitation and release programs. But snubbies aren't as well represented, he says.
"If you're a turtle, there's millions of dollars to be spent on [you]… but there's not much funding for dolphins."
To help correct this, Broome Whale Watching struck up an agreement with Murdoch University and the Department of Parks and Wildlife whereby a PhD student would undertake research on the Orcaella daily. Then COVID struck.
"Now we've got to start all over again, unfortunately," says Birch. "We've got to get people out here, we've got to get solid data. We're trying to provide a platform for that data to come in without having to cost the earth."
Birch's own passion for conservation was consolidated after moving with his family to Broome – 220 kilometres from his birthplace, Derby – in 2007. His experience here as a fishing charter operator, along with a former life spent working around the world "on, in or under the water", had exposed him to the environmental toll borne by marine life. He sold his company, placing caveats on the fishing licences so they couldn't be used for 10 years, and embraced ecotourism instead.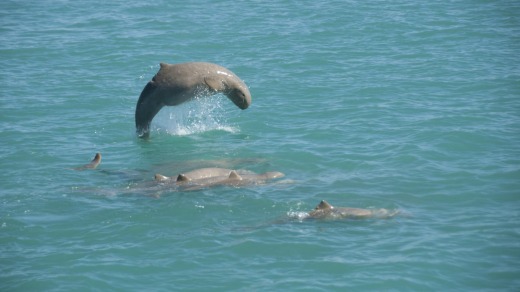 Roebuck Bay Marine Park whale watching. Photo: Broome Whale Watching
"I love fishing, I'm a recreational fisher and I take my boys out for a fish, but as a charter operator I could see the damage that was being done on a daily basis. You just can't sustain the numbers."
Today, though Birch's office hasn't changed, his outlook is entirely different.
"Even without the dolphins, the scenery is spectacular," he says. "When we started this, it really was just a two-hour 'find a dolphin and go home' [tour]. It's now three-and-a-half hours, and we've got to keep extending it because there's so much more to do in the bay. It's an amazing piece of work."
Catherine Marshall was a guest of Tourism Australia.
THE DETAILS
FLY
Qantas operates year-round daily services to Broome via Perth, as well as direct seasonal flights for the majority of the year from Sydney to Melbourne non-stop to Broome. Year-round return fares from $570. See qantas.com.au
STAY
Accommodation at Oaks Cable Beach Resort includes studios, self-contained apartments and three-bedroomed free-standing villas with private plunge pools. Low season rates from around $160 per night for a twin-share studio. See oakshotels.com/en/oaks-cable-beach-sanctuary
VISIT
Broome Whale Watching's three-and-a-half-hour Snubfin Dolphin Cruise runs every day except Sunday from March to December, weather dependent; tickets are $120 per adult and include transfers, refreshments and expert commentary. Whale watching tours run between June and September. See broomewhalewatching.com.au