A cheese platter at Grandvewe Cheese in Birch's Bay, Tasmania. Photo: Adam Liaw
Tasmania's on a streak.
Recently it's been hard to keep up with the number of headlines drawing our attention to some new giant-killer emerging from the Apple Isle's gourmet scene. A century ago news of the happenings in Tasmania might have taken months to reach the mainland, but today it's firing out at breakneck speed.
Sullivan's Cove being crowned the world's best single malt whisky back in 2014 ambushed whisky lovers around the world. Saffire Freycinet was named as the world's best luxury hotel before most Australians even knew where Freycinet was. Hobart restaurants are now regularly cracking the top few of just about every restaurant list in the country, and that's just the first wave. For years now awards for food, wine and hospitality have been raining medals on every corner of Tasmania with increasing intensity, and at some point even the most parochial of mainlanders had to realise that Tasmania was shouting just too loudly to be ignored.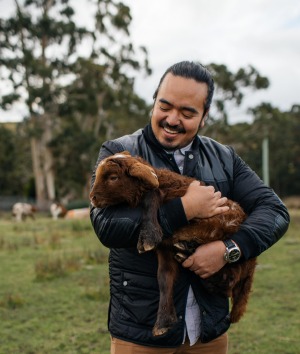 'The one thing about Tasmania's local gourmet economy is that it is truly local.'
It's certainly not being ignored anymore. Tasmania's tourism industry has smashed the billion dollar ceiling and visitation numbers are at record levels. A winter trip south, an idea that might previously have been met on the mainland with more hostility than was fairly warranted, is no longer a silly idea.
Dark MoFo, Mona's mid-winter festival, has secured its name as one of Australia's best cultural events and attracted nearly half a million visitors this year – around double the regular population of Hobart. And while most foreign tourists hit Tasmania in summer, Australians looking to outfox the peak-season crowds are driving growing tourist numbers taking advantage of warm spring weather.
"The Mona Effect" has been well documented, and the value of David Walsh's world-class and world-beating art gallery-cum-labour-of-love to Tasmania's contemporary appeal cannot be understated. But its role is more that of a keystone locking an arch together than a foundation on which Tasmania's resurgence has been built.
The current appetite for local Tasmanian products has had a knock-on effect that's delivered opportunity to agribusinesses, which supports value-added producers, which has in turn sparked greater interest in Tasmania's restaurant scene. Small concept restaurants and bars that might have struggled a decade ago in Hobart are running a brisk trade on increased interest from locals and visitors alike. That's led to new hotels, tourism operators and the like, and their success has fed back into the appetite for Tasmanian products and experiences. The big wheel of Tasmania's gourmet economy continues to turn at ever-increasing speed.
Throw a stone anywhere around the island and you'll hit half a dozen boutique distillers, fromagères, winemakers, chefs, fishermen and providores, and they're all calling each other by first-names.
One of the most interesting things about Tasmania's gourmet economy is just how tight it is as a community. It's collegiate and supportive, but the corollary is that much of what it produces will never find its way to us on the mainland. Not directly anyway.
Small production runs combined with the comparative costs of entering the mainland retail market mean that Tassie producers often find more efficient ways to reach customers; producing limited runs just for local restaurants looking for unique products, rationing out within the community or through subscription services and online, and of course selling directly over the farm gate.
It could be a one-off artisan cheese, a distilling experiment that turned out a few dozen surprisingly good bottles, a particular run of bacon, a case of a cult wine, or seats at a long table dinner, and if you're not there with boots on the ground you're likely to miss out.
The thing about Tasmania's local gourmet economy is that it is truly local. The good stuff doesn't travel far from where it's made and, like the news out of Tassie in the olden days, by the time we hear of it in the mainland it's often already too late.
Create your own Tassie story: gobehindthescenery.com.au
This article brought to you by Tourism Tasmania.