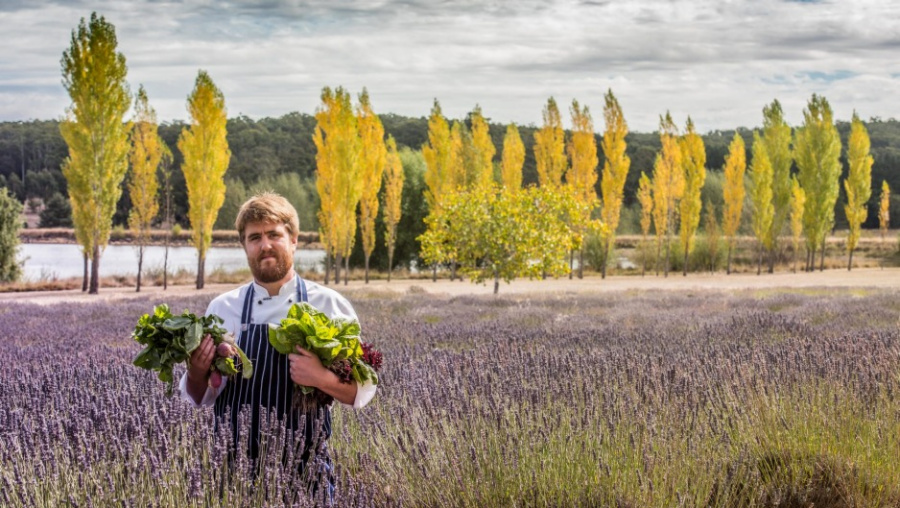 Chef Hugh Maxwell at Sault Restaurant in Daylesford. Photo: Richard Cornish
When Italian-speaking Swiss migrants arrived in the central Victorian town of Daylesford during the 1850s gold rush, they brought with them ideals of community, vision and inclusion. A century later, their descendants welcomed the hippies, then the gender-diverse community. Next came the artists, the artisan farmers and the paddock-to-plate chefs. Together they make a vibrant, tight-knit community in this historic town, surrounded by the Wombat State Forest, just an hour and a half from Melbourne. Here's how to tap into it.
1. Stay at the lake
Once you pass through the doors of the luxury Lake House resort, there's a temptation to stay. Forever. The staff are impeccable, the flowers spectacular. The day spa is a short stroll through the garden while the infinity pool looks over the still water of the lake to the seemingly endless forest. Over 35 years, owner-chef Alla Wolf-Tasker has helped set a benchmark for regional Australian dining, championing local producers and inspiring legions of young chefs. lakehouse.com.au
Daily sourdough from the Bake House at Dairy Flat Farm. Photo: Danny Wooten
2. Take a pastoral break
Dairy Flat Farm is the newest project from the Wolf-Tasker family. The 15-hectare regenerative farm has a kitchen garden, vineyard, olive grove and orchard, and beautiful European-style lodge. At the Bake House, former Tivoli Road baker Michael James supports local growers and millers with non-industrial bread production; join sourdough baking classes to learn slow-fermentation methods for baguettes, loaves, danishes and doughnuts. dairyflatfarmdaylesford.com.au
3. Taste the tradition
When the Swiss-Italians arrived in Australia, they brought with them family recipes for salsicce, traditional beef and pork sausages made with garlic, red wine, cinnamon and nutmeg. Locals still get together every winter to make the sausages, known locally as bull-boars. You can buy the sausages, made by commercial butchers to authentic recipes, at Daylesford Meat Co. and Albert Street Butchery in Daylesford, and Newstead Butchers in Newstead. 
4. Join a meat masterclass
Tammi Jonas is a vegan-turned-farmer-turned-butcher. She makes what some say is the best Spanish-style jamon in the nation, knows how to break down a steer and is willing to share her knowledge in workshops held on her family's bucolic Jonai Farms and Meatsmiths at Eganstown, eight kilometres from Daylesford. Workshops include butchery basics and salami-making. You can also buy Jonas's fresh and cured meats at the farm. jonaifarms.com.au
Heritage pit-stop Glenlyon General Store also serves dinner and drinks on Friday evenings. Photo: Richard Cornish
5. Shop and eat
It's been a butchery, a brothel and, now, the 1860s Glenlyon General Store, hand-hewn from hardwood, is a great place to stop for breakfast and lunch or to pick up essentials – everything from newspapers and milk to anchovies and gin. In fine weather sit outside under the grapevines and enjoy a coffee and a really good plate of eggs with the lot. Grab a table on Friday evenings for fish and chips, shepherds pie, or a glass of something local. glenlyongeneralstore.com.au
6. Eat local with the locals
The Surly Goat, an old weatherboard shop down a side street in Hepburn, houses a little bar and restaurant on the edge of the Mineral Springs Reserve. This is a neighbourhood hub for a beer and a croquette or a pinot gris and grilled prawns. Sit at the bar, or book a table for the full experience. thesurlygoat.com.au
7. Eat with the seasons
Surrounded by clipped rows of lavender and overlooking a large dam is Sault Restaurant, where the stonework says French provincial but the wedge-tailed eagle circling over nearby paddocks says Australia – as does the clever modern menu from chef Hugh Maxwell. He grew up exploring the forests around here, and the food he doesn't grow in his kitchen garden comes from surrounding farmers. A pumpkin and pasta dish is a study in layering: a luscious confit egg yolk sits with sweet pumpkin, draped with a translucent sheet of pasta revealing multicoloured sage leaves. Truly intelligent, beautiful food. sault.com.au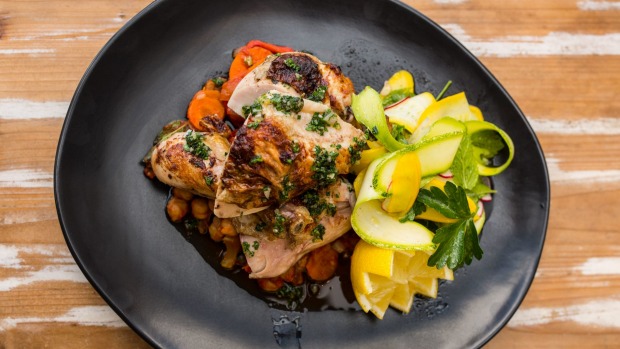 Wood-fire roasted chicken served over vegies at Passing Clouds. Photo: Richard Cornish
8. Visit a vineyard on the range
Cameron Leith is a second-gen winemaker who doesn't like chemical sprays, artificial fertiliser or messing around too much with the beautiful grapes he grows on his Passing Clouds vineyard. It snows regularly in the Macedon Ranges, making these genuinely cool-climate wines. Try them in the cosy cellar door then jump next door to the light, bright dining room, where rustic lunches are served Thursday to Monday. There is no oven or stove: just charcuterie followed by meat, perhaps lamb shoulder, roasted over wood coals and served with salad or vegetables from local growers. passingclouds.com.au
9. Find the magic in a secret garden
Wander around century-old elms in Wombat Hill's historic gardens, climb the art deco lookout tower, then saunter to another treasure from the Lake House team, the home-turned-cafe Wombat Hill House. Order coffee and a pastry direct from Dairy Flat Farm's baker Michael James, whose croissants are some of the best in the state. wombathillhouse.com.au
10. To market, to market
Last year the weekly Daylesford Sunday Market merged into a second-hand and super local produce smorgasbord held at the train station. Come for delicious organic vegetables from Florien Hofinger from Mount Franklin Organics, luscious honey from Des O'Toole and excellent sourdough from Two Fold Bakehouse. daylesfordsundaymarket.com.au