The Farm in Byron Bay. Photo: Anthony Ong
1. Cooking by the lake
Proving that if you build it they will come, hospo veteran Alla Wolf-Tasker has added a cooking school to her lakeside restaurant, hotel and spa. The Lake House all-day masterclasses ($240 a head) attract leading chefs from around the country. The next, on May 3, features Andrew McConnell (Melbourne's Supernormal, et al), Daniel Wilson (Huxtable, Melbourne) and Colin Fassnidge (Four in Hand, Sydney). She also runs hands-on classes with the restaurant's chefs and producer demonstrations. Roslyn Grundy
lakehouse.com.au/whats-on
2. Bespoke gin
Step one: nominate a designated driver. Step two: prime your tastebuds. The intimate gin masterclasses, held in the barrel room at Mornington Peninsula distillery Bass and Flinders, are an immersive experience. Participants learn a little about the gin-making process before mixing, matching and yes, sampling up to 16 botanicals, including hibiscus rosella, dill and coriander, to make their own blend. The $120 cost includes a bottle of custom-made gin, posted home a few weeks later. RG
bassandflindersdistillery.com/Gin-Masterclass
3. Blue Ducks season
This is one hot-off-the-press food travel opening. The long-awaited Byron Bay farm project from Sydney's Three Blue Ducks team kciked off just 10 days ago with 86 acres of verdant farmland, a restaurant and a produce store. They are already butchering their own beef and pigs (served roast suckling-style with lemongrass and ginger). "You can eat in the restaurant or get takeaway and go and explore the farm," says co-owner Mark LaBrooy. Scott Bolles
threeblueducks.com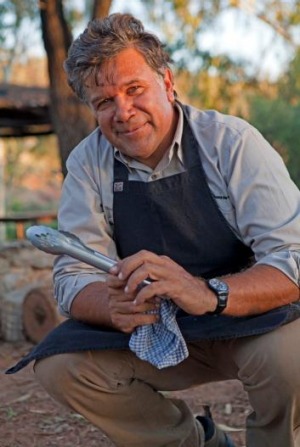 Bob Taylor at work in his open desert kitchen in Alice Springs. Photo: Andrew Bain.
4. Stomp-a-grape
The magical world of winemaking is at your fingertips – or should that be tootsies? Coonawarra After Dark's annual grape stomp and pizza party (April 10-11) celebrates the end of another successful harvest. Held across assorted Coonawarra vineyards such as Zema Estate, DiGiorgio Family Wines and Brand's Laira Coonawarra, it features winery tours, "dirty foot stompin' blues" music and the odd glass of Coonawarra. Know where your wine comes from – yes, even if it is underfoot. Jill Dupleix
coonawarra.org/after-dark
PS  There's also a five-kilometre walking trail by day, of five Coonawarra wineries. Let's see, that's one glass per kilometre…
southaustralia.com
5. Go bush for dinner
Arrernte man Bob (Penunka) Taylor is the multi-tasking host, guide and chef for an outback foodie adventure that goes beyond Alice Springs to bring you closer to the spirit of "country". A slow and steady two-kilometre walk-and-talk around Simpsons Gap gathering native ingredients is followed by a gourmet bush food dinner (yam fritters, saltbush, emu salami) cooked over glowing coals. $150pp. JD
rttoursaustralia.com.au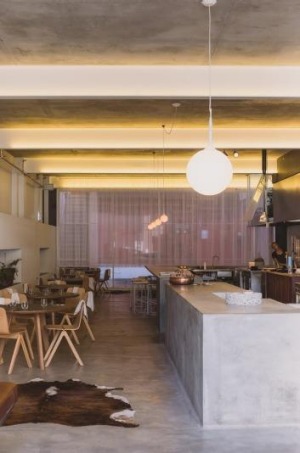 Franklin, Tasmania.
discovercentralaustralia.com
6. Showtime!
If the kids have never seen anything bigger than little lambikins in a petting zoo, then a good, old-fashioned country show is a big adventure – and an education in where their food comes from. The champion bulls (steak!) and be-ribboned chooks (eggs!) are dazzling, not to mention the prize-winning cakes. I can vouch for Victoria's Camperdown Pastoral & Agricultural Show (Oct 10), it's a doozy. JD
agshowsnsw.org.au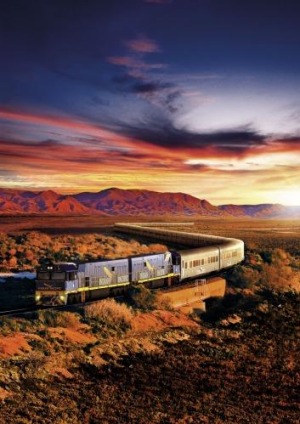 Eat kangaroo on a Nullabor train.
vicagshows.com.au  
7. Brew your own beer
As part of Victoria's High Country Harvest 2015 in May, Bright Brewery's resident brew dog Ryan Tyack will take you on a hands-on beer journey from milling the grain to pitching the yeast … to that all-important tasting of mountain-crafted beers. And when the batch is ready a month later, you get a six-pack of your very own beer and some big, foamy, bragging rights. Terry Durack
victoriashighcountry.com.au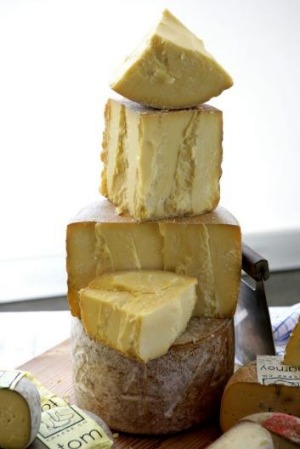 Bruny Island Cheese Co's temptations. Photo: Jennifer Soo
brightbrewery.com
8. Sunset som tum in Darwin
Nothing beats sitting on the sand at Darwin's famous Mindil Beach Sunset Market with a plate of Thai green mango salad and a cold beer watching the sun sink into the Arafura Sea. But it pays to get out to the laid-back northern Darwin suburb of Rapid Creek as well, for a more local Top End foodie adventure. TD
Mindil Beach Market (Thurs-Sun, April-Oct)
Rodney Dunn at the gate of his Agrarian Kitchen. Photo: Susan Burns
mindil.com.au
parapvillagemarkets.com.au
nightcliffmarkets.com.au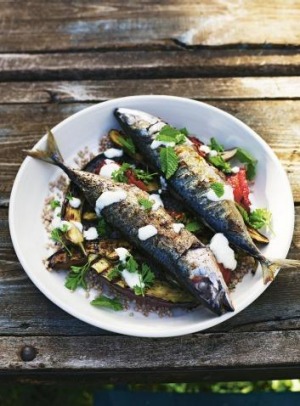 A dish from Rodney Dunn's The Agrarian Kitchen.
9. Catch a fish
When my mother-in-law bought me a fishing trip on the Bellarine Peninsula, the pressure was on. She also didn't buy anything for dinner that night. We left Queenscliff at the crack of dawn, and soon picked up some squid, local salmon and snapper by dashing around Queenscliff Harbour and Bass Strait. The crew even cleaned my fish for me, so all I had to do was return triumphant, with dinner. TD
oceangrovefishingcharters.com.au
queensclifffishingcharters.com.au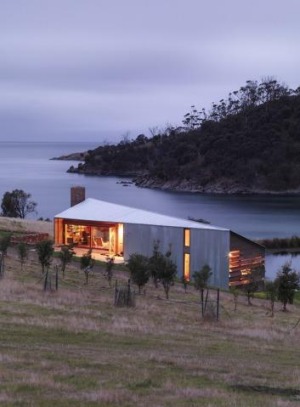 Shearer's Quarters, Tasmania. Photo: Trevor Mein
gonefishing.com.au/
10. Eat your way around Bruny Island
Yes, the snowy white wallabies are adorable. And on a clear day the view from the remote Cape Bruny Lighthouse is just stunning. But it's the eating that makes Bruny Island a great day trip from Hobart. Get Shucked cultivates plump Pacific oysters in the nearby waters of the d'Entrecasteaux channel. Eat them on the deck with a glass of Tassie sparkling or get them packed to take home. Add to your picnic dinner supplies with cheese and wood-fired bread from Bruny Island Cheese Co. There's a cafe, too. Sarah McInerney
getshucked.com.au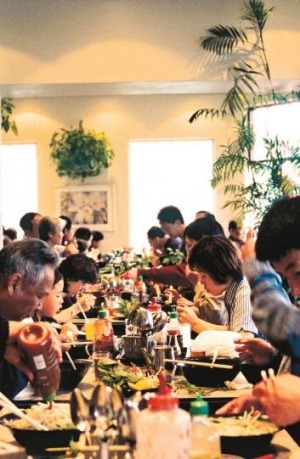 Vietnamese soup restaurant in Bankstown.
brunyislandcheese.com.au
11. Brunch at Folk Kiosk and General Store
Summer in Byron means riding bikes, bare feet, salty sun-kissed skin and chilling out under blooming frangipani trees. It also means there's every chance of a two-kilometre back-up down Ewingsdale Road – one of the main entrances to Byron Bay. Make the smart decision and veer off to this local favourite for a coffee, craft beer, or kombucha and a serve of fluffy hotcakes. Seats are at a premium, but there are plenty of grassy knolls and benches outside. Get into the North Coast spirit – shoes optional. Myffy Rigby
facebook.com/folkbyronbay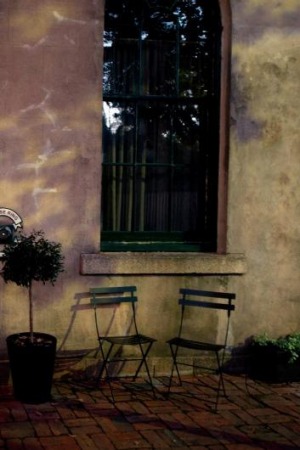 Provenance Restaurant in Beechworth.
12. Take a cooking class at the Agrarian Kitchen
Few things are quite as magical as stepping onto Rodney Dunn's Tasmanian property, where berries hang in fat, juicy tangles, geese wander around like lords and Wessex saddleback pigs dig around in the dirt for snacks. But don't get too attached – at some point everything ends up on the plate here at this picturesque cooking school. We dream of taking an Alistair Wise (Sweet Envy) ice-cream making class, that ends in the world's biggest communal sundae. MR 
theagrariankitchen.com
13. Get up early for breakfast pho at An Restaurant
This is hands down the best Vietnamese beef noodle soup in Sydney. The huge, barn-like room is lined with tables and vacuum flasks filled with hot tea. Ordering is easy: you're here for one thing and one thing only –  that incredibly fragrant, full-flavoured broth laden with thin slices of beef and raw onion, rice noodles, beanshoots and basil leaves. Breakfast of champions. MR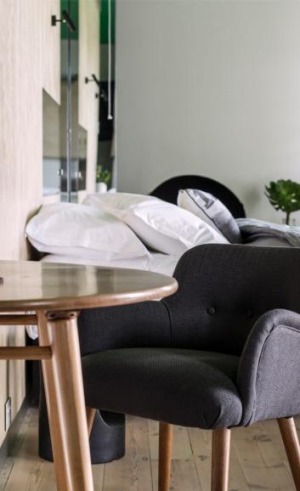 Drift House, Port Fairy. Photo: Martina Gemmola
anrestaurant.com.au
14. Eat kangaroo on a Nullarbor train
It's one of the world's great rail journeys: 4352 kilometres across the Nullabor Plain between Perth and Sydney. During the 65-hour trip, Indian Pacific passengers dine on classic Australian fare such as barramundi, beef, lamb and rosella flowers. Plus kangaroo … while watching the ones that got away through the window.  Sue Bennett
greatsouthernrail.com.au
Maggie Beer's Orchard House. Photo: Supplied
15. Pearl meat in Broome
Sailing from Darwin to Broome, food and drink is stored on every available surface. During the 12-day journey, we take on just one – unplanned – item: pearl meat. A cross between scallop and abalone, eaten raw or lightly seared, nothing ever tasted so sweet. Eat pearl meat during the pearl harvest, in Broome, WA. SB
16. Sip Grange on home ground
Spiritual home to Penfolds wines, Magill Estate was rural once. Today, it's on the fringes of Adelaide, eight kilometres from its CBD. Here, there's an architecturally recognised restaurant with food worthy of Australia's greatest wine. If you do it only once, have a glass of Grange with lunch or dinner. SB
magillestate.com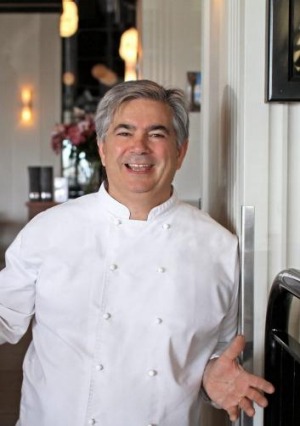 Mildura's Stefano de Pieri.
17. Tali Wiru at Uluru
In this unforgettable, intimate dining experience, we watched the sun set over the Olgas, then devoured a degustation feast under the bazillions of stars (while learning all about them) from the top of a dune. Tali Wiru means "beautiful dune" in the local Anangu language;  Voyages Touring, $325 per person. Kate Cox
ayersrockresort.com.au
18. Mornington Peninsula mushrooms
With autumn rain comes mushrooms. The paddocks and grassy roadsides of the Mornington Peninsula are dotted with shiny heads of mushrooms. Take a stubby butter knife and wicker basket and try your luck under the pine trees and stringybarks orbook into a mushroom tour with Cameron Russell at Moorooduc Estate. Morning tea, tour and a mushroom meal and wine for just $50. Book on 2015@mushroomtours.com. Richard Cornish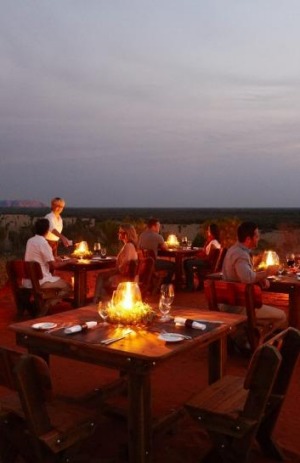 Voyages' Tali Wiru dinner at Uluru.
mushroomtours.com
19. Tathra oysters
From a suburban house in the little seaside town of Tathra on the southern coast of NSW, some of the nation's best oysters are sold. These plump Sydney rock oysters were raised in the nearby pristine waterway of Lake Nelson, one of the prettiest lagoons on the coast. Buy several dozen and a shucking knife and disappear to a secluded beach in the ational park, and enjoy these sweet, rich little shellfish that finish with a pleasing salty tang. RC
tathraoysters.com.au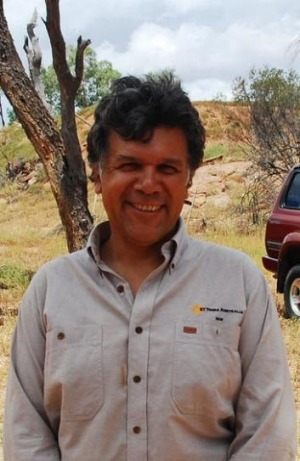 Bob Taylor who conducts Aboriginal chef's tours. Photo: Supplied
20. Dinner with Stefano
After a few years away from the pans, Mildura chef, identity, raconteur and celebrity Stefano de Pieri is back in the kitchen in his eponymous Mildura restaurant. Down the spiral staircase and in the old wine cellar is an atmospheric dining room where he may be serving the traditional Italian food he loves, such as cuttlefish in its own ink served on white polenta, or perhaps something as beautiful and simple as fresh borlotti bean soup. RC
stefano.com.au
21. Horseback winery tours
Drinking and horse riding: it's the sports of kingscombined into one safer-than-it-sounds afternoon in which you trek around the Mornington Peninsula's vineyards on a horse. The company is expanding its offering too, so you can now chase wine tastings at two vineyards with lunch at La Petanque, or strawberry picking if you're someone who needs hard labour to relax. No horse experience required, the group will be split by ability for any cantering.
Gemima Cody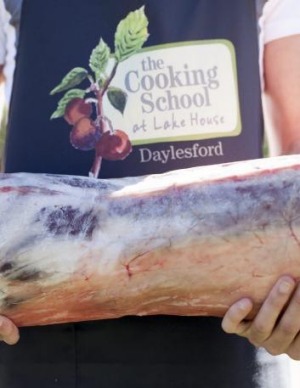 The Cooking School at Lake House. Photo: Supplied
horsebackwinerytours.com.au
22. Do a cheap overseas trip in Footscray
The Little Saigon Markets in Footscray give you the full, terrifying, cheap wonders of a south-east Asian market trip for $4 on your Myki. There's a shop pressing fresh sugarcane juice, vendors waving around live crabs and mangoes, and fierce nannas who dispel any doubt that a trolley is a viable weapon. If you're more into berbere, it's worth a Footscray pilgrimage for Ethiopian supply store, Mesnoy, where they make three kinds of fresh injera bread (the fermented spongy pancake base for curries). GC
footscraylife.com.au/markets
The Little Saigon Market, Footscray, Melbourne.
mesnoyinjera.com.au
23. Diving and dinner at The Stag in Port Fairy
Port Fairy is a fishing village three and a half  hours from Melbourne with a Norfolk pine-lined wharf and bluestone whalers' cottages. Several weeks ago, a big fish landed back on its hook in the form of Ryan Sessions, chef of the former Best Regional Restaurant in Victoria, The Merrijig Inn. He has taken over The Stag, another historic inn. Go, then, for his food; get a coffee at Farmer's Wife; try your hand at abalone diving (buy a licence from the local sports store and prise them from the rocks at the beaches here) and stay at the converted Victorian manor, Drift House. Ardyn Bernoth
seacombehouse.com.au/stag-restaurant
drifthouse.com.au
24. Dinner at Provenance in Beechworth
Beechworth, home of the jail that once housed Ned Kelly and delightful sandstone buildings, is the perfect stopover for the drive between Sydney and Melbourne for one main reason: you can stay and eat at Provenance. Chef Michael Ryan is cooking some of the most balanced, artful food in the country. After dining, stumble past herb boxes into the attached accommodation. AB
theprovenance.com.au
25. Southern Highlands wine trail and dinner at Biota
I once saw four Back to the Future DeLoreans driving in formation along a dirt road between Mittagong and Berrima. With sunlight dancing over green hills of the highlands, and travelling with a boot full of cool-climate pinot from Tertini Wines, it was one of the greatest 20 seconds of my life. A basic Southern Highlands wine trail itinerary involves starting at Diamond Creek Estate near Bowral, dropping into the Tertini, Artemis and Bendooley cellar doors, and finishing at Cherry Tree Hill for a 2014 riesling awarded gold at Sydney Royal Wine Show. Stay at the accommodation attached to Bowral's Biota Dining – you can roll into bed following dinner at the two-hatted restaurant. Callan Boys
southern-highlands.com.au
biotadining.com
26. Steamed clams and craft beer in Hobart
David Moyle's cooking at Franklin restaurant is every bit as brutal as it is beautiful. Think dishes such as wood-roasted whole pigeon, abalone with kelp and dried oysters, and steamed clams with fried bread, peas and lovage, that showcase local produce with minimum fuss. Hop-heads can cab over to the Waratah Hotel afterwards to explore more than 80 varieties of craft beer and cider. At this point, I feel it's important to note the Waratah's bottle shop is open 24 hours every day. Do with that information what you will. CB
franklinhobart.com.au
thewaratahhotel.com.au
27. Sleepover at Maggie Beer's
I reckon she'd host a brilliant dinner party – Maggie Beer, that is, and I've always wanted to wander about her farm and soak up some Barossa lovin'. Now there's a way without awkwardly inviting myself over – "Hi Maggie!". Yep, guests can stay at the property's new digs, Orchard House, modelled on the family's original farmhouse and surrounded by heritage orchards, the produce of which ends up in Beer's products. It comfortably sleeps four adults and, for avid cooks, there's good gear (Miele appliances etc), kitchen gardens from which to snip fresh herbs, and of course, the fruit trees. Sign me up. First couple $515 per night, second couple $75 per night. Nina Rousseau
orchardhouse.com.au
28. The wine trail
The official catchcry is "30 wineries within 30 minutes" but you'll need a whole day to see the cool-climate wine country north of Canberra. Stop at the old schoolhouse that serves as Ken Helm's cellar door or sip Tim Kirk's much lauded vintages at Clonakilla. Lunch on smoked meat platters at the Poachers Pantry or grab a pizza on the terrace of Flint at Shaw Vineyard. Natasha Rudra
canberrawines.com.au/
thepoachersway.com.au
helmwines.com.au
clonakilla.com.au
poacherspantry.com.au
29. Eat your way through Braddon
The epicentre of Canberra's newfound cool is Lonsdale Street, filled with restaurants and boutiques. Soak up the sun on the benches at Lonsdale Street Roasters with a coffee, get a paleo lunch at Elemental or Eighty Twenty, or a vegan cupcake at Sweet Bones. For dinner there's the pumping EightySix or the Elk and Pea before a scoop of cardamom ice cream at Mr Frugii. NR
30. Palate at Saffire Freycinet
Head south, deep south, young man! Well, with all respects to Hugh Whitehouse, he ain't that young anymore. But to NSW's loss and Tassie's gain, he most certainly headed south to head up Palate, at the posh Saffire Freycinet resort on the island's glorious east coast. The ex-Darley's, Blue Mountains chef's menu is a celebration of the finest Tasmanian produce on offer served in a spectacular cathedral-like room overlooking The Hazards mountain range which rise like a spread of puddings from the sea. Sadly, the restaurant is open only to Saffire's paying and staying guests. Anthony Dennis
saffire-freycinet.com.au