Once a tin-mining boomtown, the Malaysian town of Ipoh is now best known as a food destination. Photo: kazhiya
 About two hours drive north from Kuala Lumpur, the towering limestone outcrops of Malaysia's Kinta Valley are suddenly punctuated by the word "Ipoh", standing tall on the hillside in huge, white, Hollywood-style letters.
That sign, jokes an Ipoh-born friend, elicits a Pavlovian response in returning natives. "We salivate," he says. "It's the welcome at the gates of food heaven."
Ipoh is the state capital of Perak, in the north-west of the Peninsular Malaysia, and the former centre of the country's tin mining boom. But to its sons and daughters it's a mother's kitchen, calling them home from afar. They follow the aromas of their childhood all the way back to elegantly dilapidated colonial buildings and ramshackle shophouses, where hawker stalls manned by "uncles" and "aunties" have fed their faithful for decades.
One of the revered 'uncles' at Restoran Kong Heng. Photo: Amy Cooper
Eating here is, as the kids like to say, "peak Malaysia". The country's three main ethnic groups, Chinese, Malay and Indian, shape a dazzling culinary mosaic, divided and then subdivided into regions and origins (from north to south India, Hainan to Hong Kong, Penang to Peranakan) and tweaked and elevated over the years by local migration patterns and the bounty of this region's special topography.
To appreciate the edible benefits of Ipoh's happy confluence of history, culture, climate, produce and influence, you simply have to be there. There is no beansprout like an Ipoh beansprout, made plump and crunchy by the pure water from those limestone hills. Ipoh's silky soybean curd (tau foo fah) is credited for the local girls' superior complexion (exhibit A: Ipoh's Hollywood export Michelle Yeoh). And Ipoh gai si hor fun, a soup of shredded chicken, prawns and fresh flat rice noodles, attains perfection only within its city of origin, elevated by some strange, homegrown magic stirred into the broth.
Married to an Ipoh exile, I maintain there's no better place for first-timers to experience Malaysia's dizzying culinary fusion. Until recently, though, food pilgrims barely gave it a nod on their way north to Penang to experience George Town's sexier, heritage-hip street food scene. Ipoh, meanwhile, remained comfortable in the tattered finery of its century-ago golden age, still apparently sleeping off the enormous party that raged here when the world's richest tin deposits made this the prosperous heart of the tin boom.
Fishball and noodle soup at Restoran Thean Chun. Photo: Amy Cooper
Those glory days bequeathed a food legacy shaped by Hakka and Cantonese Chinese immigrants who built fortunes from tin. Their food carries a subtlety and sweetness that Ipoh Chinese declare far superior to the Hokkien flavours further north. And it is still the lifeblood of this town.
On my first visit about 10 years ago, I was delighted to learn that Ipoh's crumbling facades and ghostly colonial edifices concealed a widespread daily frenzy of feasting that starts at dawn. Ipoh's predominantly elderly population leads the charge. They're at the doors of their favourite dim sum joints at 7am sharp, ruthless in pursuit of the freshest, daintiest, densest har gau, siu mai, char siew pau, suen juk quen (minced pork rolled with beancurd sheets), lor bak gou (fried radish cake) and more. They will accept nothing less than excellence and they've been around long enough to recognise it. You can't slip a substandard chee cheong fun past a grandmother raised on her own grandmother's version in Guangdong 80 years ago.
Thanks to this exacting audience, says Ipoh local and Perak Heritage Society president Law Siak Hong, "If you find bad food in Ipoh, you're damn unlucky. The standard is high everywhere."
On the west side of the Kinta River, in the Old Town, neighbouring restaurants Thean Chun and Kong Heng provide an immediate immersion into Ipoh's food and history. Unchanged for more than 60 years, their worn marble tables, wooden chairs and food stalls look shabby next to nearby tourist haunt Concubine Lane (inevitably, the hipsters and Instagrammers have arrived there – look, but don't eat), but they're the undisputed source of the finest expressions of Ipoh's key specialities. Both have the city's best gai si hor fun, the fresh noodles velvety, the chicken succulent, the prawns plump and the broth – from the chicken bones and prawn shells plus a reduction from the simmered crustacean heads- imparting just enough oily sweetness to lift the dish from humble to heady.
There's popiah, the tastier version of a spring roll; a light egg-white pancake stuffed with vegetables, beansprouts, pork or prawn and doused in chilli sauce. Pork, chicken and offal satay pour forth from a grill in the side alley, accompanied by a thick, rich peanut sauce. Thean Chun's wobbly, melt-in-mouth caramel egg custard, made with the original 1960s recipe, is reason alone to come.
Where to find some of Ipoh's signature dishes
No list of Ipoh dishes can be anything more than a start. The best list will be your own. As Law Siak Hong says: "Trust your senses. Smell, look, check the flavours, the ingredients … ask people for recommendations. Try, and try some more."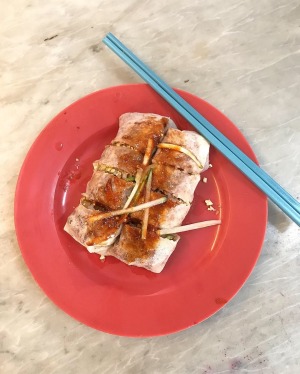 Popiah, a light egg-white pancake stuffed with vegetables, beansprouts, pork or prawn and doused in chilli sauce. Photo: Amy Cooper
Ayam tauge (beansprout chicken)
Ipoh's most famous dish, tender, succulent steamed chicken with a plate of blanched Ipoh beansprouts, is best sourced in the new town at these three venerable establishments.
Cowan Street Ayam Tauge & Koitiau, 44 Jalan Raja Ekram
Onn Kee, 48 Jalan Yau Tet Shin
Lou Wong, 49 Jalan Yau Tet Shin
Ipoh street art. Photo: Amy Cooper
Curry mee
Ipoh's ultimate comfort dish; fresh wheat noodles drenched in coconut milk broth with roasted pork, slices of barbecue pork (char siew), shredded chicken, shrimps and beansprouts. Find the fieriest and best at this 70-year-old restaurant, and inject extra heat with a side of the spicy sambal paste with lard oil.
Restoran Xin Quan Fang, 174 Jalan Sultan Iskandar
Concubine Lane, Ipoh. Photo: Amy Cooper
Ipoh white coffee
The "white" isn't how it's served, but the way the beans are roasted in margarine, resulting in a smoother, finer taste. It's delicious sweetened with condensed milk but I like mine "Kopi O" – black with sugar. The most established sources, both 70-plus years old, face each other in the old town.
Kedai Kopi Sin Yoon Loong, 15A Jalan Bandar Timah
Nam Heong, 2 Jalan Bandar Timah
Ipoh's fabulous ruins add atmosphere. Photo: Amy Cooper
Chee cheong fun
Rice noodle rolls sprinkled with dried shrimps then doused in sauces ranging from shallot oil and soy to chilli, sweet bean, curry or minced pork gravy. Kafe Ipoh Central, in the new town, houses a revered stallholder under a sign, "Canning Garden Chee Cheong Fun". The stalls here also serve up exemplary hakka yong tau foo, caramel egg custard and more.
Kafe Ipoh Central, Corner Jalan Leong Sin Nam and Jalan Raja Ekram (Cowan Street).
Dim sum
The three biggies conveniently inhabit the same street. I also rate Chef Fatt, just around the corner, especially for its custard tarts.
Foh San, 51 Jalan Leong Sin Nam
Ming Court, 36 Jalan Leong Sin Nam
Yook Fook Moon, 65-69 Jalan Leong Sin Nam
Chef Fatt, 57-59 Jalan Raja Ekram (Cowan Street)
Kaya puff
Pair your Ipoh white coffee with this golden, flaky pastry oozing with jam made from coconut milk and pandan leaves. The Ng family have been baking them fresh daily since 1961.
Sin Eng Heong, 6 Jalan Mustapha Al-Bakri (Clare Street)