Traditional beef-dripping fish and chips at The Magpie Cafe. Photo: Supplied
Few things grind my gears like French people having a dig at English food. "One cannot trust people whose cuisine is so bad," said Jacques Chirac when he was president of La Grande Nation in 2005. It's a reputation based on utter bollocks.
England has more breeds of livestock and fruit cultivars than any other country. It has cockles, lobster, herring and trout, and wild game that tastes of a happy life spent in woodlands and warrens. Sure, motorway service stations do little to dispel the myth that all English food is fried or boiled, but spend five minutes exploring a regional high street, and you'll find culinary creations that rival France's finest. Stilton goes one-for-one with any monk-made roquefort, and proper jam roly-poly leaves clafoutis for dead.
Here's a traveller's guide to finding the best versions of essential British foods. 
Beef Wellington as it should be at Holborn Dining Room, London. Photo: Supplied
Beef Wellington
Poor old Beef Wellington. The past few decades have not been kind to this piece of red meat cooked in a pastry crust. Wedding caterers, particularly, seem to dislike the quietly outrageous dish, overcooking it to the point of immolation so that any resemblance to a butter-soft fillet surrounded by a madeira-spiked mushroom medley is purely accidental. If you've never had a truly great Beef Wellington (in Australia, it's a hard thing to find), book a flight to London and check your jacket at Holborn Dining Room. Here, pie-fetishing chef Calum Franklin shows how the edible artwork is really made for the brasserie's "Welly Wednesday" night once a week. 252 High Holborn, Holborn, London, holborndiningroom.com
Bakewell tart
This moreish tart sees shortcrust pastry spread with raspberry jam, topped with frangipane and baked. A textbook Bakewell should be a modest treat and never too sweet or stodgy. Bakewell, Derbyshire, has cafes hawking the treat on every corner of its sandstone-lined streets, and I can confirm The Old Original Bakewell Pudding Shop offers a cracking version of the classic. Order a slice in its cafe (don't hold back on the custard), or have a full tart boxed for sustenance while hiking beautiful Peak District National Park, which begins on Bakewell's doorstep. The Square, Bakewell, bakewellpuddingshop.co.uk
Grouse
The game bird with the darkest meat and deepest flavour has a season lasting from August to December. Traditionally served with a trinity of bread sauce, redcurrant jelly and a little gravy, grouse also appears in sausage rolls, peach salads and ravioli. London is rife with posh restaurants serving grouse if you don't mind haemorrhaging cash (see Scott's in Mayfair and Rules). But better value can be found in many Lancashire taverns. I'll never forget the roast Bentham grouse at the Parker Arms, a pub in sleepy Newton-In-Bowland. Leg, liver and heart were fashioned into bonus pasty, and served simply with creamed celeriac and blackberry sauce. Gosh, I love English food. Hall Gate Hill, Newton-In-Bowland, North Clitheroe, parkersarms.co.uk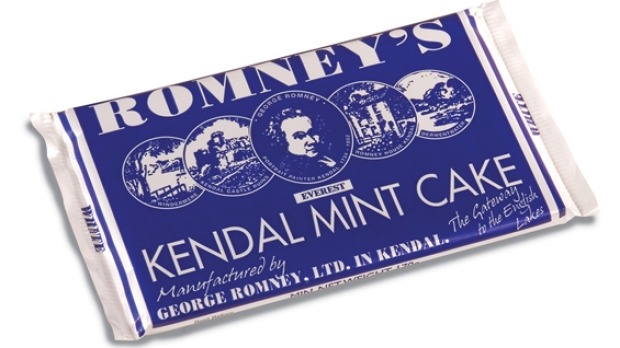 Romney's Kendal Mint Cake – for nibbling not chewing. Photo: Suppliedq
Kendal Mint Cake
You don't need to visit Kendal in Cumbria to buy one its famous mint cakes, but it will make the world's first energy bar taste a lot better. The hard glucose-based confection was created in postcard-perfect Cumbria in 1869 as a means to provide Lake District hikers with a sugary kick. The main brands today are Quiggin's, Wilson's and Romney's (best), and all should be nibbled rather than chewed. Source one from any Kendal gift shop, hire a boat at nearby Windermere Lake and enjoy a morning surrounded by mountains and steely blue water. The mint cake will come in handy when the wind changes and you have to row back to shore.
Fish and chips
English fish and chips are so much more delicious than our modern Australian attempts. This is partly because more UK chippers are invested in their craft, and know the importance of ice-cold batter hitting hot fat to create a super crisp crust. It's also due to tastier local fish choices such as cod, haddock and plaice rather than the imported basa fillets used by so many Aussie takeaways.
Marco Pierre White says, "England's true north begins when you can find chips fried in beef dripping", which imparts a fatty, savoury kick that vegetable oils can't muster. Visit seaside town Whitby to burn your lips on the best and join The Magpie Cafe's rain-hail-or-shine queue. The harbourside cottage has a dining room if you're keen for Lindisfarne oysters on the side, or you can take away a fish pack and head down to the pier. 14 Pier Road, Whitby, magpiecafe.co.uk
Melton Mowbray pork pie
The only difference between a pork pie and pâté en croute is five to six quid. Well, that's not completely true, and I would be chased out of Melton Mowbray if I said that to a local, but the pastries are certainly related. A real deal Melton Mowbray pie must be made within a specified area surrounding the Leicestershire town, with only fresh, uncured pork (no bacon or ham, please). Bone stock jelly is added to enhance flavour and ensure a moist but firm crust, and with only salt and pepper used for seasoning, the pies taste a bit like a cold sausage roll.
Melton Mowbray's Ye Olde Pork Pie Shoppe is home to the Dickinson & Morris brand, also stocked at retailers such as Sainsbury's and Waitrose. Ideally, though, you want to buy straight from the source, with a wodge of Stilton and picnic plans involving Sherwood Forest. 10 Nottingham Street, Melton Mowbray, Leicestershire, porkpie.co.uk