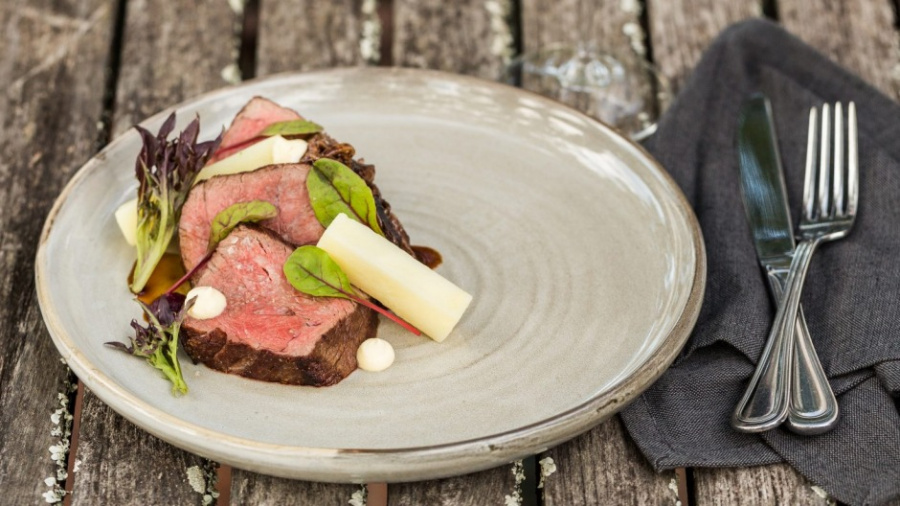 Local grass-fed beef is on the menu at Homage restaurant, Hidden Vale. Photo: Supplied
Let's get it out of the way straight up: Marsden's Seafood, the fish and chip shop that once belonged to Pauline Hanson, is still in business. These days it's owned by a pleasant Vietnamese family and they can chicken salt a scallop with the best of them. If you harbour any weirdo One Nation pilgrimage needs, you can find the store in Silkstone, a suburb seven minutes drive from the Ipswich town centre.
It's unfortunate that fish and chip shop is the first thing many Australians think of at the mention of Ipswich. There's a lot more to the food scene of Queensland's oldest provincial city than dim sims and battered savs and a weekend in "the other capital" is a delicious experience when you know where to look.
For al fresco fine dining
Food and booze options in Ipswich have majorly improved over the past three years and the city's first properly good fine diner, the Cottage Restaurant (108 Limestone Street, Ipswich), opened in October. Located in a National Trust-listed cottage, the restaurant is owned and operated by executive chef Mark Naoum and his wife Angela. Request a spot on the breezy verandah for contemporary dishes built on classic techniques, such as chicken consomme with fried pork ravioli and straw mushrooms, or rolled rabbit with braised fennel, heirloom carrots and currants.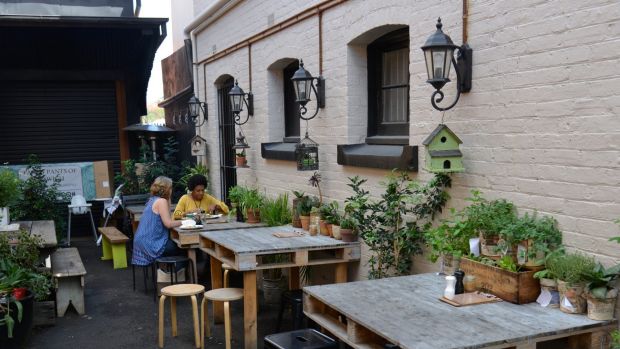 Rafter and Rose laneway cafe. Photo: Bobby Rein
For terrific coffee
The team at laneway cafe Rafter and Rose (1/17 Ellenborough Street, Ipswich) are big fans of the black stuff. A macchiato made with Padre Coffee's Daddy's Girl beans is full bodied with notes of caramel and chocolate, while a filter brew of Uncle Joe's heirloom beans is all zippy fruit and spice. Cold brew is also available for sticky summer days.
The breakfast and lunch menus are heavy on toast, eggs and burgers, however it's the siren call of cakes and sweet things at that has local punters excited; the pumpkin pie is particularly excellent.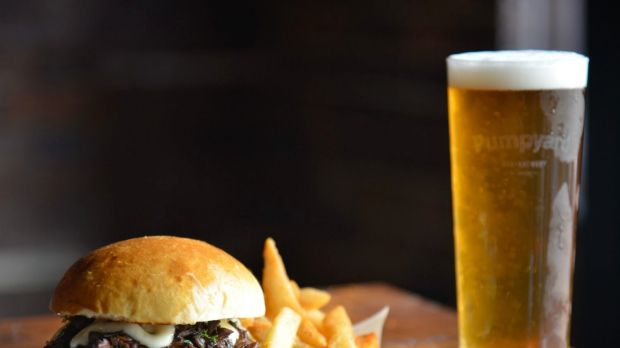 A burger and beer at Pumpyard Bar and Brewery. Photo: Supplied
For local beer and burgers
The home of Four Hearts Brewing Company, Pumpyard (88 Limestone Street, Ipswich), might be the most handsome brewery bar in Queensland. It isn't a hot industrial shed with a tacked-on tap-room, rather a century-old former technical college with exposed beams, dapper brickwork, soft light and factory lampshades. Thick white-glossed walls and air conditioning means this is a ripper place to cool down when the mercury goes haywire.
Four Hearts' tanks are on proud display and 20 taps pour brews such as the Ipswich Challenger (a citrussy light ale that took home bronze at the 2016 Australian International Beer Awards) and the mellow and toasty Coal Miner's Stout celebrating the city's mining past.
If you want to make a full session of it, the brewery's kitchen serves beer ballast such as onion rings, empanadas, chicken wings, fried pickles, burgers and flat iron steaks.
For breakfast and brunch
If you're in need of a big, take-no-prisoners breakfast, Nourish (160 Brisbane Street, Ipswich) can sort you out with smoked chorizo simmered in feta-topped shakshuka. The cafe also does a fine eggs benedict, breakfast chilli (that's Mexico-fied savoury mince, fried egg and corn bread) and a selection of acai bowls if you're excited by healthy eating.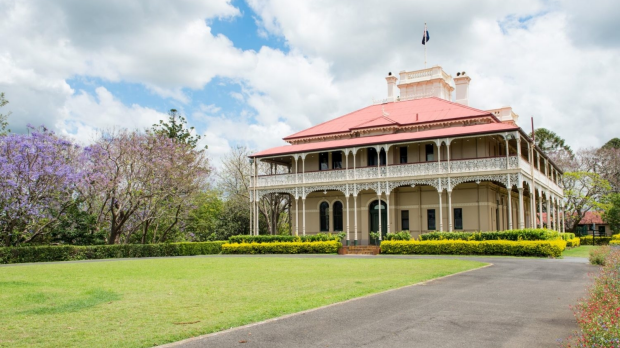 Tours are available of the Woodlands of Marburg mansion. Photo: Supplied
If you like to make an event out of brunch, take a 20 minute drive west of Ipswich CBD to Woodland of Marburg (174 Seminary Road, Marburg). The heritage-listed mansion serves Sunday brunch in its Jacaranda Room with knock-out views, avocado on toast and locally-made sausages. Book in advance for a mansion tour or bring your own kites and lawn games to play with on the estate (no cricket in case of 125-year-old window breakage).
For pork knuckles the size of your head
The final Breaking Bad episode aired in 2013 but that hasn't stopped restaurants around the world theming themselves on the hit television show. Heisenberg Haus (164 Brisbane Street, Ipswich) opened in late 2015 and thankfully the Breaking Bad references aren't too in your face. There's a cocktail named the Strawberry Pinkman, for example, and another called the Blue Crystal Surprise made with curacao and pop rocks.
Anyway, you're not here for cocktails, you're here for pilsner and pretzels. Heisenberg Haus is first and foremost a beer hall with eight German brews on tap and menu of meaty, porky fried things. Stick to Furstenberg Premium Pils and schnitzel and you'll leave happy and full.
Arcadia Greek restaurant at sunset. Photo: supplied
For a long Greek lunch
When owner-chef Matt Tsalikis and his wife opened Arcadia (37 Warwick Road, Ipswich) in March 2016, Ipswich was gifted top-notch dolmades, tiropitas, saganaki, moussaka and souvlaki.
The converted corner store is a beaut spot for a lazy lunch laced with ouzo, Greek wine and Mythos lager – the highly smashable Victoria Bitter of Greece.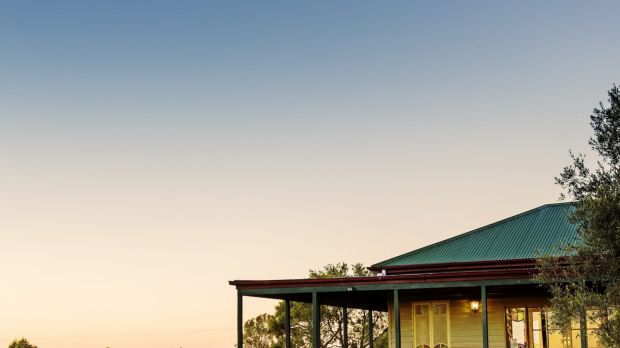 The miner's cottage tasting room at Ironbark Ridge Vineyard. Photo: Supplied
For olives and wine
There are plenty of vineyards and wineries dotted around the Scenic Rim, but only one remains in Ipswich itself. Ironbark Ridge Vineyard (478 Middle Road, Purga) was established in 1984 and has plantings of chardonnay, grenache and shiraz, plus smaller parcels of dolcetto, marsanne, roussanne and viognier.
Its 1920s mining cottage has been converted into a tasting room where you might be able to buy a 2009 dolcetto that's all licorice and cherry, or black manzanillas from nearby Watercress Creek Olives and Limes (53 Bryces Road, Pine Mountain). The former dairy farm bottles a variety of oils and table olives and although there's no tasting room onsite, owners Bernard and Lorraine Mahon do host the Watercress Creek Olive Festival every April. It's a wholesome, one-day event of live music, wood-turning, strolls in the olive grove and the opportunity to sample more local food and wine.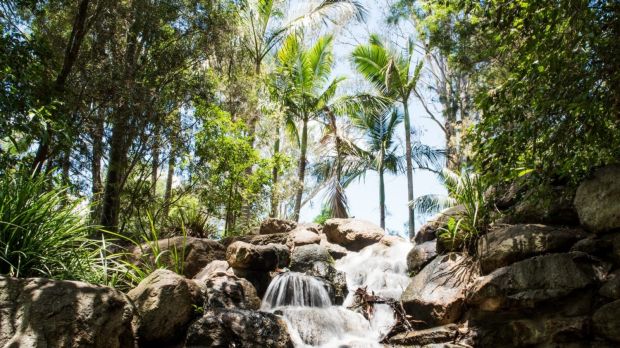 Ipwich hidden gem, Kholo Gardens. Photo: Supplied
For a delicious and tranquil picnic
Kholo Gardens (243 Riverside Drive' Muirlea) is a hidden gem seven kilometres from the Ipswich CBD. There's a lily pond, verdant gardens, kauri trees and native birds. In short: perfect for a picnic.
A picnic requires picnic food and Adam's Continental Smallgoods (206 Cobalt Street, Carole Park) produces some of the best charcuterie you'll find in the state. Stock up on gypsy ham, csabai, leberkase, pickles and imported cheese. Adam's operates as a butcher too, if you're keen to fire up a council barbecue and dine on grass-fed steaks and Euro-style snags.
For getting around in style
You could drive yourself, but where's the fun in that? Get to the chopper. Pterodactyl Helicopters has a bunch of day tours that take in key wineries, restaurants and pubs of the region, or you can customise your own adventure. The pilots are legends, the scenery is beautiful and there's nothing like arriving at the pub in a helicopter.
For land transport, Ipswich Trike Tours also offers winery excursions and a trip to Kooroomba Vineyard and Lavender Farm (168 F M Bell Road, Mount Alford). Cruising through the forest on the back of a massive, growling trike is a time to be had.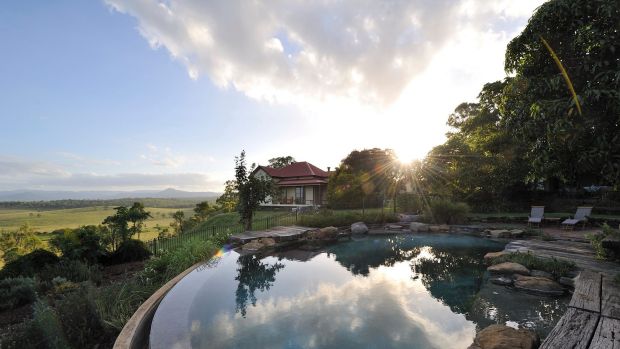 The view at luxe country retreat, Spicers Hidden Vale. Photo: Alan Uthmann
For accommodation where you can put your feet up
Spicers Hidden Vale (617 Grandchester Mount Mort Road, Grandchester) is a relaxing retreat featuring one-hatted restaurant Homage, a day spa, tennis court, farm animals, luxe pools, walking trails and cottage accommodation with valley views. There's also colonial-style barn where you can shoot pool and drink negronis at your leisure.
The restaurant is helmed by chef Ash Martin who serves contemporary, clever dishes in tune with the local area. Highlights of the a la carte menu include juicy tranches of squab with green strawberries and a grass-fed rib-eye on the bone for two, served with house-made garnishes and coal-baked veg. Meanwhile, a nine-course tasting menu sources almost all its ingredients from the restaurant's onsite garden. A worthy dining destination even if you're not staying at the retreat.
The writer travelled on behalf of Discover Ipswich.