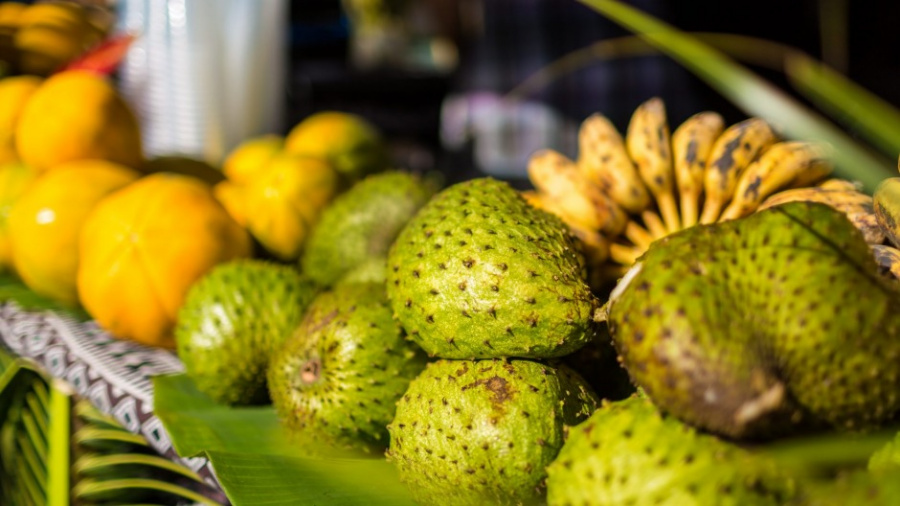 Soursop (foreground), bananas and papaya at Punanga Nui Market, Aitutaki, Cook Islands. Photo: Dyland Harrison/Cook Islands Tourism
Ah, the South Pacific. Turquoise waters, palm trees, powder-sand beaches, chilled-out locals … and bog-ordinary food.
Yes, the otherwise beguiling region's Achilles heel for any stomach-obsessed traveller has long been its less than vibrant food scene. Across Vanuatu, Samoa, New Caledonia, Fiji and more – stunningly beautiful though they are – you'll find yourself more or less reliant on imported canned goods, the vastly differing quality of resort restaurants and the hegemony of the hot chip.
Thankfully, the Cook Islands are a different proposition altogether.
Homebrew sampling at a tumunu (traditional gathering) on the island of Atiu. Photo: David Kirkland/Cook Islands Tourism
But first, an admission of bias. For the past few months I've been living in the Cooks with my family. The turquoise waters, chillaxed locals and all the rest were the main drivers of the move, but the clincher was a food scene putting the island-nation's neighbours in the shade – which finds us on Aitutaki, a lagoon-circled island with beaches regularly cited as the world's most beautiful, searching by torchlight for the famous coconut crab.
To put this island of 2000 inhabitants in perspective, it's a blip in the ocean 40 minutes' flight from Rarotonga, a slightly bigger blip in the ocean that's also home to the capital, Avarua.
Tana Atirai is the island's crab man. It's a laborious business catching the tupa (terrestrial crabs) and coconut crabs then keeping them for at least four weeks while they're fattened up and purged, so islanders know to beeline for his house. Recently the 30-year-old branched out into a business serving up an island-style crab feast on the beach before taking tourists crab hunting in the dark.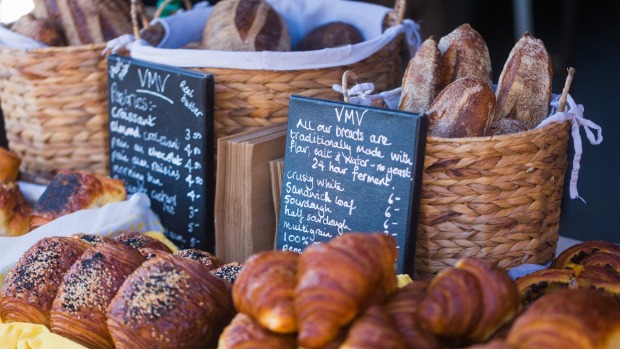 Exceptional croissants and sourdough are available at the market in Aitutaki on Saturdays. Photo: David Kirkland/Cook Islands Tourism
It's a simple recipe. The crabs are boiled in salted water then crushed by hand so the innards and head meat become a kind of rich dark sauce to the sweeter white flesh. Just add freshly grated coconut cream and sop it up with boiled taro and fat pancakes. It's delicious, with synaesthetic bonus points for the soundtrack of waves breaking on the reef.
Later, with Tana's brother as backup crab spotter and bag holder, we prowl the byways of the island on their motorbikes, torches in hand. The trick (note: easier said than done) is to pick them up behind the angry-looking front pincers and in front of the wriggling legs.
"It takes an hour to fill a sack; that's about 100 crabs," says Tana, who then takes the clawed critters home to pens in his backyard, where he fattens them up on paw paw and coconut in preparation for the pot. "Most of the islanders say it's too much trouble but that's just good for me."
If Tana's Crabs is the rustic face of Aitutaki, Tamanu Beach Resort shows its slicker side. It's not every day you can recommend a resort buffet with a clear conscience but "island night" Thursdays feature local pork cooked by Aunty Marie ("Aunty" in these parts is an honorific given to the senior women) that hits every pleasure receptor with sweet meat and perfect crackle. Sides include rukau, or taro leaves cooked in coconut cream that taste a lot like spinach, followed by a hip-swivelling dance performance that involves the dreaded words "audience participation".
While you're in this neck of the woods, it's also worth popping into The Boatshed Bar & Grill near Ootu Beach. This locals' hangout is decked out in enough game fishing memorabilia to satisfy Ernest Hemingway, while the menu is all about sashimi of local tuna and herculean fish burgers with breadfruit chips.
With a population of 17,000, Rarotonga – or simply "Raro", as locals call it – is the big smoke of the Cook Islands but there are no fast-food franchises. Fish and chips are ubiquitous, and mostly excellent, but the national dish ika mata is more waistline-friendly: a mix of raw fish (mahi mahi, wahoo and albacore are popular depending on the catch) "cooked" in lemon juice with red onion and peppers. It's a lot like a Peruvian ceviche with the acids mollified by fresh coconut cream, and one of the best versions can be found at the upmarket Tamarind House on the island's north-east. Housed in an airy pavilion overlooking the beach it's also the place to try a knockout Indian-style fish curry with eggplant sambal and raita or to remember what red meat tastes like with a decent steak.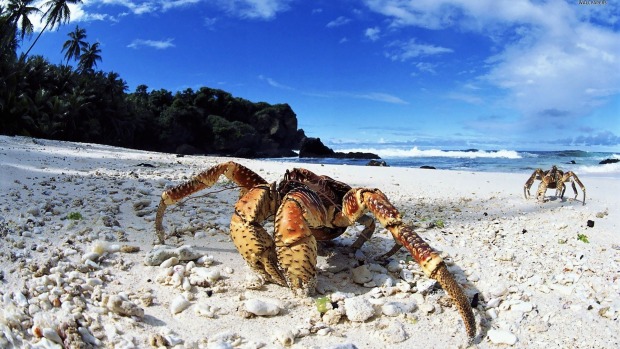 Search by torchlight for the famous coconut crab. Photo: Supplied
It's said that the longer you live on Rarotonga, the bigger it gets. The island with its dramatic volcanic interior is girdled by a 32-kilometre coastal road that takes about 50 minutes to loop; live here long enough and you'll find yourself complaining about any excursion requiring a drive to the other side. Lucky, then, that almost identical beach bars Charlie's and Vaiana's (Nikao Beach, Nikao) have planted themselves almost opposite each other on either side of the island. Both are places where you can sit at a picnic table with your feet in the sand and your hand around a gin and tonic. The burgers-and-fried-fish menus aren't going to set the world on fire but they're good versions of the classics.
Just along the beach from Vaiana's you'll find the Rarotonga Brewery, instigator of the signs on restaurants and bars across the island proclaiming: "We're drinking our beer here".  At the source of the dangerously drinkable Cook Islands Lager you can have tastings and a free brewery tour from head brewer Tuki Nee Ne.
Saturday mornings are all about the Punanga Nui Market in the centre of town (Ara Tapu, Avarua District), a place where you can get everything from a drinking coconut to an acai bowl, a sign of Raro's growing wellness movement (and a good bacon and egg roll, ahem).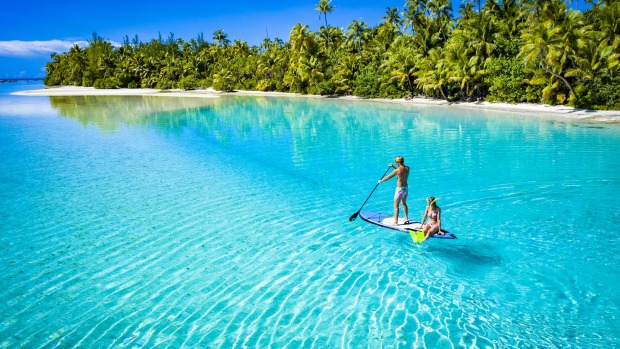 Lagoon-circled Aitutaki, in the Cook Islands. Photo: Cook Islands Tourism
On the subject of breakfast, Beluga Cafe in Arorangi district rates high in locals' affections. More than one person recommended it to us as "just like a Melbourne cafe", despite the owners being Sydney refugees, and on the basis of its chickpea panini alone I'm happy to agree.
On Mondays, Wednesdays and Fridays we often find ourselves driving to the other side of the island for croissants. As a long-time inductee into the cult of Lune croissanterie, it's my duty to report these babies put Melbourne on notice: sorry, but Matavera may well have the best croissants outside Paris.
"Some people say they're the best anywhere," says Neil Dearlove, owner of the Cook Islands Coffee Company (Ara Tapu, Matavera District), where the croissants and equally exceptional sourdough are sold (you can also find them at the market on Saturdays). "The remarkable thing is they're made in the tropics with no air-conditioning."
Sure, he's a proud papa – baker Reuben Dearlove is his son – but the record ought to note that Reuben and his wife, Victoria, operated the two-hatted Melbourne restaurant Gourlay's in the early 2000s.
Neil's no slouch as a coffee roaster, mind you. The long-time Rarotonga resident imports the beans and roasts them into a strong, nutty-caramel brew that's the best on the island. The Dearloves operate out of the family compound: the orange traffic cone will be out front when they're open.
If we are to finish with anointing an island icon, it has to be Trader Jack's (traderjackscookislands.com). This easygoing bar, restaurant and all-round hangout at Avarua Harbour is the very definition of uninsurable, having been famously wiped out by cyclones three times during its 30-year history. There are no black clouds on my Rarotonga horizon, however. There's no better place to be than sitting at the bar contemplating the very real concept of "island time" over a sunset Bloody Mary.
Where to stay
Nautilus Resort has the island's most gorgeous infinity pool, overlooking Muri lagoon, and luxury villas sleeping up to five. nautilusresortrarotonga.com
The just-opened Rainbow Villas occupy the high ground, overlooking the golf course and Black Rock beach, with two beautiful, natural-timber pavilions and a swimming pool. rainbow-villas.com
The family-friendly Edgewater Resort is a good option for budget-conscious travellers. The pool and kids' club make it a paradise for children and their parents. edgewater.co.ck