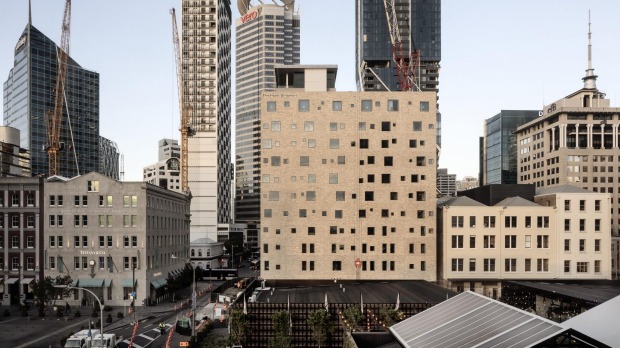 Hotel Britomart's austere brick exterior. Photo: Patrick Reynolds
THE PLACE
Thanks to its impressive eco-friendly credentials, The Hotel Britomart became New Zealand's first 5-Green Star hotel when it opened on October 1, 2020. Eighty per cent of construction waste was re-used or recycled, energy usage is minimised by efficient heating and cooling systems and even the pillows are filled with a material made from recycled plastic bottles.
THE LOCATION
The hotel is slap bang in the middle of Britomart, a buzzy nine-block neighbourhood of swanky shops, restaurants and bars in downtown Auckland. Hats off to owner Cooper & Company, who has spent 15 years transforming this once dilapidated district into a vibrant retail and entertainment precinct.
THE SPACE
Don't be put off by the austere brick exterior, inside it's a gorgeously tactile haven of exposed brick, warm wood and stonework. Over a welcoming cup of kawakawa iced tea, guests can admire the lobby's striking black sand feature wall and colourful artwork by renowned New Zealand painter Shane Cotton. Other design highlights include a native totara tree growing out of the reception desk and a coffee table fashioned from a three-tonne slab of Timaru bluestone.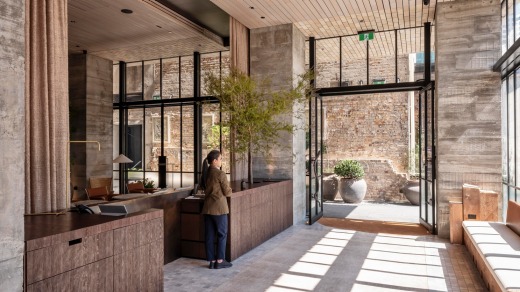 Inside it's a gorgeously tactile haven of exposed brick, warm wood and stonework. Photo: Supplied
THE ROOM
All 99 rooms are accessed via dark, liquorice-coloured corridors (calming apparently) and offer several aspects, from city and laneway views to sweeping panoramas over Britomart and Auckland Harbour. At 22 square metres, the rooms are cosy but well-equipped and decorated in a pleasing palate of creams, browns and beiges. Eighty per cent of the contents are New Zealand-sourced, from the handmade ceramics by local artisans to the beers and spirits in the minibar. Once again, sustainability is front and centre, with large refillable bottles of Sans [ceuticals] toiletries, slippers made from recycled coconut husks and the option to have the room cleaned without the use of water and chemicals. Splash out on one of the five Landing Suites and you'll get more space (including an outdoor terrace in some), complimentary breakfast and exclusive access to The Libraries, the property's intimate private event spaces.
THE FOOD
Located on the ground floor, kingi is the hotel's in-house eatery, a chic, industrial space with wood floors, exposed brick and steel girders that morphs admirably from buzzy breakfast spot to seductive dinner venue. Specialising in sustainably sourced seafood, the menu features local delicacies such as pan roasted snapper and yellow belly flounder together with the names of the boats that caught them. Clearly popular with locals as well as hotel guests, it's an inviting locale for a pre-dinner drink, particularly if you perch at the bar, which is fashioned out of a 38,000-year-old slab of swamp kauri and sits beneath an impressive chandelier made from 1400 pieces of recycled glass.
STEPPING OUT
Venture outside and you're surrounded by Britomart's 65-plus boutiques, bars and restaurants. Browse high-end fashion from leading NZ designers such as Karen Walker and Trelise Cooper, eat at fancy fine-diner Amano or enjoy an expertly mixed cocktail at New York-style speakeasy Caretaker. The hotel is above Britomart train station and is steps away from buses and ferries should you wish to explore further afield.
THE VERDICT
An impressive new benchmark in sustainable luxury, which has thankfully been achieved without any hint of guilt-tripping or preachiness. Proof that you can do the right thing by the environment and still be a delightful place to stay.
ESSENTIALS
29 Galway Street, Auckland, New Zealand. Overnight rates start at $NZ320. Phone +64 9 300 9595. See thehotelbritomart.com
HIGHLIGHT
A divine rosti with smoked kahawai and a slow poached egg for breakfast in kingi.
LOWLIGHT
The lack of a bedside master light switch means a perilous stumble to a control panel by the front door.
Rob McFarland was a guest of The Hotel Britomart.