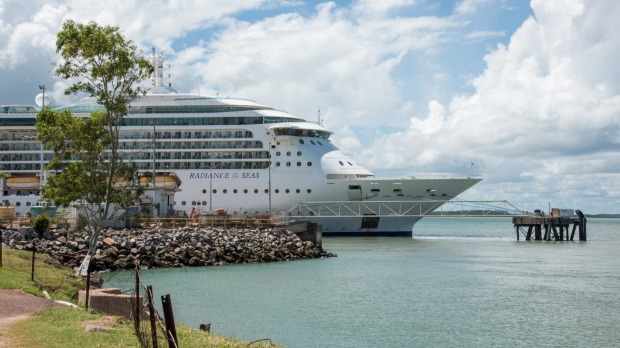 Radiance of the Seas in Darwin in 2018. The Northern Territory has decreed that no cruise ship with more than 150 passengers and crew can enter their waters. Photo: Getty Images
CRUISE CONTROLLED
My wife and I are booked on a Ponant cruise, Darwin to Broome, departing August 9, 2021. However, the bureaucrats in the Northern Territory (Traveller Letters, May 15) have decreed that no cruise ship with over 150 passengers and crew, can enter their waters. That is after the crew have isolated for two weeks and been without contact for a further period getting their ship to Australia. However, the Ghan, with its full complement of crew and passengers, is allowed to arrive unhindered. Is this commonsense, or am I missing something? Perhaps Australia no longer needs tourism dollars, even domestic tourism dollars?
John Verhelst, Merimbula, NSW
LETTER OF THE WEEK
POLES APART
While we are all limited to overseas travel, the lure of the road-trip in the country is strong. Silo trail? Sounds interesting, and it turns out to be an experience not just of the artwork, but of the joys of country towns, their pubs and the people who live in them. But if you want something truly breathtaking, don't miss out on the Big Stick Shed in Murtoa, Victoria. Not well publicised, it is simply amazing. Built during the Second World War to store grain, it is the last remaining structure of this sort. From the rusty exterior it appears to be nothing of interest, until, that is, you enter the vast cavern with mountain ash poles for support. Nearly as big as the Melbourne Cricket Ground inside, it is a sight to behold. Make sure you check out the opening times as it is staffed by volunteers (see thestickshed.com.au).
George Fishlock, Box Hill, VIC
THURSDAY ON MY MIND
Your cover story about Australia's most far-flung destinations (Traveller, May 15) brought back great memories of my trip to Cape York last year. While staying at Bamaga, I visited Thursday Island for the day. To make the most of a trip to Thursday Island, I recommend a day trip with Torres Strait Heritage Tours. Liberty Seekee picked us up from the ferry and took us to Green Hill Fort and then the cemetery which tells of the history of the Japanese pearl divers as well as the Indigenous villagers. It was then a 15-minute ferry ride across to Horn Island to be picked up by Vanessa, Liberty's wife. Horn Island was of great strategic importance during the Second World War; a lot of excavation is taking place to preserve the military history of the island. Vanessa and Liberty are so knowledgeable and passionate about uncovering and preserving the history of both islands.
Vicki McDowell, Maroubra, NSW
As a young teenager I lived at Thursday Island when my father was transferred there with his job back in the early 1970s. Such lovely memories were brought back to me with TI being mentioned in Ute Junker's "Farthest Horizon"s (Traveller, May 15) story. It's a wonderful place to visit for anyone wanting to a new horizon. A glass of whatever takes your fancy watching the sunset, sitting on the veranda at the Grand Hotel is highly recommended.
Barbara Briguglio, Sylvania Waters, NSW
ON THE GROOVE
Seeing the photos and reading the article about the first Qantas jumbo jet triggered a memory. In 1973 my family migrated to Australia and we flew (courtesy of the Australian Government) first class on a Qantas 747-200. I have no photos, but a vivid memory of the swivel chairs, bar, spiral staircase and playing Lego with my brother on the floor of the first class lounge. That trip marked the beginning of a new life with opportunities I would otherwise not have had. Thank you for the reminder.
Charlotte Forwood, Surrey Hills, VIC
HITTING THE WALL
I thoroughly checked advertisements stating fares including Cairns would be available from midnight on April 1, and that on booking the "pay" part would change to half-price. Flight Centre promoted half-price tickets from midnight with multiple airlines. I thus joined. At 12.08 am I booked but, instead of half price, it charged the full (non-refundable, only carry-on baggage, and more than the whole trip) amount of $856.48. After several hours on the phone to the brick wall of Flight Centre, I find it is completely my own problem and I have no comeback at all.
Anne McEncroe, Fairlight, NSW
ARROW POINTS THE WAY
Hey, Allan Gibson (Traveller Letters, May 15), I recently stayed at a motel in Canberra where they still put a "v" in the end of the toilet paper, and the toilet bowl had a "sanitation strip" across the lid.The 1970s re-visited!
Ray Witherby, Kings Langley, NSW
TAKES THE CAKE
Like Allan Gibson, we had a blast from the past at our recent stay in Beechworth, Victoria. In the bathroom, sitting on the pedestal basin, was a cake of Cussons Imperial Leather soap. And, by the way, Beechworth is a great place to visit, with lots to do and see in the area.
Peter Miniutti, Ashbury, NSW
TAKING CREDIT
Like the couple who wrote to Traveller (Jan and Ian Tucker, May 15) we booked a trip to Japan in 2020 using Inspiring Vacations. We were offered a credit which we have now used to book a trip to New Zealand . If travel companies offered refunds, the threat of bankruptcy would have been likely. I think travellers should consider credits, a great result and either use them towards something currently on offer, or perhaps as a gift to family or friends.
Kaye Wright, Patonga, NSW
DO DO ULURU
With our loved four grandsons out of reach, (London, Antibes, Seoul), we decided on Uluru. Do yourself a favour and book today. I am still awash with the most wonderful experiences of nature, hiking, admiring, eating, you name it. Gecko's Cafe at the village square fed us several times.
Andrea Pulati, Rushcutters Bay, NSW
Editor's note: Find out more about visiting Uluru at traveller.com.au/uluru
Send us your travel-related tips, opinions and experiences
Letters may be edited for space, legal or other reasons. Preference will be given to letters of 50-100 words or less. Include your full name and suburb. Email us at travellerletters@traveller.com.au
Share your most travel photos and stories with us on Instagram and Twitter using the hashtag #travellerau
WIN A NAVMAN MICAM EXPLORE
The writer of Letter of the Week wins a Navman MiCam Explore,designed for travellers wanting to discover new places with confidence. With a large 7-inch (18cm) "pinch and zoom" screen, dash cam and GPS device, the MiCam provides visual and verbal navigation, including off-road 4WD tracks, speed, traffic and safety alerts.
RRP $499. See navman.com.au
See more: Traveller Letters