Vegan cooking class in Udaipur, India. Photo: Supplied
"My plan for you is to leave India with an extra kilogram," says Bhagirath Purohit. Our tour leader smiles, looks down at his belly and pats it. I survey the rounds of warm, whole-wheat chapatti, springy khaman (steamed chickpea cake) flecked with mustard seeds, long pods of okra glistening with oil, garlic and ginger, sun-coloured dal, a Rajasthani dish of rich tomato and rice, tender aloo matar (potato and pea curry) and crispy pappadums crowding the table. One kilogram seems a conservative estimate. I suddenly feel grateful for the loose, flowing dresses in my suitcase.
This dinner at Suruchi is the first on Intrepid Travel's inaugural vegan food adventure in India, and tomorrow our group of 11 vegans and vegetarians sets off for a week travelling through the country's "Golden Triangle", from Delhi to Jaipur to Agra, visiting attractions like the Taj Mahal, the Amber Fort and Agra Fort.
While the aim is to eat like locals, Purohit acknowledges it has taken months of reconnaissance to find restaurants, stalls, home cooks and vendors who will substitute golden buttery ghee for vegetable oil and cow's milk for soy. "Veganism is a new concept in India," he says as we mop up the last of the deeply spiced curries with chapatti. "But I don't think there's a country better suited for people who don't want to eat meat or animal products."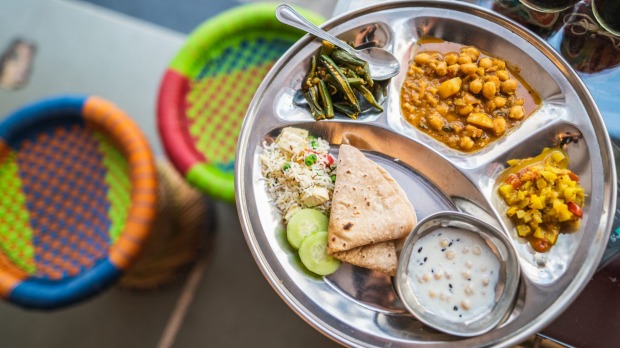 Vegan feast at Udaipur in India from Intrepid Travel. Photo: Supplied
The next morning we step outside our hotel into a heat haze and the relentless horns of cars, motorbikes and tuk-tuks. Our group weaves along the cracked pavements, passing masticating cows and people sweeping litter into neat piles with grass brooms. We wind our way through the tiny alleyways of old Delhi, where monkeys leap across thick tangled webs of electrical wires, men load groaning wooden carts and ancient, ornate doors are pushed open onto the streets. Braided streams of light flood the narrow passages.
Tucked away in the Chandni Chowk area is Parathewali Gali, a sixth-generation family-run business specialising in parathas. A Delhi breakfast staple, Purohit tell us that this is one of only three restaurants in the country still cooking the popular filled flatbreads in ghee. But, given that dairy products are off-limits, Purohit pulls vegetable oil out of his bag. "We are breaking 300 years of history," he says with a grin.
There are numerous choices – some come stuffed with dried fruit, cottage cheese or mint, others are filled with bitter gourd, okra or nuts. Unable to decide, I order one almond and one lentil. The dark brown, crisp-edged breads arrive, piping hot, on a thin, circular metal tray. I swipe torn fragments through the accompanying sauces – banana with tamarind, potato and pea, and pumpkin. Each bite leaves a warm hum of chilli on my lips.
Sunset over Jaipur in India. Photo: Supplied
The morning unfolds with a visit to a peaceful Jain temple where monks in saffron robes glide over cool marble floors. Opposite the temple, chai-wallah Lumbu boils water on an ancient gas stove, sprinkles in black tea, nuggets of sugar, soy milk and a palmful of crushed ginger. The tea rolls and rumbles before he pours it into tiny cups. We sit on smooth concrete steps, sipping the hot chai as motorbikes skim past.
Lunch is at the Sheeshganj Gurudwara Sikh temple where hordes of volunteers cook hearty vegetarian food in the langar (community kitchen), feeding up to 15,000 people for lunch and dinner each day. Everyone is welcome, regardless of gender, religion or caste. A mealtime prayer is chanted before volunteers carrying full buckets walk down the neat crossed-legged rows of people, ladling dal, okra and sabji (vegetable stew) on to our trays. Behind them, a white-bearded man in a blue turban drops warm chapatti into our cupped hands. "Finish everything on your plate and don't ask for more unless you can eat it," Purohit says as the volunteers offer seconds and thirds. "No food should go to waste."
Over 70 million people in India live in extreme poverty, but the generosity of langars like this ensure that for a few hours at least, even the hungriest tummies can be filled. The sense of kindness continues as we travel. We eat in the homes of local families, where a grandmother gives each of us a warm hug before dotting our foreheads with red kumkuma powder and a young mother teaches us to make pakoras (fried vegetable fritters) in her courtyard lit with lanterns. We also learn to cook aloo lajawab, a rich and aromatic potato curry with a generous slick of oil. "This is the food of Mughlai royalty," our host Kalyani tells us. "You can't say it's healthy, but it is very, very tasty!"
Veganism has a reputation for being restrictive, but I find the opposite. Every time we eat, I'm astonished by the complexity and diversity of the dishes. On the way to the pink-hued city of Jaipur, we pull into an eatery known for its pyaz kachori (a flaky, fried pastry filled with onions, pumpkin and fennel seeds) and mirchi bada (a spicy snack where a whole plump green chilli is encased in a crisp chickpea flour batter). We douse the snacks in a tangy mint and tamarind chutney, which pacifies the heat of the chilli and adds a level of brightness.
At Masala Chowk, an open-air food court where legendary street food vendors in Jaipur serve their iconic dishes. I can't get enough of the kulcha (a puffy leavened flatbread) served with a mild chickpea curry and vibrant red chilli chutney. Others keep going back for dosa, a crispy savoury crepe-like pancake stuffed with soft potato, and the pav bhaji, where plump, soft bread is served with a thick vegetable gravy.
Later, we check into Castle Kanota (where the film The Best Exotic Marigold Hotel was filmed), a charming heritage hotel owned by the Thakurs of Kanota. Amongst the antique furniture, manicured lawns, preening peacocks and colourful tapestries we feast on kair sangri (a slightly smoky dish of ker berries and stringy desert sangri beans), gatte ki curry (spiced gram flour dumplings in a fragrant turmeric gravy), sev tamatar (a tomato-based curry with cumin and ginger, topped with crispy chickpea noodles) and baajre ki roti (pearl millet flatbread), rice studded with pomegranate jewels and finish with pale green sweet musk melon drizzled with sugar syrup.
Market in Udaipur, India. Photo: Supplied
By the end of the seven days, we have crashed an Indian wedding procession, sneezed our way through spice markets, entertained local children with nursery rhymes, and eaten until our bellies and hearts are full. At our last dinner in Delhi, there are heartfelt, impromptu speeches and tears. For many, travelling with other vegans and those who are supportive of the lifestyle has been a revelation and relief. As for me, I'm going home with my dresses a little less free-flowing and with a new appreciation of vegan Indian cuisine.
Lindy Alexander travelled to India as a guest of Intrepid.