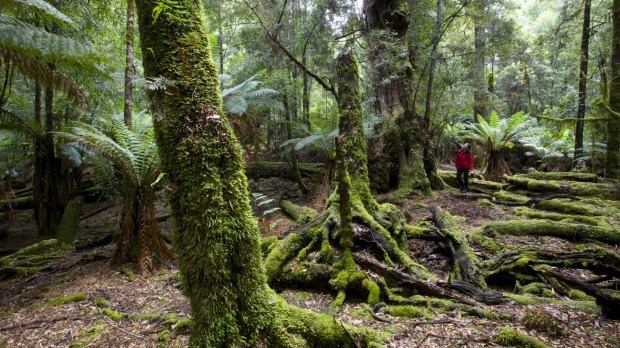 Australia's largest tract of temperate rainforest: takayna/Tarkine. Photo: Pete Harmsen
THE ONE FOREST
Tasmania's north-west coast is blanketed by Australia's largest tract of temperate rainforest: takayna/Tarkine. At its edge, along the bank of the Pieman River, the former gold-mining settlement of Corinna is a cluster of cottages transformed into tourist accommodation. Walking trails radiate into the forest from Corinna, and the Arcadia II, the only Huon pine-built river cruiser still operating in the world, sails downstream to wild Pieman Heads. It's also worth grabbing one of Corinna's kayaks and paddling downstream to quixotic Lover's Falls and over the top of the sunken steamship SS Croydon, claimed as Australia's furthest-inland shipwreck. See corinna.com.au
THE ONE CRUISE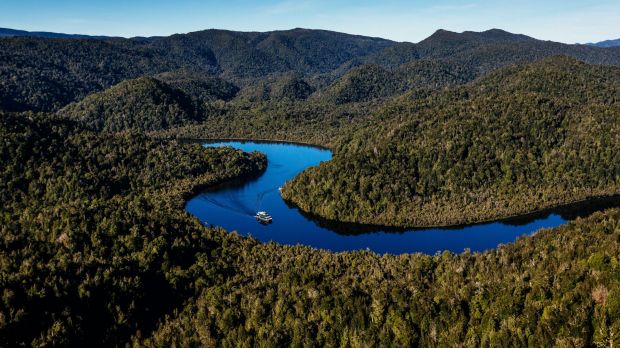 Photo: RACT Destinations/Tourism Tasmania
For a wilderness, things are pretty serene on the Gordon River. Mornings typically awaken to immaculate river reflections – the rainforest etched onto the water – broken only by the passage of the two cruise boats that drift through them. Gordon River Cruises and World Heritage Cruises sail from Strahan, combining the peace of the river with the brutality of Sarah Island's convict settlement. Both boats stop at the island for a guided tour of the convict station relics. See gordonrivercruises.com.au; worldheritagecruises.com.au
THE ONE WATERFALL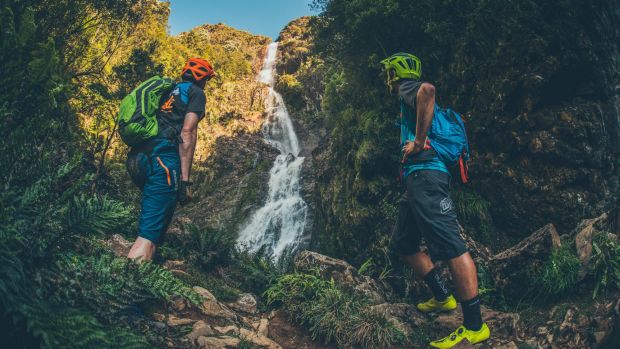 Montezuma Falls. Photo: Flow Mountain Bike
Tasmania has dozens of spectacular waterfalls, but none stand taller than Montezuma Falls. Pouring through rainforest near Rosebery, the 104-metre-high falls can be reached on foot or by mountain bike along the course of the former North East Dundas Tramway – it's one of Tasmania's 60 Great Short Walks. The trail leads to the base of the state's highest waterfall and an airy suspension bridge that might get the adrenaline flowing in sync with the falls. See parks.tas.gov.au
THE ONE SHACK
On the outskirts of Strahan, Lettes Bay is a small promontory of shacks crammed together as tightly and colourfully as a bowl of fruit. The shacks were built in the 1920s by a mining company to boost the spirits of workers, and today they remain as a classic old-fashioned shack community. Three of the shacks offer tourist accommodation: Salt Box Hideaways and Lettes Hideaway sit side by side a handful of metres from the water, but it's Captain Rest, with its large antique windows looking over the shack's own weathered jetty, that stands out. Inside, it's all quality linens, wooden benchtops and a clawfoot bath with a view. See captainsrest.com
THE ONE PUB
Known as the "grand old lady of the west coast", the Empire Hotel is the most commanding building in Queenstown. Built as the largest and grandest of the mining town's multitude of pubs at the turn of last century, the Empire is a snapshot of Queenstown's former wealth, when the barren and bald town was the richest mining centre in the world. Step in through the front door and you're greeted by the sight of the hotel's elaborate staircase. In 1904, a stack of Tasmanian blackwood was shipped to Great Britain, where it was carved into a staircase and returned across the planet to Queenstown. See empirehotel.net.au
THE ONE RESTAURANT
The view of the fishing fleet just outside the windows complements the seafood-rich menu at Risby Cove in Strahan. The waterfront restaurant provides the holiday town's best dining, along with fine views across Long Bay to Strahan's township. The varied menu features the likes of Tasmanian scallops, and a Portuguese octopus and king prawn salad alongside a South America moqueca fish curry. See risbycove.com.au
THE ONE BEACH
Tasmania's longest beach, Ocean Beach, stretches for more than 30 kilometres along the west coast. It's a wild stretch of sand – head west below South Africa and South  America is more than 10,000 uninterrupted kilometres of Southern Ocean away. The  largest waves in Australia have been recorded just offshore from the beach. Ocean Beach is easily accessed from Strahan, where you can wander through the 30-metre-high Henty Dunes, or drive to Macquarie Heads, the furious entrance to Macquarie Harbour, guarded by three lighthouses and known to despairing convicts as Hells Gates.
THE ONE MILL
So much of Strahan's history is tied to the grandest tree of the Tasmanian forest – the Huon pine. Australia's longest-living trees have been logged from the town since colonial times, and piners' boats were used to ferry protesters to the Franklin River during the blockade in the early 1980s. Morrison's Huon Pine Sawmill has been operating on Strahan's docks since 1947, and runs milling demonstrations at around 3pm each afternoon when the Gordon River cruise boats return to town. Offcuts and small Huon pine items such as chopping boards can be bought at the mill.
THE ONE THEATRE
Queenstown's boom and bust existence has been reflected in the life of its grand Paragon Theatre. Opened in 1933, the art deco cinema has closed down twice, and briefly spent time as an indoor cricket stadium. Today, it's running again as a theatre and concert space. Cinematic classics are its stock in trade, bringing evenings of Hitchcock, Hepburn, Bogart and Stewart to town. The theatre is also open during the day for self-guided tours. See theparagon.com.au
ONE MORE THING
Queenstown tourism plays strangely on the scars of its mining history – famously, trees didn't grow across its barren landscape for decades, though they're now returning. Not all is back to normal, however, as a look at the Queen River will attest. The river is so orange in colour that locals have christened it Pumpkin Soup Creek. Get a glimpse of its orange flow, caused by acidic drainage from the mines, along Esplanade in Queenstown or, even more starkly, by taking a rafting trip past its confluence with the King River. See westcoasttas.com.au
The writer travelled at his own expense.