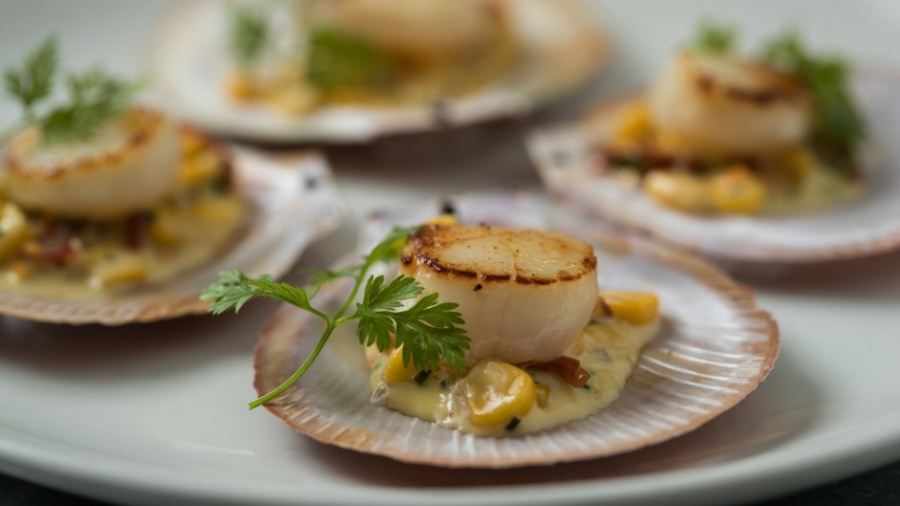 Seared Hervey Bay Scallops at Rick Stein At Bannisters. Photo: Supplied
Go for the beaches and fishing, stay for the food. Make time for these five food stops on your next coast break.
1. Rick Stein at Bannisters
Located at luxury Bannisters Hotel, the Australian restaurant of English celebrity chef Rick Stein is somewhere everyone should go at least once. The NSW south coast is known for its oysters, so it would be a waste not to indulge when they're freshly shucked and from just down the road, and the restaurant offers them up from three different South Coast locations. The sleek dining room overlooks the ocean and the whole menu is an opportunity to get your local seafood fix – from ceviche of Ulladulla mahi mahi, to snapper, shellfish, lobster, crab, scallops and prawns.
If you want to get a better idea of oyster farming, Bannisters can organise tours of the oyster leases with local farmers Ralston Brothers in Bateman's Bay. Jump on board a boat with Ben Ralston for a thorough lesson on the art of oyster farming, complete with plenty of tasting. Buy a dozen and a shucker and learn to do it yourself. For groups of four minimum. bannisters.com.au.
2. Rooftop Bar and Grill
For a more casual experience, the sister Bannisters hotel, Bannisters Pavilion, has the Rooftop Bar and Grill overlooking the pool. Things may by more relaxed but the food and service isn't anything less. The dinner menu combines small and large share plates ranging from wings, tacos and king prawns to miso salmon, Lebanese grilled chicken and steak, and there's also a menu for the kids. The airy space has a great vibe, coupled with warm, friendly seaside hospitality. Start with the eggplant chips – big chunks of eggplant fried are to crisp on the outside, gooey on the inside, and completely moreish. You can also just stop by for a drink, with cocktails, a seriously good G and T, or a wide ranging wine menu.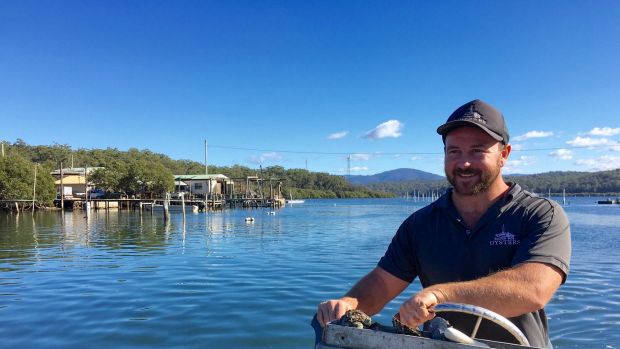 Oyster farmer Ben Ralston of Ralston Bros at the helm of his boat on the Clyde River at Batemans Bay. Photo: Annie Cochrane
3. Milk Haus
You know you're onto a good thing when you track down somewhere that was once a cheese factory. Located at Woodstock, inland from Mollymook beach, is Milk Haus, a wholefoods cafe with plenty of ingredients sourced from just outside in the on-site gardens. Owned by Canberra restaurateur Danielle McKeon (A Bite to Eat), the cafe serves up healthy meals that are kept simple, letting the produce speak for itself. Milk Haus is open for breakfast and lunch, Thursday to Monday. milkhaus.com.au.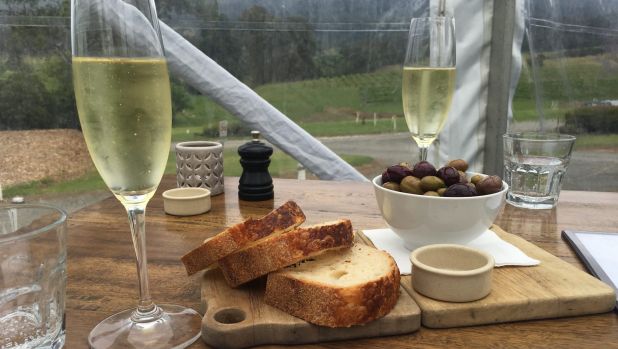 Silos Restaurant in Berry. Photo: Jil Hogan
4. Silos Restaurant
For a leisurely lunch amongst the rolling hills, head to Silos Restaurant in Berry. A large outdoor marquee attached to the original silo house means you can sit outside, looking out over the vineyard, without being completely exposed to the elements. It's the sort of place to settle in for a long, leisurely lunch, if the occasional popping of corks is anything to go by.
Recently revamped by Andrew Hickie and Sarah Smith, the husband and wife team have taken the venue back to its roots with a farm-style menu highlighting local fresh produce. Hickie travelled the world for years cooking for the likes of Tom Hanks, Oprah, Tony Blair, Robert De Niro, Ellen De Generes and Bruce Springsteen. These days, he keeps things simple with a relaxed al la carte menu. And not forgetting those vines, wash it down with a glass of the Silos Estate 'Cat's Meow' rosé. silos.com.au.
5.South on Albany
Also in Berry, South on Albany is sophisticated but unpretentious. Chef John Evans is experimental in the kitchen, cooking with produce that reflects the region in dishes that have a European influence. Get stuck into the wine list, which is predominantly from the local regions with a decent amount of good options available by the glass. Even the kids will be welcome here. Open for dinner Wednesday to Sunday and lunch on the weekend. southonalbany.com.au.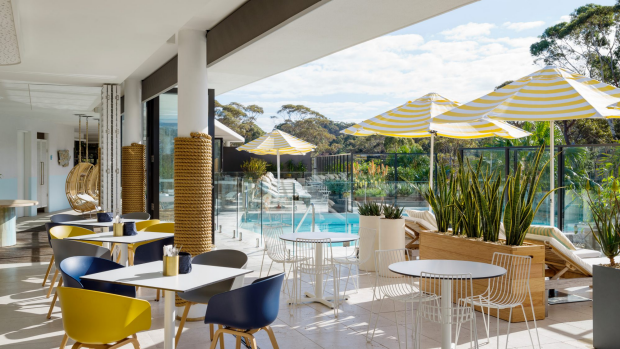 The Rooftop Bar and Grill restaurant at Bannisters Pavilion Hotel in Mollymook, NSW. Photo: Supplied
Stay
Bannisters Pavilion is a haven of effortless cool and calm at Mollymook. You could very easily not stray too far from the hotel if that's what floats your boat – the hotel is 80 metres from Mollymook Beach, or there's a rooftop pool and bar upstairs. Breakfast is included, the Rooftop Bar and Grill is upstairs, Rick Stein at Bannisters is a short drive away via free shuttle bus. The whole property oozes style and comfort, making it very hard to leave come check out time.
Rooms start at $250 per night. bannisters.com.au.
The writer was a guest of Bannisters for some of this story.