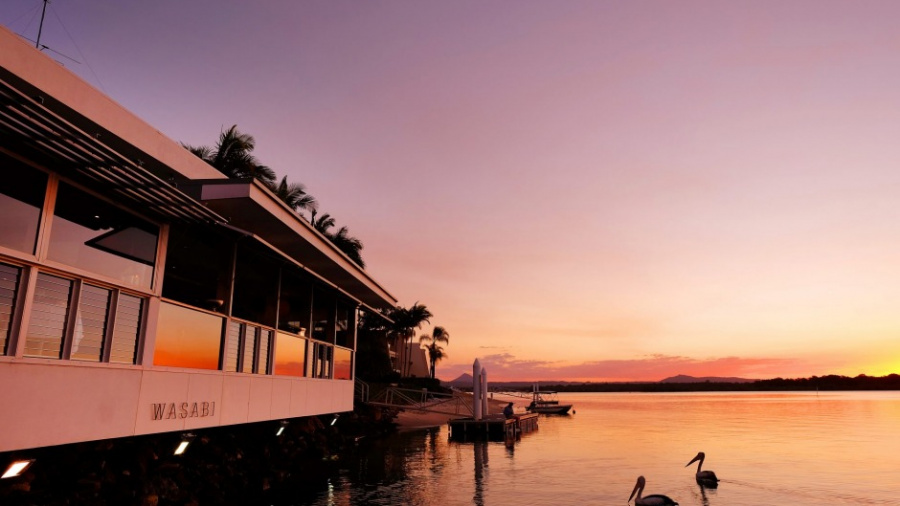 Sunset at Wasabi, Noosa. Photo: Lachie Millard
Queensland's Sunshine Coast is a big, lush region laced with roads that skip between mountains, mangroves, rainforest and the coast. Noosa is the holiday hotspot for restaurants, boutique shopping and the north-facing Main Beach, but you'll also want to explore the rest of the region – from Maleny in the hinterlands to the coastal boardwalks of Caloundra.
There are plenty of choice spots for a casual lunch, quick drink or fine-dining, too. Here are the restaurants, bars and cafes worth leaving your beach towel for.
Wasabi for sashimi at sunset
With a graceful, modern dining room and river views of paddling pelicans, two-hatted Wasabi is the plushest place from which to watch the sun set in Noosa. The root-like stem of fresh wasabi is grated tableside at its namesake restaurant, adding zap, biff and pow to a selection of the day's best sashimi (love that local tuna) and bolstering silken tofu soaking in a hot ginger dashi. The Tasmanian-grown green stuff is one of the few ingredients Wasabi sources from outside the Sunshine Coast and most of the rare Japanese herbs and vegetables are grown at the restaurant's own farm a short drive away.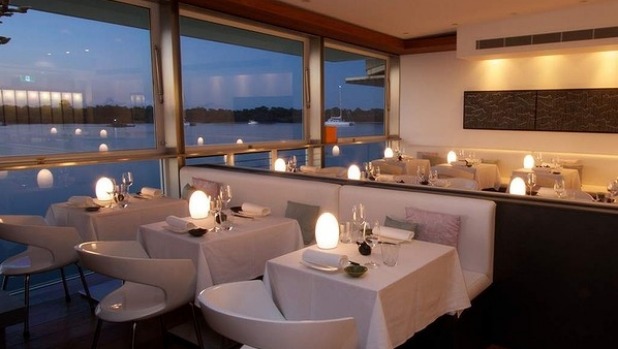 Waterfront dining at Wasabi restaurant. Photo: Supplied
2 Quamby Place, Noosa Sound, 07 5449 2443
Noosa Waterfront Restaurant and Bar for grappa in the mangroves
A cheese trolley after dinner? Bah. The folly of the French. At this canal-nudging restaurant it's a grappa cart that laps the room, offering post panna cotta brandy to locals here for warm service, serious wines and classic Italian dishes punctuated with modern panache. Plan your visit for a weekend lunch when bi-fold doors open onto Moreton Bay figs, the odd gondola drifts past and you can really get a grip on that grappa.
142 Gympie Terrace, Noosaville, 07 5474 4444
Whisky Boy for tapas and Talisker
A new-ish bar and restaurant that couldn't be more removed from those leather-lined whisky dens found in the city. Whisky Boy is all white walls and green leaves and you can make an al fresco meal out of the Iberian-influenced menu, or simply rock down after dinner and get across the 85 types of whisky and a neat little wine list. If you're keen to kick on afterwards, scoot over to the Village Bicycle (6/16 Sunshine Beach Road, Noosa Heads) for Young Henrys and surf shack vibes until midnight.
10/203 Gympie Terrace, Noosaville, 0403 600 406
The Tamarind for modern Asian in the mountains
The Sunshine Coast hinterland is a long way from south-east Asia but The Tamarind's all-purpose curries are perfect for its mountaintop setting. For summer lunch on the verandah it's a heady green curry starring ginger chicken dumplings that bob with local prawns, baby corn, Thai basil and kaffir lime. Beef rendang is cooked in the same if-it-ain't-broke-don't-fix-it style, fragrant with lemongrass, ginger and sambal belacan. It's there to provide comfort on rainy afternoons, just like the friendly staff offering blankets for chilly knees.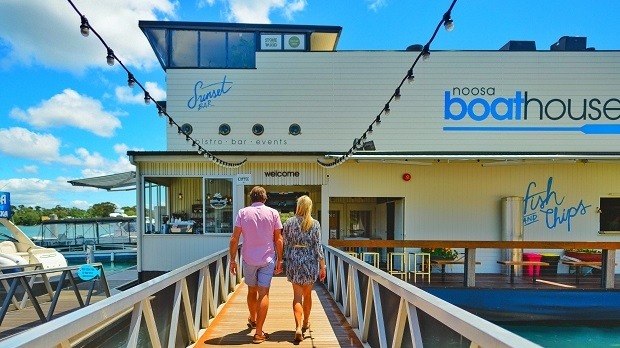 Noosa Boathouse. Photo: Swirltography
88 Obi Lane South, Maleny, 1300 311 429
Spirit House for lagoonside som tum
In a setting of tropical gardens, buzzing ponds, water dragons and 20-metre-high black bamboo, Spirit House delivers some of the best Thai in Australia. Order the crisp-fried signature fish – maybe snapper, maybe barramundi – served whole with bright, white flesh that sings with flavour and a sweet-and-sour-sticky chilli-tamarind sauce. There's a cooking school if you want to sharpen your paste-making skills or learn the secrets of the restaurant's tom kha with tea-smoked salmon.
20 Ninderry Road, Yandina, 07 5446 8994
Spice Bar for Mooloolaba prawns at the source
Fat and juicy Mooloolaba prawns star on menus across Australia, but where better to enjoy the little guys than overlooking the waters where they were wild-caught? This colourful, modern Asian restaurant wraps the local prawns in betel leaf with a punch of tamarind. Similar coastal good times come with Hervey Bay scallops heightened by silky sabayon and flying fish roe. And check out the chicken larb if it's going – shredded, not minced, and refreshing on a hot day with iceberg lettuce, green onion and bits of bird's eye chilli jelly that require Level 10 chopstickery to place in your gob. (There are forks.)
Level 1, 123 Mooloolaba Esplanade, Mooloolaba, 07 5444 2022
Noosa Hot Bread Shop for a holiday breakfast with proper croissants
Holidays are a time for breakfasts that personal trainers don't need to know about. While there's no shortage of healthy-eating cafes in Noosa, such as GoVegan Deli (6 Thomas Street, Noosaville), we reckon a wonderfully buttery croissant and house-made jam from Noosa Hot Bread Shop is the right way to greet a lazy morning. Perhaps with a couple of mimosas on the side because: why not? The legends at this charming bakery also specialise in long-fermentation sourdough and turn the boulangerie into a bistro from Wednesday to Saturday when the sun goes down.
Shop 5, 4-6 Sunshine Beach Road, Noosa Heads, 07 5448 0959
Rickys for local seafood by the water
One-hatted Rickys showcases the Sunshine Coast's fruits de mer with style and tight technique. Mooloolaba yellowfin tuna tartare, say, or a crayfish consomme teeming with mussels, scallops, pipis and prawns. River views and a ripper wine list complete the package and the same team is behind the more casual Woodfire Grill next door if you're jonesing for deliciously charred prime-rib.
2 Quamby Place, Noosa Sound, 07 5447 2455
Belmondos Organic Market for picnic supplies
Turning a bushwalk into a picnic is never a bad idea. Belmondos operates as a cafe serving healthy breakfast and lunch staples such as poke bowls, pumpkin muffins and blue corn tacos, but we're all about the local smallgoods, bread and organic produce. Stock up on a Tanglewood sourdough baguette with cheese and charcuterie before heading to the Glass House Mountains, rug at the ready.
59 Rene Street, Noosaville, 07 5474 4404
Noosa Boathouse for takeaway fish and chips
You kind of have to, don't you? A beach holiday without fish and chips is like fish and chips without lemon. Or salt. Or a burnt mouth because you couldn't wait to rip open that butcher's paper and dig in. Noosa Boathouse is popular for its triple-tiered seafood platters and fries an excellent fish and chips for beachside scoffing. Noosa Waterfront Restaurant and Bar also wraps fish and chips to takeaway and will even sling a pizza for the park if you ask nicely.
194 Gympie Terrace, Noosaville, 07 5440 5070