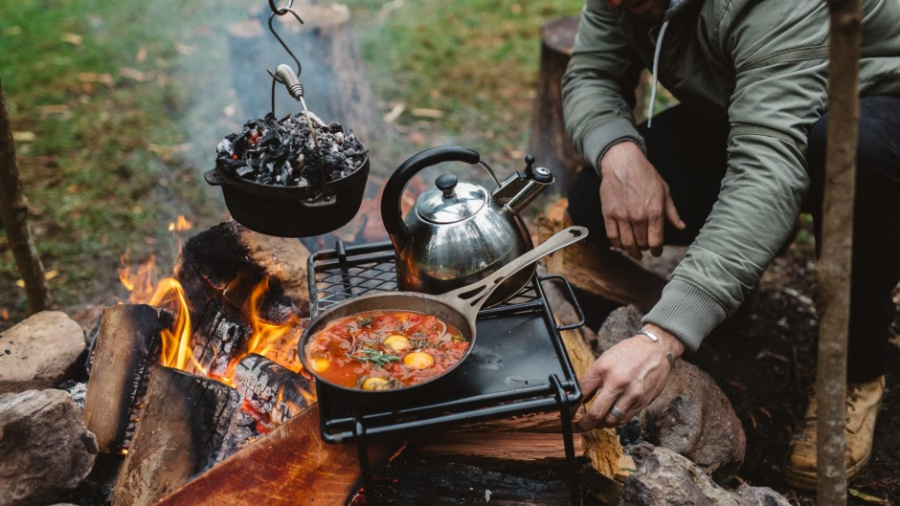 Skip the lightwear gear: Cast-iron pans are built to last. Photo: Luisa Brimble
Even though feasting is 90 per cent of the point of escapes, how often have you found yourself eating sad pasta and mashed bananas while hiking; reliving school camp burnt snags because you failed to pack a good pan, or been felled by blunt knives? Wherever you're heading on your next camping trip, grab your pencil and let's get prepping.
The arsenal
What you cook in the wild is going to come down to what equipment you have. And there are common mistakes. For example, don't buy cheap pans because campfires cook hot – they're so thin, everything burns. Also, light but incredibly expensive titanium equipment is only useful if you have to schlep it over a mountain. Stop it. Here's what the pros use:
• Take your good knife. Make that knives. Never expect good choppers at holiday homes. Take a big chef's knife or cleaver for functionality, a nice cheese knife like an Opinel (for Instagram, at least) and if you're heading to the coast, an oyster shucker.
• A giant cast-iron pot with a lid from army disposal stores will last a lifetime, and has the thickness to give you some temperature control whether cooking on open fires or a gas bottle. It can flip from cooking your favourite one-pot casseroles and chilli, to searing off then roasting a chicken surrounded by a little stock and all of your vegetables.
• Good Food writer Dani Valent swears by a paella pan. Beyond using it for its intended purpose, the ample surface area suits giant stir-fries, morning fry-ups, parathas (Indian flatbreads you can make or buy from the supermarket), pancakes and schnitzels.
• A small hibachi grill filled with compressed Japanese charcoal, available to buy online, burns long and slow. Being a contained unit, it is a comparatively safe way to cook with fire at campsites and is a BYO barbecue for an Airbnb that doesn't have one. Split stone fruit, and drizzle with oil and salt or honey to char for salads, breakfast or dessert. Grill leeks or steaks. Occupy nimble-fingered, overexcited children with threading colourful kebabs while you make happy hour happen.
• Washed the dishes and then don't have the table space to dry them? Bring a string bag and hang them in a tree to air dry.
• Carabiners, good for saving you from falling off a cliff, can also save your favourite mug from getting lost. Hang from hip, relax.
• Luxury pieces like good metal cups you love to hold and sturdy-yet-pretty Duralex wine glasses make a world of difference to the psychological taste of your drink.
• No camping rig tops your coffee rig. A French press or stove-top cafetiere will be needed for groups. But coffee nerds swear by the lightweight Aeropress, which forces a shot through a plunger. New to market are individually sealed pour-over coffee sachets. Available from Melbourne's Calere Coffee, they're like an open tea bag with arms to rest on your cup. Slowly add hot water and let it drip. The coffee kings from St Ali have also launched single origin instant sachets.
Don't miss happy hour just because you're roughing it. Photo: Luisa Brimble
The pantry
Don't be caught short. Campsite shops always have Cornettos and Coon cheese but they're not always the best at holding stocks of balsamic and good oil.
Before you shop at home, however, consider bringing an empty Esky. Bushfires ravaged many of Australia's national parks this year, but the fallout also shattered many small businesses in the surrounding areas. Rather than stocking up in the city, join the #EmptyEsky campaign and stop at towns en route to buy your cheeses, coffee and meats. Pause at cellar doors to get your wines and drop into breweries for your beers.
The site Roadtrip for Good has created handy itineraries so that you can see which places to stop at along the way. Here's what to hoard:
• Vegetable- or chicken-stock pastes or powders amp anything from stews to cous cous.
• Zesty pestos and other herb mixes like chimichurri (buy them if you don't want to make them) bring a bright pop to meats or salads.
• Anchovy tins, ricotta salata (salted ricotta), and cured sausages are reliable staples that will bring the flavour to the bitter end of the trip when the ice has all gone.
• Pickled onions, preserved lychees, and good green olives will jazz up martini time.
• Quality olive oil, vinegar, fresh lemons, nice salts and cracked black pepper can elevate almost any dish.
• Ghee brings the butter flavour to food, but is more stable without refrigeration.
• A Mexican spice mix or vadouvan (a French-Indian curry mix, more fragrant than fiery) will revolutionise your mince dishes.
Hiker hacks
Last year I signed up to do the 65-kilometre Overland Track in Tasmania, a seven-day hike where you have to carry everything you need to survive, from tents to cooking equipment, plus breakfast, lunch and dinner for every day.
When weight matters and refrigeration isn't an option, your choices slim down fast. And the advice from seasoned hikers wasn't encouraging. All I could find were sad uni-student menus of tuna sachets and instant pasta alfredo packs.
But there's hope.
Buy it
If you want to hit the road in a hurry, there are pre-prepared options.
Companies such as Outdoor Gourmet, Back Country Cuisine and Tasmania's Strive Food, sell complete freeze-dried and dehydrated meals. We're talking spaghetti bolognese, mi goreng and just-add-water berry cheesecakes for dessert. You can even get freeze-dried ice-creams (astronaut food!), which eat like a crunchy meringue.
The meals from Strive come from a small family-run company that mostly dehydrates rather than freeze-dries its products. They came out head and shoulders above the rest (Strive's laksa is particularly delicious).
Back Country and Outdoor Gourmet meals all left a slightly artificial taste in the mouth upon testing, but they are king for convenience. Rip off the top, add boiling water (or cold for a tuna dip or a dessert), re-seal and 10 or 15 minutes later, an energy-packed meal can be eaten straight from the bag. No plates, no washing up. They also only require the amount of precious cooking fuel it takes to bring water to the boil.
But look beyond the outdoor stores and there is a world of untapped resources at the supermarket. Cous cous is the classic just-add-water carb. Powdered eggs, flavoured with herbs, parmesan and milk powder, make an acceptable frittata. Pick up instant custards and chocolate mousse. Asian grocers are treasure troves of coconut milk powder, miso, crisp shallots, dried mushrooms and preserved meats such as lap cheong. Turn ramen into mountain-top laksa. Get pre-cooked basmati and cook up easy fried rice.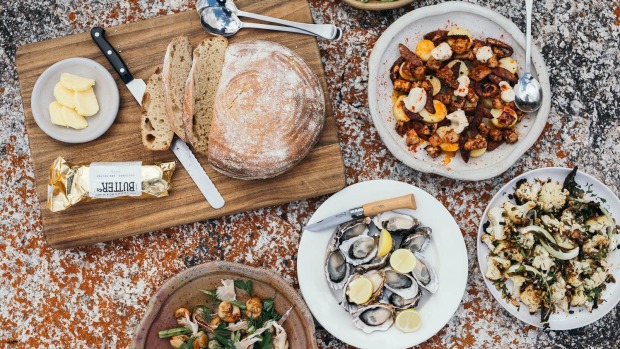 After a mountain bike ride on the Bay of Fires Trail with Blue Derby Pods Ride, feast on the beach with a meal by chef Thomas Dicker. Photo: Supplied
DIY it
If you want to get really advanced and have the time, invest in a dehydrator, which you can buy from $100. Even just with an oven you can dehydrate entire meals at home, from curries to rice pudding and stewed fruit, and then simply rehydrate them on the trail. It sounds complicated but it's truly easy, and witchcraft-like magic.
The rules of engagement are simple. Removing moisture makes food light as a feather and slows bacterial growth. It means food can be stored (well-sealed) without refrigeration for days, weeks or even months.
Step one: make your favourite curry, stew or soup and keep the fat content low (fat doesn't evaporate and can go rancid; add powdered milk, powdered coconut milk, ghee or olive oil as you rehydrate).
Spread it out in a single layer over baking paper and put in an oven set to 65C (45C fan-forced) or use a dehydrator (the easier option as it can regulate airflow, temperature and time). In seven to 10 hours you should end up with something that looks like inedible leather. But add water (a two-to-one volume ratio in most cases), soak and reheat for just a couple of minutes and it returns to form, glossy texture and all.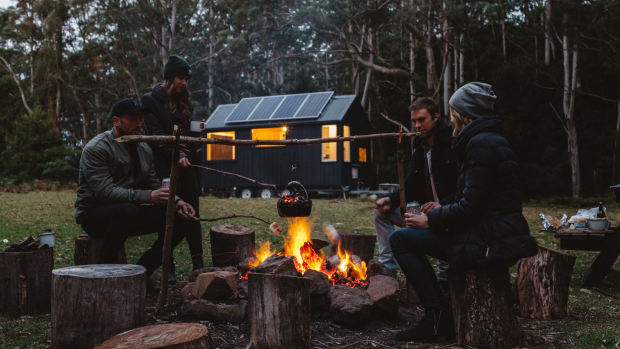 Unyoked cabins can be stocked with all the ingredients you need to cook recipes from Sarah Glover's 'Wild Adventure Cookbook'. Photo: Luisa Brimble
Glamp it
Perhaps you want wild adventure but also want your pillows fluffed and a wine at the end of the day? Australia has listened, and an industry of luxe outdoorsiness has flourished.
Blue Derby Pods Ride
This new company by Tara and Steve Howell makes the most of the world famous mountain bike trails of Derby in Tasmania over a three-day adventure, sleeping in eco-pods and culminating in a seafood lunch (oysters, octopus, cheeses, wines) prepared by Bay of Fires Bush Retreat chef, Thomas Dicker. Four-day trips run monthly, or can be arranged for groups. bluederbypodsride.com.au
Tasmanian Walking Co.
The experienced Tasmanian Walking Co. is for people who want to walk and nothing else. They have custom-built lodges both on Tasmania's Three Capes trail and the Overland, but also along the Three Apostles coastal walk in Victoria. The lodges have real beds, showers, wine and sometimes masseurs. The guides bring the booze, turn down your bed and cook dinner each day. taswalkingco.com.au
Bogong Horseback Adventures
Perhaps you would like to go one further and not even do the walking? This family-run company offers multi-day adventures trekking through the Victorian high country on pack horses. The first and last night are hosted at the Spring Spur lodge, while ride nights are spent in swags under stars, with dinners cooked by guides using the homestead's own produce. springspur.com.au
Unyoked Cabins
You'll still have to cook for yourself, but these completely off-grid eco-cabins (you aren't even given their coordinates until you depart, just their general location across NSW and Victoria) have kitchens designed by the team at the Three Blue Ducks and can be supplied with the ingredients for recipes written by Sarah Glover, author of the Wild Adventure Cookbook. unyoked.co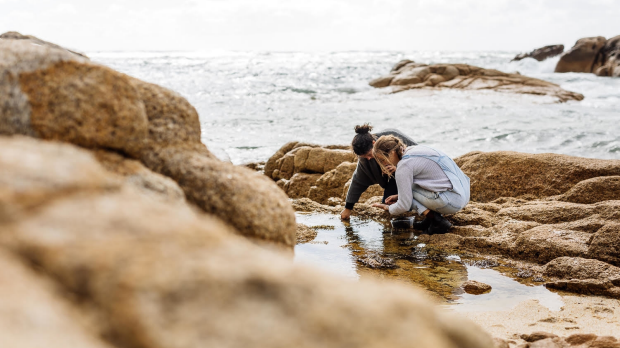 Chefs Analiese Gregory and Jo Barrett foraging for ingredients on Flinders Island. Photo: Adam Gibson
Wild gourmet it
A large caveat here. Foraging, fishing, diving for abalone and hunting are risky and regulated endeavours to be treated with respect. Before you do any of the above, it's vital you skill up, and seek permissions from all relevant land custodians and authorities.
If you want to start out, though, your spirit guides should be chefs Jo Barrett (Oakridge) and Analiese Gregory (ex-Franklin), both divers and huntresses at large.
Their advice is that the easiest form of fishing is off a pier and the easiest prey is squid – you only need to get a rod with a squid jig (a many-pronged lure, widely available), rather than something that needs bait.
In certain regions, with licences, you can also catch abalone and even sea urchins wearing only a snorkel.
Their ninja skill however, is prepping for the win. Barrett packs a simple cooking rig in her car consisting of a burner that sits on top of a gas bottle, a knife, board and frypan or pot. Gregory carries a basic fire-lighting starter kit and sometimes goes for the beach grill by taking a cake rack and building a stand of stones.
If you want to hunt mushrooms, or start a career in foraging, the advice is this: get good advice. Plucking things from the wilderness can be as deadly as it is wonderful.